The myCharge RazorPlatinum is a $99 battery pack that's designed to do more than just charge your phone. Looking at the myCharge listing for the pack, it's clear this is a battery pack designed for MacBook users who need some extra juice while on the go.
That said, the RazorPlatinum gets the job done when it comes to charging any USB-C device. With an overall capacity of 13,400 milliamp-hours (49.6Wh), the pack is one of three packs we've tested to fall short of 80 percent efficiency — 77.23 to be exact — when discharging at 5V/2.4A.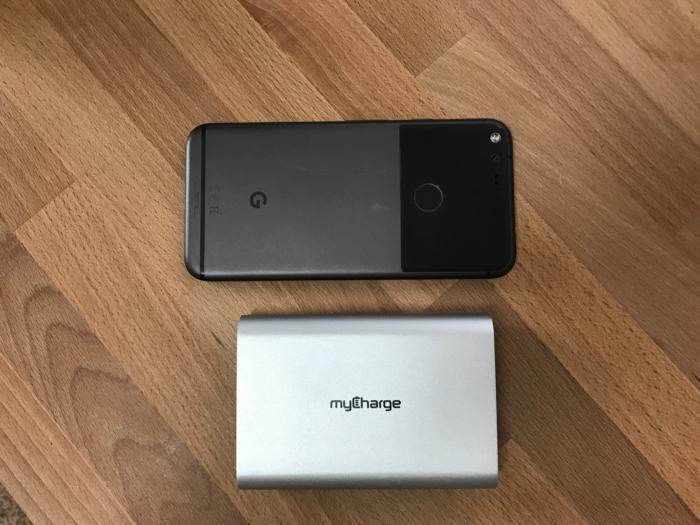 The pack has three ports: two USB-C ports, and a lone USB-A port. Each USB-C port has a label just below it, designating its purpose. The port on the left is an input, the two to the right are outputs. Meaning, you really only get two usable ports for charging. It does feature passthrough charging, so you can charge the pack and at the same time charge two devices.
Four indicator lights are found just above the ports, and light up when you tap on the pack or place it on a table, with the lights representing the amount of charge left in the pack.
Recharge time is my biggest complaint with the RazorPlatinum. Using a standard wall adapter, total recharge time for the RazorPlatinum was five hours. According to myCharge if you have a MacBook and use the 29W wall adapter, the total charge time of the battery pack is just two hours.
Missing from the spec list is any support for Qualcomm Quick Charge 2.0 or 3.0, which can be a deal breaker for some. However, my Pixel XL displayed the beloved "Charging Rapidly" message when connected to the RazorPlatinum.
Included in the box with the battery pack is a USB-C cable.