Statistical Data Analysis
Behind the scenes at the Tour de France
ICT services giant, Dimension Data, showcases IoT and machine learning technologies with five-year technology partnership at the iconic Tour de France (which finished yesterday). Martin Veitch investigates.
Le Départ
The part of the Midi-Pyrénées where I am is in the new and very large Occitanie region; it's no great distance from Spain but it is very, very French. This is an area of vineyards, farming, rugby playing and pilgrimage. Countless pale and sleepy villages populate this part of the world but the two I am visiting today are alive with colour and movement. That is because they are hosting either end of a stage at one of the world's most iconic and thrilling sporting events, Le Tour de France.
In Saint-Girons, the spectacle is vivid and bizarre in equal parts. The approach to the start line is populated by an impromptu fairground and sponsored trucks bearing surreal figures: a two-metre tall tyre, a giant hen, a massive cake and biscuit. Further down the road there are displays of free local cheeses, honey, charcuterie and wine and everyone from toddlers to elders is watching. This is a village en fête.
Down the one road in and out of the village is the reason why: a stream of vehicles that open to disgorge bicycles worth perhaps $10,000 or $15,000 each and young men with skinny arms, sunken cheeks and large thighs. This is not football where the pampered princes of the game are kept well away from fans and thousands of us mingle with the best part of 200 racers, including superstars like Alberto Contador and Chris Froome, some of them smiling for photographs with well-wishers and compatriots who have arrived from all over the world. Loud Basques sing while Scandinavians, Germans and Brits pink up in the sun and Latin Americans cheer their favourite mountain climbers.
Perhaps the riders are relaxed because this is a fairly short stage with only about 100km to race and mountains that are not that strenuous. But this is just one small part of one of the most mentally and physically testing elite endurance events; even the thought of the pain, danger and speeds that stretch to over 90kph are uncomfortable to contemplate.
After the riders set off from Saint-Girons we head off immediately to Foix where the stage finishes. In the crowds there we watch the big screen until the leaders emerge, describing a gorgeous curve like a ribbon of film released from its can, past a Disney-like tower in the hills. The leaders are followed a little later by the massed ranks of the peloton and later the stragglers, all of whom gain deserved ovations: this is a race where even to finish last is such a sizeable achievement that it merits its own award, the lanterne rouge (red lantern). Within minutes of the race end the trucks load up with bicycles and the men who have given everything to compete. The circus moves on to the next stage.
Behind the scenes
The Tour is an epic display of human effort but it's also, more prosaically perhaps, a testament to ingenuity, mechanics, design and logistics.
I'm in France as a guest of Dimension Data, the South African-headquartered ICT services group that is now part of Japanese telco NTT. The company's interest here is twofold: it runs a race team and is official technology partner to Amaury Sport Organisation (ASO) that organises the Tour.
Dimension Data's job as technology provider is to capture key information, make data beautiful and insightful, and share it with fans, social networks, website visitors, TV channels, other media and participants. Doing so involves operating from a wonderfully designed datacentre on wheels, although reliance on cloud for many workloads mean that these are really data closets with lots of bandwidth, client devices and screens attached.
For the cycling enthusiast who is a techie, the job of following the tour around, picking plums of data and sharing them is a dream job. Here, the lucky team includes Tim Wade, a Brit who is senior director of architecture in Dimension Data's global sports practice and Peter Gray, an Aussie who is senior director of technology in the same group.
Their team has to master the vagaries of communications, cabling, cyberattacks, analytics and identifying misleading data when sensors break. What they have achieved must be close to state of the art, especially considering this is a relatively recent effort with Dimension data only into the third year of a five-year deal. One of their latest tricks is attempting in advance to identify the winner of every stage and their record is pretty good for contests with so many imponderables and where human resilience is stretched to the thickness of handlebar tape.
"Cycling is the new golf" and "fastest growing sport in the world" we hear and it's surely true that cycling has emerged from the shadows to become a mainstream sport outside its homeland territories. It has become the sport of well to do, middle-aged men (mostly) who often also are data-obsessed geeks.
Another race
But the back story to this everyday story of tech firm sponsoring glitzy sporting event is more interesting yet. Dimension Data CTO Etienne Reinecke makes an interesting comparison between the rigours of the race and his company's unusual route to prominence in its sector. Out of Africa, the company has emerged to challenge in a sector traditionally dominated by the US, Europe and more recently India. And South Africa of course has its own, still unfolding story, from apartheid to Mandela to the challenges of today's Zuma regime to… who knows where.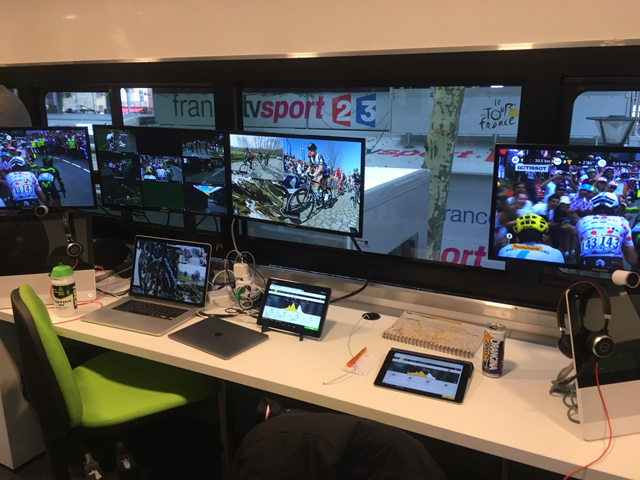 The aspirational plan of Team Dimension Data is to build a word-class African outfit and bring through local riders. Even if star man Mark Cavendish was victim to a horrific crash at this year's Tour, the 10-year-old team is competitive. On the day before its English rider Steve Cummings makes a tremendous effort to great excitement all round but is bested in the end.
There's more to this than racing though. Before the off at Saint-Girons, Team Dimension Data manager Doug Ryder, despite the race being less than an hour away talks extensively about Qhubeka. This not-for-profit that is backed by Dimension Data aims to provide bicycles for Africans to become mobile, stay fit and get to school on time after they have helped to pay their way by harvesting and planting trees, and by recycling bottles.
So here we are amid the glamour of what Ryder calls the "mega teams" such as Sky with a team that has African roots, Japanese parentage and more modest means than those teams but a laudable ambition.
Of course, it would be ignoring the elephant on the table to swerve the fact that the Tour also has a dark side. The Lance Armstrong doping scandal (among many less publicised cases) means that it can be hard to trust your eyes or retain your belief in the legitimacy of riders' successes despite their undoubted athleticism, dedication and willingness to ride through the pain barrier at rapid speeds.
Ruth Rowan, Dimension Data chief marketing officer, says that "naturally" the company considered "all aspects of the sport" before becoming a partner.
"Our decision was swayed by the huge benefit we felt we could bring to the sport and to fans across the globe," she adds. "At the time, we were looking for organisations with an inspiring future vision that we could help turn into reality using technology. The Tour de France represented the greatest opportunity for us in this regard, enabling us to work together with ASO to revolutionise the viewing experience for fans and transform an entire industry.
"Dimension Data's culture is built on agility, performing in arduous conditions, using new approaches and advances in technology to overcome complex challenges – factors which are all closely aligned with the unique character of the Tour de France."
That's a fair response and the comparison is intriguing. The Tour de France is a stunning, often controversial, event that is being enhanced by digital know-how to the extent that more casual fans like me are becoming dragged into a better understanding and appreciation. But for Team Dimension Data there is more to the effort than winning a bike race.