Statistical Data Analysis
Latin America startups aim to corral the world's cattle
In a country where cattle outnumber people, an outbreak of foot-and-mouth disease in 2001 seriously damaged Uruguay's economy.
"My country depends heavily on farming, so everybody here knows the huge impact things like that can have in our economy," says Victoria Alonsoperez, a young Uruguayan engineer and founder of Chipsafer, a platform that detects anomalies in livestock behaviour with the aim of isolating a potential outbreak.
"Even though my parents are not farmers, the impact was felt in the whole society," Alonsoperez tells me over a Skype call.
Victoria was only 12 years old when the epidemic struck but the memory of the crisis was strong enough to inspire her to develop, in 2012, technology to tackle the problem. The data collected from sensors (installed in a smart tag) is analysed in order to provide an insight into the cattle's health based on its movements. Using GPS location, Chipsafer can also combat cattle rustling. "Technology is today essential to make farming more efficient. We need to produce more without damaging the environment," she adds.
According to projections made by the United Nations' Food and Agriculture Agency, meat consumption will double worldwide in the next 20 years. Latin America is already a great meat exporter and its importance should grow based on this outlook. For this reason, the UN agency recommends that countries in the region need "to improve their capacity for risk analysis and management in the livestock sector and develop strategies for sustainable production".
Having some business partners based in Brazil, Alonsoperez moved to the neighboring country in 2016 to improve Chipsafer technology in order to try to make it a global product.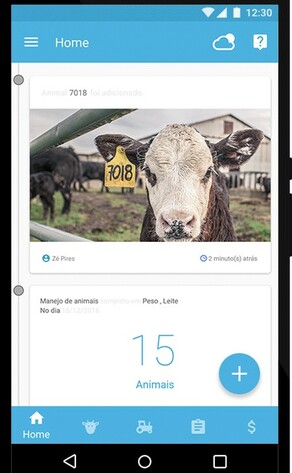 "At present we have a technology that can be used anywhere in the world. We are right now starting our big commercial phase, and we expect to have customers from all Latin America but also from Africa and Europe," she says.
Fighting hunger
"From a very young age I became involved in the management of my family's farm, with all the challenges involved," Danilo Leão, a Brazilian entrepreneur and founder of BovControl, a data collection and analysis app that aims to improve efficiency in the production of meat and milk, tells me. "I made a lot of mistakes even when trying my best to get it right. And then I realized that [it was] the management tools that we lacked, and [these could be] developed, and could be useful to other farmers around the world." Although currently used in 28 countries, the startup has its operations focused mainly in two countries: the US and Brazil.
By tackling the lack in production efficiency, the startup has the very ambitious goal of "re-organising data in the world food chain in order to eradicate hunger in less than 10 years".
"Without owning any land, today we manage the largest farm in the world [and] 25,000 farms around the world," Leão says. BovControl estimates that its technology will be used by 100,000 farmers by the end of this year.
"We are very focused on livestock production, which is already big enough - a market of around $1.2 trillion worldwide. But we have already seen users trying our tools for other crops, other cultures. This expansion will certainly happen, sooner or later," he predicts
"In the long term, we want to continue growing at an exponential speed to help feed more than one billion people a day through our customers over the next 6.5 years. Today we help to feed more than two million people a day. Keeping the same exponential growth, we realise that this plan is no longer 'only a dream' – it can be a reality."
Also read:
Ranches guard livestock by Internet of Things
Kenyan farmers orders cows online