Mobile Communications
Analysis: Social Media, Advanced Mobile Use and Strong Print Services Define 'Savvy' African Consumers in Angola, Namibia, Kenya & Botswana
Nielsen's research into 8,100 consumers in 15 African countries provides a simple snapshot of technology usage and media penetration across an extremely diverse continent
Individuals in Angola, Namibia, Kenya and Botswana are more likely to access the internet, use social media and engage with advanced mobile services than other parts of Africa according to a recent report by Neilson. They are also more likely to use IM, Skype and other online services daily. Out of 15 countries surveyed, these are described as 'Savvy Consumers' as opposed to 'Simple' or 'Selective' ones. Neilson also defines seven socio-economic groups and sees the key differentiator across countries surveyed as interaction with print media, mobile and online media.
The report includes case studies on three individuals, to provide a digestible overview of African consumers today. Patrick is from Nairobi in Kenya, for example and behaves just like any young, professional, consumer in Manhattan. He is passionate about gadgets, loves trying new technology and is happy to take recommendations from his extensive social media network. He is defined as a 'Trendy Aspirant' in a 'Savvy Culture'.
Patrick couldn't differ more from Nelly, who lives in Kano, Nigeria. Her consuming habits are more like an archetypal 50s housewife, because although she discovers new products through TV and radio jingles, she is happiest taking recommendations from her friends and family. Nelly is identified as a 'Balanced Senior' in a 'Selective Culture'. Finally there is 18-year-old Benjamin from Kinshasa in the Democratic Republic of Congo. He is an 'Evolving Junior' in a 'Simple Culture' and is like an excited child who always wants to try the next fun thing on the market. At the moment he and his friends are saving for a cool new energy drink that has received an attention-grabbing advert on the radio.
Part of the reason doing business in Africa is such a challenge for many people outside the region is because the continent is so vast and disparate. There is also often a lot of ignorance on the differences between various countries from people in the West. Although this Neilson report is a trifle simplistic and based exclusively on consumers, it does help provide a cohesive overview of the marketplace as a whole. In addition to which, it rams home the point that word of mouth is extremely important in African culture. In the 'Savvier' areas this extends to 'virtual word of mouth' but recommendations are still highlighted as more key than elsewhere in the world.
15 Countries, Three Divisions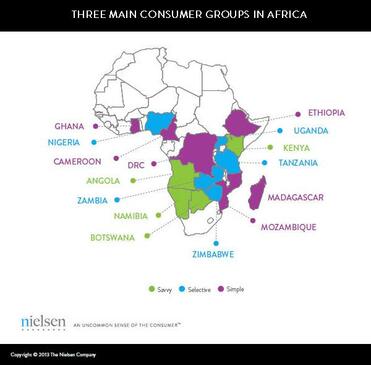 Nielsen divides 15 sub-Saharan countries into threemain categories (see map below). These are 'Savvy', 'Selective' and 'Simple' and are not necessarily as you'd imagine based on the economies and importance of the countries included. The result does feel like a blanket overview, but this will be true of anything that breaks down such a large area. Ghana for example is the second largest economy in West Africa, after 'Selective' Nigeria, yet it is defined as 'Simple'. Angola, which is defined as 'Savvy', has a huge disparity between rich and poor so this can hardly be the whole picture. Luanda is the most expensive city to live in the world yet nearly two thirds of the population live on less than $2 a day. Interestingly South Africa was not included in the study.
Seven Social Divisions
The report divides the African continent into seven clear socio-economic groups. They range from the wealthiest, 'Progressive Affluents' aged 30- 45 who are well-educated and make impulse purchases for quality, through to the poorest, 'Female Conservatives', aged 15 - 29 who lag behind in media usage aside from TV and radio. This is certainly a neat way to divide consumers and is clearly different from how a European or North American breakdown would present itself.
For anyone looking to gain an understanding of the African continent, this is unlikely to provide a definitive answer. However, this report is fairly unique and does provide an often surprising overview of the African media and technology environment as a whole.