Mobile Working
Apple Spring Launch: New iPhone SE & iPad Pro
Apple's Spring launch event was held earlier today in California. Rumours suggested CEO Tim Cook would be announcing the iPhone SE (essentially an 'iPhone Mini'), a new iPad, and some new features for the Apple Watch. Last month we looked at how accurate the Samsung rumour mill was regarding the S7 launch, so how about the Apple rumour mill?
Beginning with a '40 years in 40 seconds' video highlighting the best (iPhone, MacBook) and worst (Newton) of Apple, the event kicked off at 5pm GMT, with Tim Cook announcing the 40th birthday of Apple on 1st April 2016. Of course, given the battle lately between Apple and the FBI, it's hardly surprising that that's where Tim Cook began, saying, "[We] Need to decide as a nation how much power the government should have over our data and our privacy", and that Apple "will not shrink from this responsibility". In fact, the theme of data privacy and security ran throughout the event, with all new products maintaining Apple's high privacy and security standards.
Software
Before getting to what most people were waiting for – the new products – Apple's vice president of Environment, Policy and Social Initiatives, Lisa Jackson gave a run-down of how the Cupertino company was doing with its plan to "change the world for the better". Two years ago, Apple announced the goal to become 100% renewable in 100% of operations worldwide. Today Jackson announced 93% of Apple's worldwide operations run on renewable energy, while it had succeeded with its goal of 100% in the US, in China –in a total of 23 countries.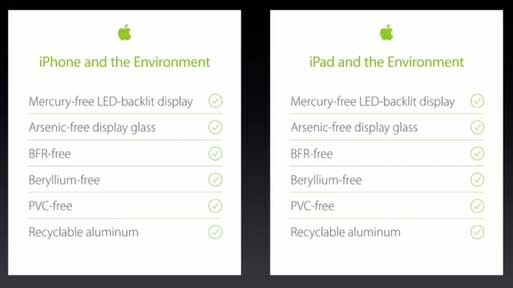 Jackson also introduced the world to Liam, a new R&D project that detects and separates device components, be it gold, copper, silver, platinum etc., so that it can be reused and reintroduced into global supply. (I couldn't make my laptop record the introductory video, but you can see it see courtesy of The Verge.)
The other initiative Cook was eager to shout about was Health, although he handed over to Apple's Chief Operating Officer, Jeff Williams to fill us in. Last year, Apple launched ResearchKit, which used technology to solve problems facing the medical and health industries. Virtually overnight the research studies launched became some of the largest in history, and included new research from MGH which suggested subtypes of Type 2 Diabetes, autism screening, and an app for the Apple Watch that aims to track epilepsy seizures with a view to being able to develop a seizure predictor.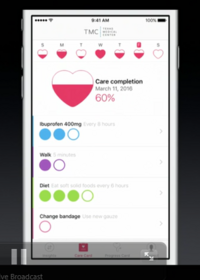 Today, Williams announced CareKit, a framework to build apps to help people learn about their own care, as well as their own health. This would include apps such as a care card replacement that will measure and track your symptoms after surgery, including monitoring temperature, and enable you to share the data with loved ones and GP to give you support through your recovery. And as ever, Apple is mindful of your privacy – you decide which apps you use and with whom you share the data. The new open source platform will be available in April.
Products
The one everyone was waiting for was the new mini iPhone. But we had to wait. First there were announcements for the Apple Watch and Apple TV.
The Apple Watch is now the top selling smartwatch in the world. Today Apple announced new colour bands, as well as a new band made from woven nylon with a four layer construction. The sport and leather bands are also available in new colours, and the big news, there's a new price - $299.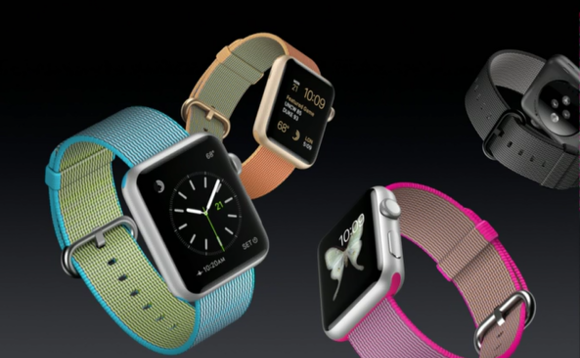 As for Apple TV, there are now 5000 apps on the Apple TV app store, and a whole host of new features announced, including folders (for organising apps on home screen), dictation for entering text (including usernames and passwords), Siri functionality for app store,you're your entire iCloud photo library is now available on TV. Sounds great and can't wait? You don't have to – the free update begins today.
And so to the big product news. "Today, we're welcoming a new member to the iPhone family." With over 30 millions 4-inch iPhones sold in 2015, it would seem daft to stop producing them, which is where the iPhone SE comes in. Made in aluminium, and available in a new colour – rose gold – the SE will come with either 16GB or 64GB, and has LTW speeds 50% faster than the iPhone 5S, and high-speed Wi-Fi 3x faster than 5S. Other features include 4K video recording, touchID, built-in Apple Pay and NFC. Orders start on 24 March, with availability from 31 March, and plans to be in 110 countries by the end of May.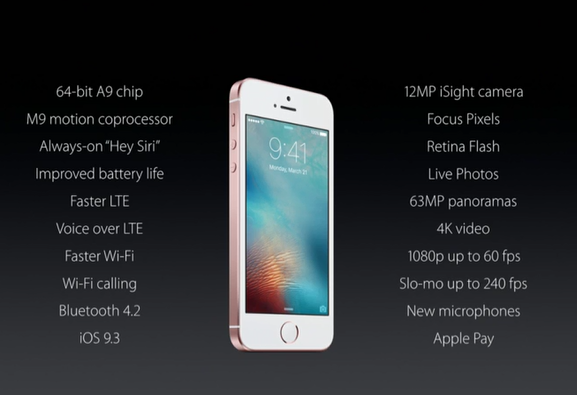 An upgrade to iOS was also announced. Key features of 9.3 include new password-protection for Notes, app suggestions in Health, top stories and editors' picks in news, and a new software suite for students, teachers and educators. But the biggie was NightShift – a setting that uses the device clock to track sunset and then shift the colour of the device display to the warmer end of the spectrum, thereby reducing blue light which experts say should help you sleep better. The update is available for free today.
And last but not least in Apple product news, the new iPad Pro, a 9.7" display device weighing less than 1lb, that Apple claims will be "the ultimate upgrade". With a slight dig at PCs – apparently there are 600 million PCs over five years old in use today – the iPad Pro has the fastest chip ever (A9X), is the brightest tablet available (25% brighter than the Air 2), and is also 40% less reflective than Air 2. It works with NightShift, Hey Siri, has four speakers, new lightning adapters including a camera adapter and SD card reader, and, never before seen on any device, TrueTone display. Apple's latest feature "measures the colour temperature of ambient light, and adjusts the display to match" – apparently once you've used it you'll never go back to the 'old' technology. The iPad Pro will also be available in rose gold for the first time, and will ship from 31 March.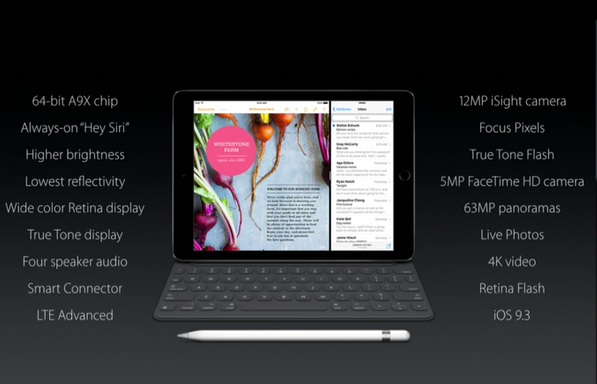 Tim Cook concluded the event by saying that "this is probably the last product introduction in the Town Hall", describing it as a "very special place with lots of memories". Looking forward to the next 40 years, he showed off the new Apple campus and theatre and said he looked forward to welcoming members of the press to their new home. Well, here's hoping!