Mobile Communications
Samsung S7: Rumours & reality
Apparently it's time to "rethink what a phone can do".
Samsung released their latest flagship phones, the Samsung Galaxy S7 and S7 edge at Mobile World Conference in Barcelona yesterday. You can see the event here (skip to 35:00 for the start of the event, 41:55 for the start of the S7 introduction – presented in VR at the event – and 44:00 for the big reveal.) If you don't have a spare hour and a half, here's cnet's 3 minute roundup.
But while the official announcement was only made yesterday, rumours have abounded for months. Samsung's flagship Galaxy S6 was officially unveiled at Mobile World Congress last year on 1 March, and released a month later on 10 April 2015. Before the S6 was even available to buy, the rumours about its successor, the S7, had started.
Earlier this year, Samsung announced its UNPACKED event would take place on 21st February. The video invitation didn't reveal much apart from the date, although there was a clear suggestion that VR would play a key part in Samsung's future mobile strategy, thanks to the use of the Gear VR headset and the video's tagline "Get ready to rethink what a phone can do."
After the initial announcement, Samsung revealed that Samsung Galaxy Unpacked 2016 would, for the first time, be presented in 360-degree live streaming; you could watch the event on PC, on mobile (there's a dedicated app), and "in the immersive world of Gear VR".
So now that the big reveal has happened and we know what's been 'unpacked', how much did the rumours mills get right?
Design
Rumours
Most rumours assumed Samsung would release both a standard Samsung Galaxy S7, and a Galaxy S7 edge, which Samsung unintentionally confirmed by listing it on one of its websites. Leaked images suggested that both the S7 and S7 edge would be very similar in design to their predecessors, with renders showing curvy edges on the back and a flatter camera bump.
Further leaks claimed that the Samsung Galaxy S7 would be IP68 certified dust and water resistant, and have a reinforced frame that would better protect it when dropped; rumours that seemed to be confirmed in an unlisted video uploaded to the Samsung Indonesia channel.
Reality
At first glance, the S7 is very similar to its predecessor. However, as expected, the rear of the phone is more curved (which Samsung says makes the grip more comfortable), the camera is flatter, and the rumours about IP68 certification were correct – your S7 can take a swim in 1.5 metres of water for up to 30 minutes and survive. Suspicions of premium glass and metal design were also correct, Samsung says, "Using a proprietary process called 3D Thermoforming, we melted 3D glass to curve with such precision that is meets the curved metal alloy to create an exquisitely seamless and strong unibody."
When it comes to dimensions and weight, the Galaxy S7 is 142.4 x 69.6 x 7.9mm and weighs 152g. The Galaxy S7 edge is 150.9 x 72.6 x 7.7mm and weighs 157g.
Screen
Rumours
A benchmark believed to be for the S7 claimed it had a 5.7-inch, 1440 x 2560 QHD display rather than 4K that some had predicted. However, other leaks suggested the Galaxy S7 would come with a 5.1-inch display and a pixel resolution of 1440 x 2560.
The Wall Street Journal, who spoke to "sources familiar with the matter", claimed the Galaxy S7 would feature pressure-sensitive display, in a similar vein to the iPhone 6S' 3D Touch technology.
Korean site KBench had allegedly seen a trademark request from Samsung filling for a new type of glass cover called Turtle Glass, Turtles apparently being stronger than Gorillas—Corning's Gorilla Glass is used on the S6.
In the last few days before the launch, TechRadar speculated the Galaxy S7 would feature an always-on display technology that would show the time along with notifications without having to actually turn the screen on.
Reality
The S7 features a 5.1-inch (S7 edge is 5.5-inch) QHD Super AMOLED display, so we're talking great colour reproduction, pin-sharp, with 1440 x 2560 pixels. Those tipsters who bet on Always On Display were correct – when the phone is in standby, the screen will show the clock, calendar etc.
OS, power & processor
Rumours
Android 6.0 Marshmallow was unveiled in September 2015, with the S6 and S6 edge receiving it last week, so it's no surprise that tipsters expected the S7 to be launched with it.
Samsung's Galaxy S7 was rumoured to come in two different variants – one with an Exynos chipset and another with a Qualcomm Snapdragon 820. Two benchmarks leaked from AnTuTu now, one from Weibo and another from GforGames, show the full hardware specs of the new phone, codenamed the SM-G930F. This was expected to be the S7, said to have a Samsung-manufactured Exynos 8890 SoC and an impressive 4GB of RAM. The S7 edge, apparently codenamed the Samsung SM-G935A, was expected to ship with a Qualcomm Snapdragon 820 SoC. Tipsters disagreed over which way round the chips would be, with some suggesting the division could be region specific.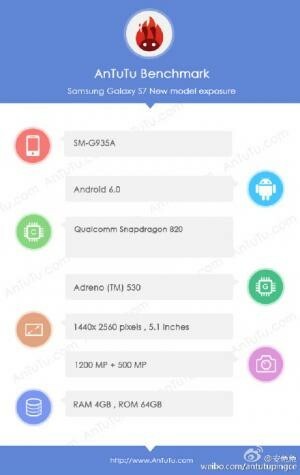 Reality
Samsung hasn't disclosed any real details regarding processor, but the website states "new custom CPU, powerful GPU and 4GB make for a powerful combination". The RAM at 4GB is up from 3GB in the S6, while the CPU is "up to 30% faster" and the GPU "up to 64% faster". The US press release announces Quad-core 2.15GHz + 1.6GHz processor for both phones. The UK press release announces for the S7 "Octa core (2.3 GHz Quad + 1.6 GHz Quad), 64 bit, 14 nm process; Quad core (2.15 GHz Dual + 1.6 GHz Dual), 64 bit, 14 nm process * May differ by markets and mobile operators". No details for the S7 edge.
The OS, as expected, is Android 6.0 Marshmallow, and appears to be as bare bones as we've seen from Samsung in a while (hurrah!). The S7 edge comes with a number of new sidebar options for accessing apps, contacts, tasks or news feeds.
Battery
Rumours
Some models of the S6 suffered with battery issues, so speculation over the battery in the S7 was rife. Most tipsters agreed that like in the S6, the battery wouldn't be removable, but it would increase in size. A Russian blogger leaked a screenshot supposedly showing the S7 lasting for two days on a single charge, with 75% screen brightness and 4G enabled.
Reality
The battery has been boosted up to 3000mAh in the S7, and 3600mAh in the S7 edge, which with the combination of Android 6 Marshmallow's improved power management should only be a good thing. Charging is faster – S7 in 90 minutes, S7 edge in 100 minutes – and wireless.
Camera
Rumours
Back in November 2015, Samsung unveiled its new BRITECELL technology at the Electronics' Investors Forum. The new sensor uses an RWB filter to give better results for low light photography, and new 1.0 micron pixels being pushed in means the sensor could be reduced in size – leading to numerous rumours that it would be included in the S7.
A rumour in mid-January suggested Samsung was again looking to mimic an iPhone feature—Live Photos from the iPhone 6S—calling it 'Vivid Photo'. This was attributed to a software engineer within the company who claimed the feature wouldn't include sound clips, making it easier to upload to social media. Techradar pointed out though that Samsung had tried something similar in the S4, but hadn't pushed it as a big feature.
A South Korean report, also released in January, cited a Samsung employee as saying the S7 would feature a rear camera with 12MP sensor and f/1.7 aperture to make the most of the lighting. An AnTuTu benchmark showed a possible S7 as having a 16MP rear camera and a 5MP front-facing one, however this benchmark was leaked back in September, before the one above with (seemingly) updated codename.
Reality
So Samsung has indeed 'downgraded' the camera from 16MP in the S6 to 12MP in the S7. However, I use the work 'downgrade' loosely, because while it might have less MP, the pixel size has increased from 1.12um to 1.4um, meaning each pixel gets more light, so noise is reduced. The lens has also been improved to a f/1.7, making the S7 25% brighter. Focusing is also much faster thanks to the new dual-pixel sensor giving 100% phase detection pixels, hopefully resulting in clearer photos (even with shaky hands).
The S7 and S7 edge also have 'motion panorama' – "you can capture sweeping movements in panoramas with motion. The panorama still captured at the same time is a seamless, stitched sequence of the clearest frames from the motion version" – and 'Motion Photo' (what was rumoured as Live Photos) and Hyperlapse, a "professional-grade time-lapse" that compensates for shaky hands using vDIS technology. And Samsung have catered to all those selfie lovers with special effects and wide angle options.
Other features
Rumours
A report out of South Korea suggested the S7 might have seriously upgrade its audio with the SABRE 9018AQ2M chip from ESS Technology, potentially bringing with it the best audio seen in a smartphone.
There were conflicting rumours over whether the S7 would support USB Type-C; SamMobile suggested yes, while AndroidAuthority said no. USB Type-C would allow Samsung's flagship smartphone to charge faster, however, since most tipsters seemed to agree that wireless charging would make a comeback, many sources didn't seem to concerned over the 'will they/won't they' of USB Type-C.
Wireless charging was one of the many features shown in the video from Samsung Indonesia (see below). Waterproofing was another, while a teaser website that was put up at the same time, again by Samsung in Indonesian, hinted that the new handset would concentrate on its 'privacy', presumably with a return of the fingerprint sensor.
The same video also featured the Samsung Gear S2 smartwatch and showed the handset in a slivery-gold finish, supporting other rumours that Samsung was moving away from its usual blue-white colour scheme.
A number of sources reported that the Galaxy S7 would come with a microSD slot, apparently compatible with cards up to 200GB.
A rumour from China back in December suggested Samsung would add liquid cooling to the S7, aiming to help prevent overheating and draining of the battery.
Reality
SD slots are back, much to the relief of consumers (i.e. me), however there is some surprise over the fact that's it's not adoptable. Strange perhaps, but at least there's an SD slot at all.
One of the big features is the new Game Launcher, "the ultimate control centre for games". It stores downloaded games in one area, with access to various tools to improve the gaming experience, including muting and hiding alerts, adjusting game setting to save power, and even record footage of your gaming experience.
There's also NFC, a fingerprint reader, Samsung Pay, and Samsung KNOX. Samsung's press release announced that "Samsung KNOX makes the Galaxy S7 and Galaxy S7 edge advanced, enterprise-ready devices with built in defense grade security—right out of the box". How well it compare's to Apple's iPhone security is another question.
Cost
Rumours
Sammobile reported a week ago that the Samsung Galaxy S7 would cost €700, while the S7 edge would cost €800. These estimates were roughly in line with pricing for the S6 and S6 edge.
Android World reported that pre-order would start after the Unpacking event, with a free VR headset being offered. Since Samsung recently launched its final consumer-version of the Gear VR headset (RRP £80), many tipsters agreed it would be reasonable to bundle the headset with the S7.
Reality
On the Samsung website, you can pre-order both versions and get it three days early – on the 8th March. The S7 retails in the UK at £569 ($806) and the S7 edge at £639 ($905). Both are 32GB. The major retailers are offering the same deal, but Carphone Warehouse is also offering a free Samsung Gear VR headset with pre-orders, and of course it's on various contract options.
Release
Rumours
Evan Blass, a tipster with an excellent track record with similar information, suggested the release date is likely to be 11 March for the US. General consensus seems to be that the UK launch would be the same.
Reality
Official release date is Friday 11th March, but Samsung and a number of other retailers will ship three days early if you pre-order.