Internet
The state of Brazil's digital cities
In recent years Brazil has been rolling out its digital cities initiatives in a bid to increase access to smart public services and expand telecommunications and internet services to the regions that need it the most.
Brazil aims to have its cities and their close surrounding areas well-serviced by voice and data services by the end of 2015 as well as introducing free broadband to schools. This is all coupled with the country's National Broadband Plan (NBP), introduced in 2009 to bolster internet access in the country, where internet penetration is already much higher than other South American nations with access across the continent tipped to grow.
The Ministry of Communications says the connecting of cities across the nation will make it easier for cities and municipalities to share and gather information while also maintaining more autonomy than before.
Programs are in place to build out the necessary communications infrastructure across the country, install government software in various federal and state governments, and provide relevant training, and collaborate with major ICT companies.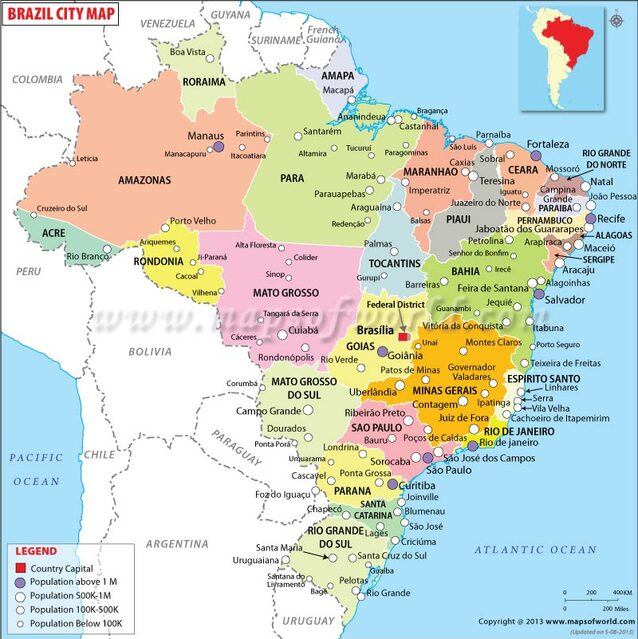 In 2011, Rio de Janeiro collaborated with IBM for its smart city program, which saw the deployment of the company's smart city technology such as the Rio's expansive command control centre.
As far back as 2006, the government began working with large companies. Cisco worked with the country's ministry of communications to deploy wireless mesh in the small town of Tiradentes as a test bed. Between 2006 and 2009, Intel ran its World Ahead program in a number of cities, first launching in Parintins, to roll out wireless broadband programs and invest in education schemes.
Alvarion, an Israeli telecom, has since 2010 been deploying wireless broadband across dozens of Brazilian towns and cities to power e-government platform and public safety tools, like connected surveillance cameras.
In 2012 Brazil selected 80 cities, and a further 262 in 2013, to avail of the digital city efforts. The government has been opening up tenders to various companies to build out infrastructure and services up and down the country.
Since that time, efforts have become more intensive and challenging. In May of last year, the digital cities scheme was expanded to the country's most southern regions. This included the small city of São Miguel das Missões in the state of Rio Grande do Sul, with its population of 7,600. It's often known for its historic ruins but is undergoing a digital makeover.
The ministry of communications and the local government invested 905,000 Real ($270,000) in connectivity for the municipality. Now it has a fibre optic broadband network running speeds of up 10 Gbps, claims the ministry. This includes two free wireless access points for the city's residents and over a dozen new networks between government departments.
Furthermore, in May of 2014, the Ministry of Communications expanded the program in Bahia, the fourth most populous state, to take in nine more cities – Guanambi, Itaberaba, Itabuna, Juazeiro, Lauro de Freitas, Nilo Pecanha, Pirai do Norte, Urucuca, and Vitoria da Conquista. All of these cities and municipalities now have free internet access in public areas with public and government building connected via a new fibre optic network.
The various efforts have given particular attention to Brazil's many other urban regions outside of the obvious examples of Rio de Janeiro and Sao Paolo.
Águas de São Pedro is known as Brazil's first digital city and provided a template of sorts for the country to build its cities of the future around. The city, with the backing of Telefonica Vivo and Ericsson, has been building out its smart infrastructure, such as connected street lights and parking services. A spokesperson from Ericsson told IDG Connect that the project is currently collaborating with Sao Paolo University for next year for further research.
Accenture and Cisco recently renewed their partnership in Brazil, which will continue to serve the communications sector in the country, among others. Cisco for example has been deploying its technology in Brazilian cities, most recently releasing the latest in its Wi-Fi project in a number of subway stations in Rio de Janeiro.
It's not just urban areas either. Despite its sprawling cities, favelas, and bustling populations within them, the Amazon rainforest is more often than not the first image that springs to mind with Brazil.
The Ministry of Communications, in July, opted to take advantage of this vast ecosystem for the laying of a fibre optic network in the river beds of the Amazon Basin, which will connect 52 municipalities in the state of Amazonas to better serve telecom services. The project is also being co-ordinated by the Ministry of Defence and is expected to be completed in the next three years.
"[The project] is a debt to the Amazon region. It is an extraordinary project of rescue of this region, which was set apart," said Defense Minister Jaques Wagner of the R500m project, which will reportedly serve 3.8m people in Brazil's more remote cities and towns, like Manaus, the state's capital.
Brazil has mulled various kinds of plans to connect the people of the rainforest, including pilots of internet balloons a la Google Loon. In 2010, some Amazon regions were kitted out with satellite phone and internet services while in 2007, a number of tribes were given internet access to report illegal logging in the forest. The latest effort is the most comprehensive so far though.