Internet
How Are Big SA Cities Preparing for Vision 2030?
"Not so good, but not so bad either" reads the emboldened subtitle appearing nearly midway through Yusuf Carrim's "Reshaping South Africa's ICT Policies for the 21st Century" speech. In it, the South African Communications minister addresses the country's ICT development setting with enough precision to allay some fears of complacency within the sector, particularly as they relate to the implementation of government policy.
Delivered in March (2014), the National Integrated ICT Policy green paper both acknowledges and offers logical solutions in dealing with the challenges facing South Africa's ICT space. It cites the need for strong private-public sector partnerships as one of the key requirements towards the fulfilment of the sector's role in the National Development Plan (NDP): Vision 2030 and towards getting on par with other developing nations.
To no lesser degree; lack of advanced ICT infrastructure, high mobile and fixed retail prices, low-quality and slow-speed bandwidth, a shortage of internet access for millions of citizens as well as ineffectual regulatory policies which have largely contributed to delayed digital migration; have collectively played a role in curbing the amount of growth that's come to be expected of Africa's most developed nation. When it comes to internet access for example, the figures are disappointing. The table below indicates South Africa's position as far as internet accessibility when compared to other African nations.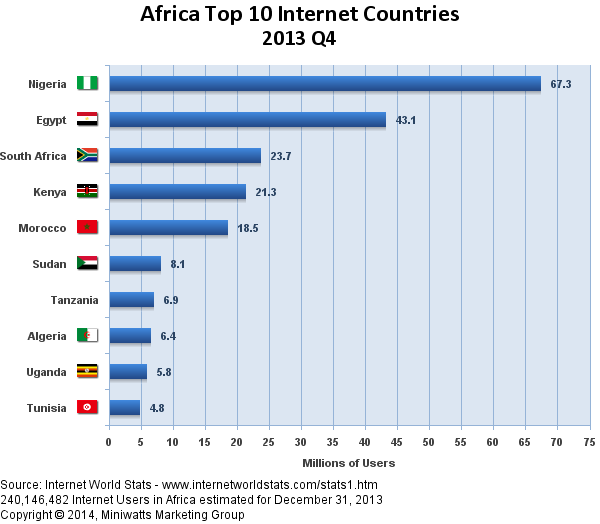 Internet access and slow broadband
Further broken down in a recent Research ICT Africa report, the above figures illustrate that in South Africa only 20% of households have internet access, with 56% accessing it via mobile devices. Individual stats indicate that 71% of South African internet users also access the internet using mobile phone handsets.
Jeanette Morwane, Director for Technology and Services Industry at the Department of Science and Technology (DST) tells IDG Connect that in addition to the aforementioned issues: "People are at the heart of economic development and there is lack of skills required to drive technology innovations."
Asked what is being done to counter such challenges, Morwane says: "The policy and its associated strategy and plan have been collectively dubbed 'South Africa Connect' and outline a number of activities to improve broadband in SA. In particular, the overall vision of the policy is to give every South African access to a broadband connection at a cost of 2.5% or less of the average monthly income.
"The new policy has also revised on how it defines the speed of broadband, opting to use targets that are reviewed annually rather than a fixed speed. The initial target is to offer 90% of South Africans a minimum speed of five Megabits per second (Mbps) by 2020. However, 50% of the population should also have access to 100Mbps broadband by 2020 according to these targets."
What the big cities have achieved
A broader look at the state of ICT across Africa reveals that a lot of the problems South Africa faces are not unique. However, as one of the continent's leading economies, more is expected. In recent years, the country has met a significant number of these expectations through a proliferation of tech innovations across South African cities. We took a look at those related to connectivity and startup incubation.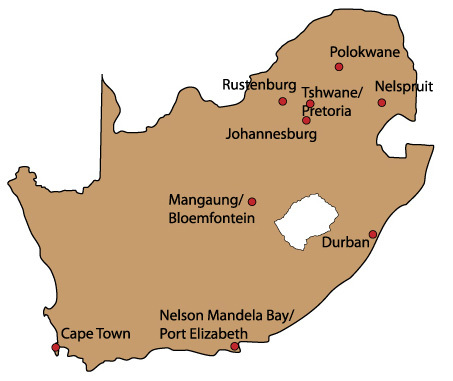 Tshwane
South Africa's capital city of Tshwane has been proactive in its implementation of ICT policy. In late 2013, it launched free Wi-Fi hotspots that provided internet access to about 60,000 unique users when it first launched. This year in July, the city made significant strides by providing free Wi-fi to the Steve Biko Academic Hospital, making it the first healthcare institution in Africa to do so in history. The city is also host to the mLab – a mobile application, startup innovation and entrepreneurship hub supported by the World Bank and the DST. Morwane considers this a great step in South Africa's mobile development:
"Globally, one of the most vibrant areas for entrepreneurship and new enterprise creation is in the area of mobile applications and software. Over the last five initial years, 12 startup companies were supported by the mLab. Last year, one of the companies, GoMetro, finalised the development of a mobile application for MetroRail services. The application is now adopted by PRASA as their official commuter communication channel and is implemented in the Western Cape, Gauteng, Eastern Cape and Kwazulu Natal. The system attracts over 450,000 unique and active daily users. Building on this success, GoMetro has been commissioned by the Gauteng Department of Roads and Transport to develop an all-inclusive transport mode service for the province and GoMetro is working with several other mLab start-ups in taking forward this opportunity…"
Johannesburg
Regarded as Africa's economic hub, Johannesburg in the Gauteng province is fast catching up with to cities like Tshwane which have set the ball rolling on free access tech. Innovation in the city includes the much anticipated Tshimologong Precinct, a software skills and innovation hub in Braamfontein said to be nearing completion. The precinct will be one of the largest in the continent. Free Wi-fi has thus far only been available in a few areas within Johannesburg central but this is set to increase up to 1000 hotspots in 2016. The city's plan is to make the entire city a free Wi-fi zone in the near future. Additionally, the rollout of fiber optic cables, bio gas and bio fuel are also part of its plans to become a 'smart city' within the next 10 years.
Cape Town
The Western Cape province has been at the center of various remarkable tech advances. 2009 saw the establishment of an ecosystem of ICT professionals, startups and investors called the Silicon Cape Initiative which currently has over 8,000 individual members. MXit, Yola and the Bandwidth Barn are some of the companies out of the Western Cape that now enjoy global recognition in the ICT sphere. Cape Town's Wi-Fi plans, however, have been slow to manifest. Notably, it launched free Wi-fi in train stations in June with further plans to make it accessible from within train carriages and in other public spaces.
Durban
The coastal city of Durban in Kwazulu Natal is home to Africa's busiest harbor. It is also the only South African city with teleradiology technology – a high-tech innovation that has opened up doors to the rural population to receive specialized medical care timeously. Patients' radiological images are sent via ADSL or ISDN networks, avoiding the need for medical practitioners to wait until a patient's arrival to have scans conducted. Durban's free Wi-fi could, however, use some improvements. Although the city was one of the first to launch free wireless internet at its municipal libraries, Wi-fi access is still only available in a small area in the city surroundings.
Besides these advances, South Africa sees a flurry of novel tech startups popup on a regular basis. A lot of them do relevant work in offering solutions that address South Africa's socio-economic challenges. With innovation hubs now in every major city, the ICT sector might see some real growth in the near future as long as government follows its mandate of, "providing ICT infrastructure to enable technology innovations and enhance human capital development."
Looking ahead to 2030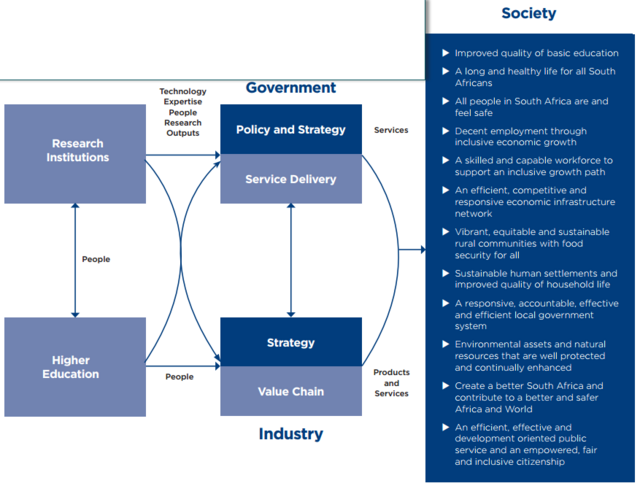 Above: Screenshot of ICT RDI Overview – from Meraka.org.za
We asked Morwane about how current ICT innovation in the country would boost education, economic development, job creation and other core issues: "The National Development Plan sees ICT by 2030 underpinning a dynamic, inclusive and prosperous information society and knowledge economy, in which a seamless information infrastructure will meet the needs of citizens, business and the public sector, providing access to a wide range of services required for effective economic and social participation at a cost and quality at least equal to South Africa's competitors… The ICT Research Development and Innovation (RDI) Roadmap derived a vision for a South Africa that has overcome a digital divide and created a digital advantage."