Outsourcing
Dan Swinhoe (Asia) - Bangladesh: The Next India?
For years, IT in Asia has revolved around a big four; India, China, Singapore and South Korea. Other countries may get mentioned occasionally, but on the whole, the smaller neighbours are forgotten about. But Bangladesh is on the up - a blooming outsourcing industry is beginning to boom within the country. Fuelled by a young tech-savvy generation, this new wave are willing to work for cheap, developing software and websites for almost half the price of neighbouring India.
Microwork
What's interesting about Bangladesh is the scale of everything. While in India, schools are teaching in thousands and companies are employing in equally large numbers, in Bangladesh there are thousands of freelance workers working alone. Ten thousand of them, according to the Bangladeshi Software and Information Services Association (BASIS), working for companies across the Western World. This Micro-working is popular amongst students and those with other day jobs, and BASIS 'reckons that they have now overtaken the formal IT- and ICT enabled services industry in sales volume.' Alongside the lone wolves are hundreds of SMBs; of the 800 estimated IT software companies in the country, less than a dozen employ more than 100 professionals. According to Richard Sykes, the rise of Bangladeshi IT can be attributed to "good universities [inherited] from its colonial days as East Bengal, and with it a fast-growing pool of well-trained IT engineers that can be recruited at salary levels well below those of neighbours India." He cites the opening of Samsung's new R&D center as proof of progress.
Despite this growth however, there are is still a divide between the blossoming IT sector and the rest of the country. Less than 0.1% of total employment within Bangladesh is in computer software & services and the country suffers from a chronic poverty problem - almost half of the country is in poverty, while only 5% of the country is able to access the (generally poor quality)internet.
Digital Bangladesh
As part of Sheikh Hasina's election to Prime Minister in 2008, her Awami League created the Vision 2021 manifesto to create a 'Digital Bangladesh'. The idea was to push technology into people's lives, from a number of e-Services to including technology in classrooms in a bid to improve the everyday lives of people. And things are improving. Laptops sales are up around 50% year on year, and mobile phones are now owned by around 2/3 of the country, though smartphone penetration is estimated to be less than 5%.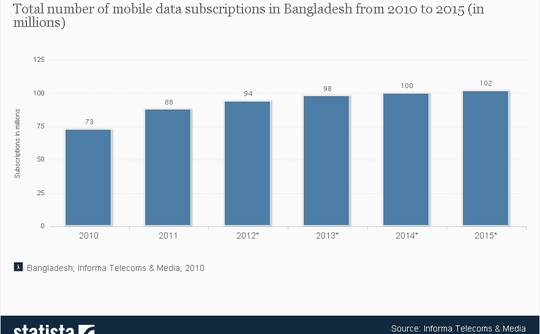 Internet in Bangladesh has been poor for many years, the country being served by one undersea cable and generally suffering download speeds a fifth of the worldwide average. The introduction of 3G earlier in the year will boost connectivity for the many millions who use their phones for web surfing (thought to be up to 95% of Bangladeshi Netizens) and hopefully encourage even more to join.
In 2010 Gartner named Bangladesh one of the top 30 outsourcing countries in the world, but in many areas it was still lagging behind the bigger players. As time goes on, though, and as the effects of DB 2021 and technology become even more of an everyday part of life, Bangladesh could soon be a major player.