Networking & Communications
Bristol's data project could make it England's SimCity
It's 26 years this October since the game SimCity was launched by developer Maxis. Who would have thought that a town-planning game could be so popular? But where SimCity relied on players developing bricks-and-mortar infrastructures, in the real world things have moved on considerably. Cities are now digital, they generate data and there is an increasing demand for that data to be harvested for the benefit of local communities and businesses. This is not new. Cities all over the world are already doing this with mixed results. But Bristol, a city in the south west of England, is taking this a step further in an attempt to create a metro-wide experiment; in effect, its own real-world digital city simulation.
Answering the question, 'What do you need to make a successful city?' Bristol mayor George Ferguson wrote in a blog this month that this used to be a concrete question. "Cities started near water, became places for trade, infrastructure developed, the economy grew and people moved in, making culture, hierarchies and so on," he wrote. Today, "digital infrastructure and the data it generates will become the most important toolset for making cities successful."
And he's right, up to a point. It's not just the infrastructure and data but how that data is used and acted upon that will determine the success of a city. And how do you define success? Not by GDP alone, according to Paul Wilson, managing director of the Bristol is Open project, launched as a joint venture between the local council and the University of Bristol.
"We need meaningful metrics beyond GDP," he says. "We want to be a happy city."
As China and India embark on ambitious new city building projects for one million plus inhabitants, they should take note of Bristol. At least one Chinese city, Guangzhou already has, and representatives have visited to learn from what Bristol is doing with its data and local community schemes. An intriguing emulator allows for any city's data to be input into the system and played out in real time to try and detect potential issues. This surely has legs.
So what exactly is Bristol is Open?
It's essentially a joint venture between Bristol City Council and the University of Bristol to create an open data system and open network, initially for research purposes.
"It's an experiment," adds Wilson, talking in the converted surroundings of one of Isambard Kingdom Brunel's original Great Western Railway engine sheds. "But we don't want to build smart cities. We want to build liveable, sustainable and resilient cities."
There's a sense of relief in that statement at least because this is largely public funded. Wilson says the value of the project to date is approximately £75m although not all of that has been in direct Government funding. Contra deals, joint ventures and collaborations have gifted the project much of this figure in hardware and infrastructure.
Super-fast
At the centre of all of this is the Software Defined Network City Operating System, developed by the University of Bristol's High Performance Networks team, led by Professor Dimitra Simeonidou and open standards networking firm Silver Spring. It will connect to the University's Blue Crystal II supercomputer, enabling high-speed processing power and data storage across the city area.
An operating system for a city? On the surface it's the sort of crazy invention local heroes Wallace and Gromit would be proud of, but nobody was laughing. This is serious business, which is why Bristol is Open is looking for partners to help develop products and applications that can take advantage of the local superfast fibre connectivity. There's also a mile of wireless connectivity along what is called the Brunel mile, running from Temple Meads station to Brunel's ship, the SS Great Britain. They'll need it, especially if plans to use the network for Internet of Things devices materialises. Currently this network has connected the university with 1,500 lamp posts, a 3D planetarium and data visualisation dome (which is part of the interactive science centre At Bristol), cultural centre The Watershed, and start-up and incubation hub The Engine Shed.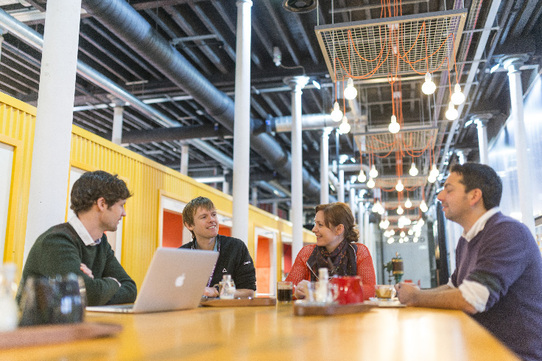 Image credit: Andre Pattenden
The projects and ideas are ambitious. Bristol already has a substantial open data store setup by Socrata and publishes over 200 local data sets, according to the mayor, but it needs partner businesses to develop applications on its platform. The potential is massive.
Wilson claims this could become "the mother of all Big Data systems" but it is not without risk. It's not quite a case of 'if you build it, they will come' but it's not far off. Yet Bristol has something here, something that other cities will no doubt watch with interest. Later this summer, large amounts of public data will be flowing into the system and the council will try and make sense of it. They will use it to see how it can improve public services, reduce disruptions, fuel innovation and ultimately make residents happier.
Will it really stimulate research and innovation though? The hard work is yet to come.
Collaboration is key
The suggestion is that the area has enough drivers to make the network viable, including the BBC's natural history department with its huge 12Gbit/sec data capture demands that it needs to transfer across town to production departments or editing suites. Then there is Oracle's new R&D centre and a whole host of leading edge tech businesses in robotics, semiconductors and software engineering. Throw in Aardman Animation with its Creature Comforts and the aforementioned Wallace and Gromit characters and you have an interesting mix of potential users.
But it is the idea of collaboration that appears to be driving this project. NEC has been announced as a major partner. The company is already working with Bristol to virtualise and converge a new high-capacity wireless and optical network. The aim here is to enable, among other things, ultra-low latency connectivity for driverless cars; connectivity for machine-to-machine sensors to monitor the health of citizens with long-term chronic conditions; ultra-high definition TV broadcasts; and data transfer for collaborative R&D programmes between global universities.
So where is this all leading to? Will it confirm Bristol as a major centre for technology leadership and, dare we suggest, an important global hub for tech innovation?
Only last year McKinsey and Centre for Cities recognised Bristol and its neighbour Bath as one of 12 globally significant, fast-growth, high-tech clusters. The region doesn't have to big itself up on that front: the breadth of successful tech and science businesses speak for themselves. And now its claim to be the world's first open, programmable city can only help, at least during the honeymoon period, after which this experiment will have to start showing some results and be judged on whether or not it has really improved the lives of residents.