Mobile Communications
How Nokia Reacted to the iPhone
Pekka Pohjakallio was an executive of Nokia's Nseries devices which would compete directly against the iPhone. Within days of the iPhone announcement he talked to Tech Digest.
'It just confirms our story. We have been preaching the message of converged multimedia in one device. And now Apple have come and said basically the same thing,' he said. 'The best company will win in the end, so I think it's good news for us. It's not a threat, although of course it's hard competition, but that usually makes you perform better yourself.'
CFO Rick Simonson was also on message, and told Reuters the exact same thing. He pointed out that the N95 already contained many of the features which so excited the public about the iPhone.
Some industry watchers agreed wholeheartedly with Simonson. When the iPhone was finally released in the summer of 2007, it was not an obviously superior product to others available. One popular internet satirist wrote an article savaging the iPhone and lauding the Nokia E70 which was read more than five million times. Two prominent publications, Popular Science and Fortune, took Simonson's advice and ran head-to-head comparisons between the iPhone and Nokia N95. Both declared the N95 the winner.
They had good reason to pick the N95. It was a marvel. Juha Putkiranta, then a vice president in Multimedia, boasted to the press about the phone and explained how it fit into Nokia's strategy of driving and profiting from digital convergence.
'The Nokia N95 is the ultimate multimedia computer and a fantastic example of what Nokia Nseries devices can deliver,' he said. 'It easily replaces a number of single-purpose devices with a well-designed package that is with you and connected.'
The device had been first displayed in September 2006 but didn't go on sale in Europe, Asia and the Middle East until March 2007. It included the Global Positioning System with turn-by-turn navigation on Nokia Maps. It had a five megapixel rear camera and a front camera which could be used for video calls. It played audio and video and included an FM radio tuner. It had organiser functions and applications for business users. The N95 could be used with a wide variety of wireless connectivity options. It could run Java ME or Symbian apps. It handled SMS and MMS messaging, as well as email. It had the ability to use different networks with different technological standards. The reason the N95 was declared the winner by the publications is because it was the conventional winner. By almost any standard using technological specifications and functionality it was the best mobile device on the planet.
'The N95 was my baby,' says Jonas Geust. 'It was a huge commercial success. It is also an example of when the matrix organisational structure worked well. As an example, there was a question how we would integrate GPS. No customer really wanted GPS, but they wanted maps. I was in charge of the N95 device itself, and the services unit did the maps. The end result was great.'
But it doesn't matter how good a product is if it is difficult to purchase. Nokia couldn't get a high-profile subsidised deal with an American carrier to sell the N95 like Apple did with AT&T. This wasn't through lack of trying, though.
'The carriers had so much power. They could almost make or kill you,' says one person familiar with the N95 negotiations with American operators. 'We showed them the phone and they said Americans had two price points and wouldn't pay more than $99.99 or $149.99. We said: "But look at all this music we are offering!" They said Americans didn't want music on their phones. This was six months before the iPhone. The only thing they were interested in was a phone which would provide the most billable minutes.'
'We were definitely thinking about the North American market,' says Geust. 'We made an N95 variant specifically for the United States. But we wanted flexibility: who controlled the services? In the end we weren't able to partner with the operators.'
Because of the North American operators' intransigence Nokia was forced to decide between selling the N95 at a loss or else selling it through small, low-volume channels. They chose the latter. In North America, the N95 was unsubsidised and unsupported, and so it went unnoticed and unsold.
Apple sold 270,000 iPhones on the first day of its release and they went on to sell 1.1 million more units over the next three months. In only a couple of short months in one market with an overpriced and underpowered device on a subpar network with a disliked operator, the California company had seized 3.5 per cent of the smartphone market.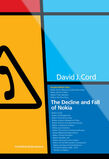 The Decline and Fall of Nokia by David J. Cord [IDG Connect interview] is available now.
Cord, an experienced US-born writer who lives in Finland, is a frequent contributor to the Finnish business press. His other works include Mohamed 2.0: Disruption Manifesto about Muxlim, the Muslim lifestyle social network.