Data Center & Storage Solutions
90 important cultural sites preserved in 3D
"I was passing the tables where the old men sit to play checkers," said a character in Medea, penned by Euripides in the fifth century BC: "you know, next to the sacred fountain of Peirene."
This is the just the kind of fame the Peirene fountain had in the ancient world. It was the sort of place you casually mentioned in passing and everyone knew what you were talking about. And it had very far reaching literary associations - the water was even meant to inspire poets.
Now, like many important cultural sites around the world, it faces pressure to survive. And this is where CyArk, in partnership with Iron Mountain Seagate, aims to help, with its grand scale 3D scanning preservation strategy.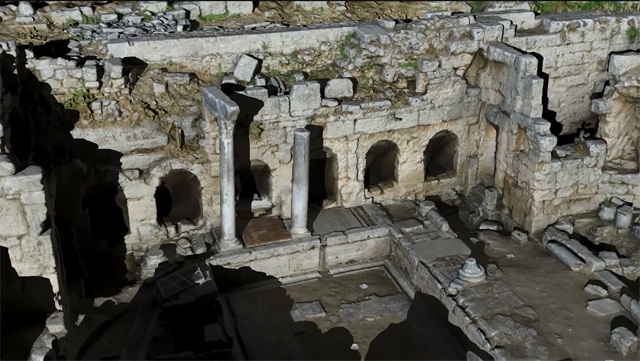 I love stories like this. But to my mind the most exciting part of it all is the ability to bring these historic buildings to life in new ways around the world. This could be semi-physical holographic reconstructions or virtual reality versions of the sites that people can explore in their own homes. And just think how beneficial it would be for students.
Elizabeth Lee, vice president at CyArk concurs: "We are increasingly looking for ways to do this and for partners who can make a VR tour or hologram of a site's 3D scan possible."
"We currently partner with the Ars Electronica Center, an organisation in Austria that has leveraged data from a number of our scanned sites in their Deep Space exhibit. The exhibit allows up to 200 people to virtually visit these sites through a life size, interactive 3D projection in 8K resolution. This allows visitors to interact with the sites and each other in entirely new ways," she says.
"We have also done sample cases of making our content available through a head-mounted display such as the Oculus Rift or Google Cardboard which allows people to explore the sites on their own without needing to go to a museum. A large amount can also be done through the CyArk website to explore 3D models and virtually tours of the sites, all through a web browser."
The whole concept came about in 2003 in light of the Taliban destroying the Bamiyan Buddhas in Afghanistan, explains Lee. "To this day, this type of intended destruction continues," she adds. While many sites also face challenges from weather destruction and other natural threats.
At present CyArk has two big, ambitious projects on the go. CyArk 500 Challenge, which aims to digitally preserve 500 sites over the next five years. And Project Anqa, which focuses specifically on high risk sites in danger zones.
"The cost for scanning individual sites and monuments varies, depending on size and scope of an individual site or monument. We estimate on average, each site costs about USD $50,000 to digitally preserve," explains Lee. The funds to achieve this come through partnerships with companies, organisations and governments.
The sites included in the CyArk 500 challenge comes via submissions from the heritage community – many through governments. And to date, CyArk has completed 90 of the 500 total projects including Greece's Ancient Corinth and Berlin's Brandenburg Gate.
"In terms of data collection, managing the staggering amount of data collected at each site is a challenge," says Lee.
"We estimate that each site we scan is about 500GB of data – data that we host on-site at each (often remote) location for a few days while we complete field work. Seagate has stepped in to provide enterprise-grade storage systems to manage this data."
"One unexpected challenge has been the rapid scaling-up of the size of the CyArk project," says Ulrich Plechschmidt, EMEA Managing Director for Seagate's Cloud Systems and Electronic Solutions Business. "When the project first began it was a relatively small but ambitious initiative."
Alisha Perdue, manager of Community Engagement for Corporate Responsibility at Iron Mountain, another partner adds: "Initially, [our] biggest challenge was designing the technology solution for capturing and preserving the 3D digital scans." Now it is focused on "maintaining it, as CyArk's storage and security needs grow."
CyArk does not feel securing these digital files from hackers and terrorists could become as big a problem as securing the physical sites is now, however. "Having multiple copies of the data files, stored in multiple locations is key to ensuring that these scans are accessible well into the future," Lee tells us.
"All of the data and information about each site is stored and replicated throughout the process to ensure the highest possible levels of protection and security," says Plechschmidt. "Working with Iron Mountain is key to certifying that the data is fully protected. In addition to the secure Seagate Server, Iron Mountain stores hard copies of the data in their Secure Boyers facility."
"One of the benefits to hosting the full archive with Iron Mountain is that the full digital files actually live offline, in a highly secured facility," concludes Lee from CyArk. "This gives us an added layer of security for the gold copy."