Social Networks
Oman: Social Media, Sultan Qaboos & the March of Time
You won't go far in Oman today without seeing pictures of Sultan Qaboos. Tiny framed miniatures dot the counters of shops, hotels and cafés, while vast outsized billboards reign high over major motorway networks. Yet the Sultan himself is famed for his public reticence, rarely gives interviews and is known to be shy and retiring.
"HM doesn't have any official social media accounts," Maurizio Monte, the man behind Oman Collective Intelligence tells us. "However, since His Majesty is loved by everyone, you'll find many accounts created by people to show their love for him."
Oman offers a bizarre blend of old and new. It is an oil-rich nation, yet without the resources of some of its wealthier neighbours. In fact, this July, S&P warned that Oman and Bahrain, were most vulnerable to a fall in oil prices. And even notwithstanding the low-key dazzle of Muscat, it has vast, sparsely populated terrains, is the oldest independent state in the Arab world, and one of the more traditional countries in the Gulf.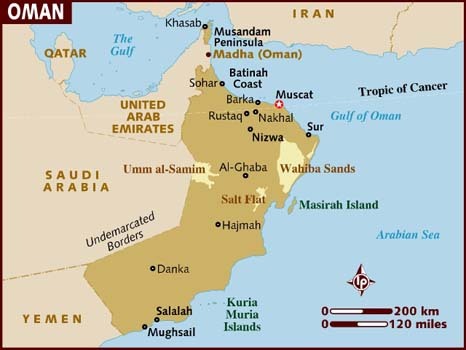 Significantly, until the 1970s and the coming to the throne of Sultan Qaboos, it was one of the most isolated. And this is a large part of the reason the Sultan is regarded with such quasi-religious reverence. It was he that led the transition of a formerly poor, backward nation into a prosperous, modern state.
Over the last few years, social media has played an interesting role in the development of this story and not surprisingly perhaps, it has all been indelibly linked to the Arab Spring. As Hugh Eakin wrote in a very interesting, in-depth piece for the New York Review of Books:
"One of the distinctive features of the Omani Spring is how starkly it exposed the generation gap between older Omanis, who remember the country's severe poverty when Sultan Qaboos took power, and the youth, who have grown up with the expectation of plenty."
Unlike other parts of the Middle East, discontent has always been rare – mostly due to respect for the leader. But in 2011, demonstrators and online agitators gathered together to demand to jobs and political reform. To this the Sultan promised more jobs and benefits. And although in 2012 [BBC timeline] trials began on activists accused of posting "abusive and provocative" criticism of the government online, by March 2013, 30 of them had been pardoned.
Interestingly, none of this appears to have had the kind of divisive impact you might imagine on the people. Monte, who originally hails from Italy, says, "People are more cautions now on what they say online since there are proper laws in place. Generally, however, you won't find anyone offending others online as it's not in the local culture."
The same tale is played out by 'New Horizons: Young, Arab and Connected', research published early in the year. This showed more Omani youths feel that restrictions on social media are about right (62%), compared to restrictions on viewing certain websites or using VIOP (45%).
"Social media is developing, at its pace," explains Monte, "but it is now definitely part of everyone's life thanks to mobile phones. Facebook by far is the most used and in some cases, thanks to some groups, it has become a great and reliable information source for many."
In agreement, the Oman Times ran a headline the end of September: 'Facebook top social site in Oman'. While Monte adds: "Twitter in Oman is not that big. Instagram however is booming and I think the reason behind such growth is that it is a quick mobile app that everyone can easily use."
Monte also stresses "social media is tearing apart print media. Print media uses the same approach as it always did, with pretty much same people at the top. It has not made any progress, few exceptions aside. Social media is therefore more trustworthy, credible and fast."
All this presents an interesting social framework in Oman. On the one hand, things are changing rapidly, especially amongst young people. Yet on the other, the Sultan and his extensive 40-year leadership are held in the highest esteem.
In fact, the Sultan himself is also a staunch US ally, the longest-running Arabian monarch and according to Eakin, "seems to enjoy more legitimacy than most of his Arabian peers, even among Omanis who are deeply critical of the government."
One final point that Eakin raises which is worth mentioning is that online media generally is having an impact on Oman. He wrote:
"One of the more dramatic developments [post Omani Spring] was the launch in 2012 of al-Balad [Arabic], the online newspaper that has set out to engage in political debates others have traditionally avoided."
We tried to contact the editor Turki al-Baloushi or a member of his staff to comment but were unable to secure an interview. What is your view - how do you feel social and online media are changing things in Oman?
Kathryn Cave is Editor at IDG Connect