Internet
InfoShot: Internet shutdowns on the rise
If you're reading this, you're one of the 3.6 billion-odd people who use the internet. But an increasingly concerning number of governments are treating access to the internet like a service that can be switched on and off on a whim.
Between 1995 and 2011, there were 49 complete internet shutdowns across the world. But it's only since the turn of the millennium - and the dawn of the smartphone - that governments have started causing internet shutdowns on a regular basis. Before 2000 there were only 20 recorded government interferences with digital networks (which includes shutting down certain sites or connectivity in certain areas, users, or through ISPs), this figure jumped to 131 between 2001 and 2006, but hit 295 between 2007 and 2010.
But as more and more people get online and more information is being transmitted over the internet, governments are becoming increasingly aware of the power of controlling in the internet. Freedom House's Freedom on the Net 2016 report documented a global decline in internet freedom for the sixth straight year.
According to AccessNow.org – a non-profit dedicated to digital rights – there were 15 complete internet shutdowns in 2015, and 56 in 2016. These included Turkey, Ethiopia, Gambia, Bahrain, Uganda, and even the tiny island of Narau.
A report from Brookings estimates that between July 1, 2015 and June 30, 2016, internet shutdowns "cost at least $2.4 billion in GDP globally." These included just under $1 billion in India, nearly half a billion dollars in Saudi Arabia, $320 million in Morocco, $209 million in Iraq, $116 million in Brazil, $72 million in the Republic of the Congo, and $69 million in Pakistan.
"Before they take action, we are calling policymakers to think twice: internet shutdowns and content filtering are not the answer," said Constance Bommelaer, Senior Director for Global Internet Policy at the Internet Society in a recent statement. "We are at a crossroads, and the actions we take today will determine whether the internet will continue to be a driver of empowerment, or whether it will threaten personal freedoms and rights online."
A report from the Internet Society labelled internet blocking as "inefficient, often ineffective, and prone to cause unintended collateral damages to Internet users."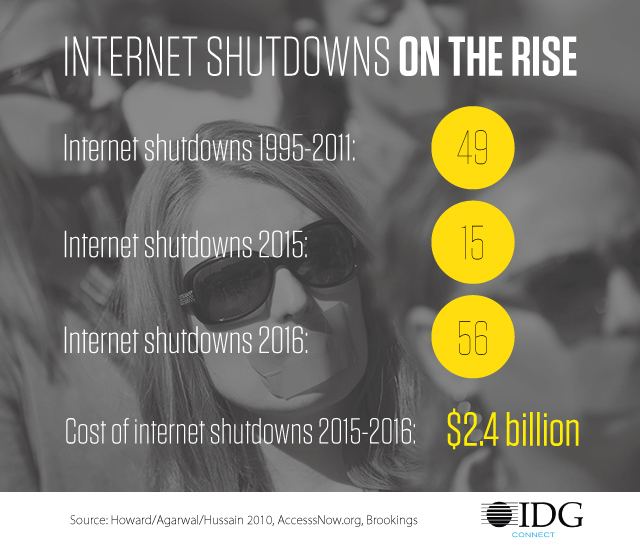 Also read:
Internet freedom in decline, again
What is the impact of Africa's (many) internet shutdowns?
Is China trying to shut down the internet?
Could your government switch off the internet?