Business Management
Deutsche Bahn and E-Commerce Growing Pains
Some aspects of online purchasing have become so easy and routine that it's a shock when they go wrong. In June I bought train tickets from Gdansk in Poland to Berlin in Germany, via Deutsche Bahn's website. Rather than sending me a code which I could use to print the tickets at the station in Gdansk, Deutsche Bahn insisted on posting the actual paper tickets to me in New Zealand where I live.
At the time I thought this rather quaint, but the tickets never arrived. Numerous emails elicited the digital equivalent of a shrug, then eventually a suggestion that I should buy replacement tickets in Gdansk on arrival and Deutsche Bahn would refund the cost. This I did, the helpful woman in the ticket office in Poland saying I wasn't the first person it had happened to.
The train journey itself was punctual and pleasant. On my return to New Zealand I sent Deutsche Bahn a scan of the tickets. That was deemed insufficient for a refund to be issued: they wanted the tickets to be posted back. So I posted them to Germany, and on receipt Deutsche Bahn told me my refund would be granted sometime in November.
I'm not interested in vilifying the company here. What's interesting to me is why any major travel organisation would stick rigidly to a method of distribution in 2014 that was obsolete 10 years ago and is archaic now. Why send out tickets when you have a connected network of machines with printing capabilities and co-operative deals with other countries' transport networks? Why have a website where people can book tickets if you then resort to a dot-matrix printer and several rather expensive aeroplanes to deliver them? Or, in this case, fail to deliver them?
There must be a good reason for this, especially – at the risk of stereotyping – given what I know of Germany. So I got curious and contacted Deutsche Bahn's press office. The first thing I received from Andreas Fuhrmann, Deutsche Bahn's press officer, was a set of numbers. Astounding numbers.
In 2013, Deutsche Bahn's rail service carried 2.235 billion passengers a total of 88,746,000,000 passenger-kilometres. For comparison, it's only about 150,000,000km from the Earth to the sun. Deutsche Bahn carried 32% more passengers in 2013 than in 2004, and that's ignoring rail freight (more than 100 billion ton-kilometres in 2013). This scale of operations and rate of growth has obviously required significant investment. That was helped by the organisation's €39bn revenues in 2013, with a relatively small net profit of €649mn.
However, much of the investment and expenditure is accounted for by domestic rail travel. Over 90% of Deutsche Bahn's rail passengers travelled within Germany in 2013, so it makes sense that that's where the focus lies. Deutsche Bahn's own reporting shows customer satisfaction is considerably lower for long-distance travel than for regional train journeys. Punctuality is way down too: see table below. It seems that once rail services cease to be fully controlled by Deutsche Bahn, performance suffers.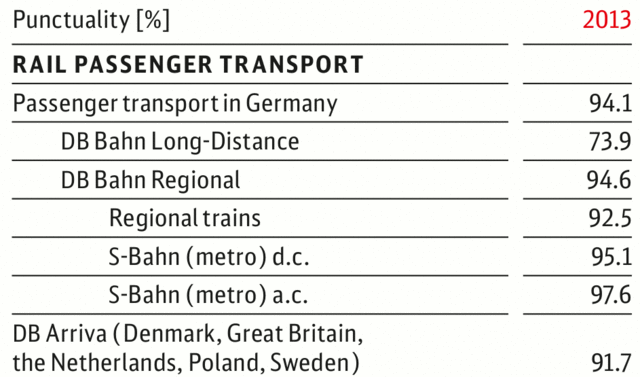 I asked Fuhrmann about the IT challenges of providing rail services that connect in other countries. He replied, "The main challenge is to connect the different distribution systems and to offer one ticket for cross border services. It is also difficult to sell international tickets on the internet for that reason."
Speaking of the internet, how are people buying their Deutsche Bahn rail tickets these days? The pie chart below shows that around a quarter of customers use the internet or mobile apps. That seems low, but it turns out that this figure is for the entire rail network, including regional services. As Fuhrmann explained, "For long distance trains, more than 50% of the tickets are sold online or mobile, for example via the Deutsche Bahn Navigator app."
Which sounds commendably up-to-date and efficient, and perhaps I should have used the Deutsche Bahn Navigator app myself. Fuhrmann goes on to tell me that, "Those so called Online-Tickets can be printed out at home or be shown to the conductor on a mobile device."
Hmm. Mine apparently couldn't. I didn't press Fuhrmann on this point, because it looks as though my ticket purchase just happened to fall through the gaps. Maybe New Zealand hasn't yet been entered into the Deutsche Bahn online ticketing database: an easy oversight, given that there are only four million of us out here. Even if we all clambered onto a Deutsche Bahn train at once and travelled from Berlin to Hamburg, we'd still only make up 1.3% of the company's annual passenger-kilometres.
Whatever the reason, I'm now glad it happened. Without that minor inconvenience I'd never have taken the time to discover the scale of effort – and expense – that goes into providing a reliable international rail service.
Addendum
I neglected to ask Andreas Fuhrmann about my ticket problem - it seemed trivial once I understood the scale of DB's operations. But he kindly supplied the information anyway: "Polish Railways (PKP) do not accept online tickets when the train departs in Poland because they do not have the equipment to control the barcode on it. As you know PDF files can be printed out many times so there could be abuse of the tickets. If you had booked a ticket from Paris or Amsterdam to Frankfurt, for example, an online or mobile ticket would have been available."
Freelance technology journalist Alex Cruickshank grew up in England and emigrated to New Zealand several years ago, where he runs his own writing business, Ministry of Prose.