Wireless Technologies
IT and the Digital Divide in India
Consider these facts: IT's contribution to India's GDP was a mere 1.2% in 1998. In 2012, this stood at an impressive 7.5%. NASSCOM (The National Association of Software and Services Companies) says that the total aggregated revenues for the industry stood at US$100 billion in 2012. US$69.1 billion of this came from exports, while US$31.7 billion came from the domestic market.
The projections look good too. According to NASSCOM, by the financial year 2015, IT and BPO revenues are expected to reach US$ 22 billion, and by 2020, it's going to go up to US$ 100 billion.
The top five Indian IT firms at this time, Tata Consultancy Services (TCS), Infosys, Cognizant Technologies, Wipro and HCL all have a global presence. They have prestigious accounts, and have made multiple acquisitions on both sides of the Atlantic.
Big Cities Dominating the IT Scene
But there is a real problem in India now even with all this. The Indian IT industry is not spread out evenly throughout the country. In fact, the cities of Bangalore, Hyderabad, Chennai, Pune, Gurgaon, Mumbai, Kolkata and Trivandrum account for as much as 90% of the IT revenue. Bangalore, now renamed as Bengaluru, leads the way. The city is often called "The Silicon Valley of India".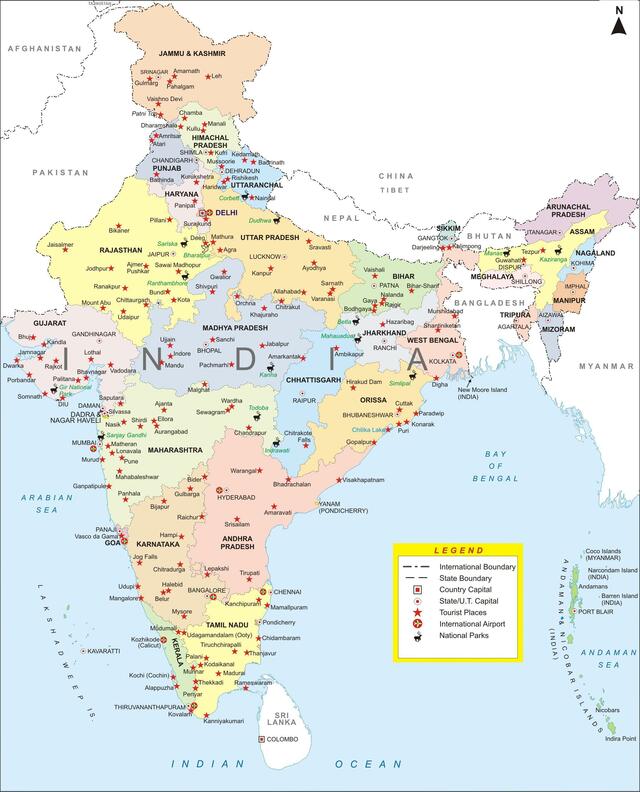 However on the other hand, there are large sections of the country with close to zero IT presence. And it's not just an issue of these areas not having adequate IT businesses. There are serious connectivity issues and computer, internet, and even mobile reach are among the poorest in the world. There's hardly a decent 3G network. The internet, when available, is so slow, that it's as good as not being there at all.
The latest Global Information Technology report for the World Economic Forum has ranked India at 68th in its network readiness index out of 140 countries.
This doesn't look good for a country that wants to emerge as a world leader, but it's still an improvement by one position over last year. Of course that's too little, considering the presence and importance of IT in the top cities. This is causing a serious digital divide in the country.
The Digital Divide in India
It's undeniable. There's a certain social division between the information-rich and the information-poor in India. A most fundamental challenge is to find a solution for providing affordable information technology to several sections of the community.
Information technology, through computers and the internet, brings about a new economic and social paradigm by restructuring the traditional dimensions of time and space within which we live, work and interact. Lack of access is causing social exclusion in a world that is increasingly going digital. For instance, if the internet is available only to a few, then its democratizing potential is never going to be achieved. Its economic impact is going to stay limited too.
It's a fact. Rapid strides in information technology in some sections of Indian society are widening the gap between the country's privileged urban population, and those in the backward regions with connectivity issues or with very few computers.
What's interesting in India is that the divide isn't just restricted to less developed states such as Bihar, Jharkhand, Rajasthan, Uttar Pradesh, Madhya Pradesh and Orissa, where infrastructure has been traditionally weak. The digital divide is very much evident even in the new IT states of Karnataka, Andhra Pradesh, Tamil Nadu and Maharashtra.
An e-readiness assessment study was carried out recently by the Union government. It ranked the states on five parameters: network learning, network access, network economy, network society, and network policy. The results revealed that even the four states doing well in information technology, Karnataka, Andhra Pradesh, Tamil Nadu and Maharashtra, had poor network access.
The lowest achievers in information technology were Assam, Bihar, Jharkhand, Jammu & Kashmir, Nagaland, Arunachal Pradesh, Mizoram, Meghalaya, and Manipur.
Digital Divide – Not an India Specific Problem
The digital divide is not specific to India alone. It's a common issue in China, Russia, Brazil and many other countries from the developing world. The World Economic Forum study pointed out that low-income citizens from the developing world have limited access to computers and the internet. These countries are unable to use information technology for growth and well-being. They are losing out on social and economic rewards that come with better information and communications technology due to their struggles with digital connectivity.
Commenting on the report, an economist at the World Economic Forum, Benat Bilbao-Osorio, said that "Several developing countries notably in Africa, but also in Latin America and Southeast Asia continue to show low values of connectivity with low level of internet usage and limited development of eCommerce".
The United Nations is also concerned. It came out with a statement on Universal Access to Basic Communication and Information Services saying this: "We are profoundly concerned at the deepening mal-distribution of access, resources and opportunities in the information and communication field. The information and technology gap and related inequalities between industrialized and developing nations are widening; a new type of poverty, information-poverty looms".
What's Happening in India Now
People in government here are well aware of this digital divide and its implications. They also realize that India's fast economic growth of recent times cannot be sustained if the gap is not bridged. And of course the social benefits of growth cannot be properly transferred to the lowest strata.
A country riddled with a stark rich-poor divide, India can certainly do without another class segmentation – the digital-have and have-nots. As such, technology is being increasingly used to show its benefits to the masses and affect their lives positively.
Sophisticated information and communication technology was used to benefit the lives of fishermen in Andhra Pradesh and Kerala. Scientists with the Indian Space Research Organization (ISRO) download data on ocean temperatures from satellites to predict where it's likely to find fish offshore. ISRO scientists transfer this digital satellite information to offshore fishing area maps. This information is then sent out by fax or telephone to the coastal regions.
There have been other initiatives too, like the Honeybee project of Gujarat. These initiatives aim to prove how digital technology can be a boon for the masses.
Work is also being done to improve internet speed and mobile penetration. The $35 Aakash tablet, branded as the cheapest computer in the world from the National Mission on Education, will make it viable for the weaker sections of the population to own computers as well.
So we are seeing a definite change. With these initiatives, India will surely do much better in the World Economic Forum's Global Information Technology report in the near future.
Niladri Bose is a Post Graduate in Mass Communication and former journalist. Niladri writes on economic issues, and also on social, political and internet trends.