Sunshine & tech in the North Carolina Triangle
"I must say that I'm not part of the startup 'scene' in Raleigh-Durham," says Sam Bayer CEO Corevist, a web-based eCommerce company based in the area.
"I don't fancy the growing number of gatherings and meetups. I also am too old to pull the all-nighters and live off of Ramen Noodles. Lastly, I'm too jaded to dream about raising funds to fuel a rocket ship of a company that gets bought by either Google, Facebook or Twitter."
Bayer agrees there is something a little bit nonsense about the hype surrounding global tech scenes because they remove the focus away from the most important task of building a sustainable business model. And goes on to add that he feels it may even be "bit worse than that".
"It's setting a lot of false hope and expectations for people. Young kids get swept up in the 'gold rush' mentality. I think it's a great education for them, but they are mostly feeding the local service provider frenzy. Which eventually implodes when the 'stupid' money is no longer available."
The Raleigh-Durham area of North Carolina is one of the core dozen or so regions in the United States which has been tarred with the 'tech hub' brush. It is "young and growing fast," says Derrick Minor, Innovation and Entrepreneurship Manager at the City of Raleigh, by way of explanation. And "it has only had a focus on growing international companies for three years".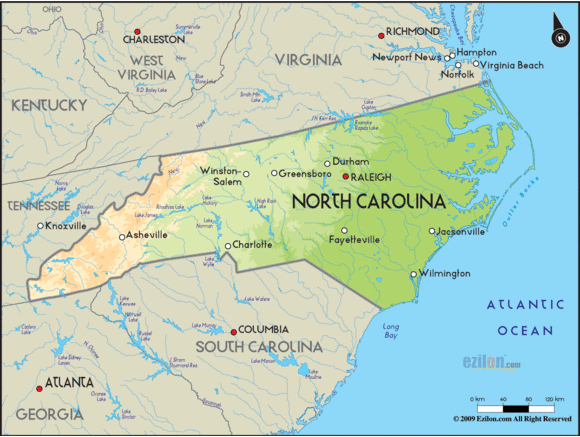 Yet beyond this hype it is also a very local place, which people feel very passionate about. The culture in North Carolina is different from other big tech centres. People are "living less noisy lives," says Zach Clayton CEO of Three Ships, a digital marketing and technology company based in Raleigh. It is cheaper too. "You won't believe me, [but] I pay $1200 a month for my apartment".
He tells us friends from outside the state can't believe his standard of living and there is less of the faddy stuff you get in Boston, New York or San Francisco. In fact, despite being offered a place at Harvard to study for his undergraduate degree, Clayton decided to stay in North Carolina for college. And a large part of that, he explains, is because he preferred the climate. He subsequently went to grad school in Boston but returned to start his own company.
There is a "very different ethos of how you build a business here". And although he admits it is less likely to see the next Facebook. It is more likely to deliver a "solid business built for the long-term".
Interestingly, this is precisely Bayer's point about the startup scene. "We've got monthly socials, several eNewsletters, [we] even have increasing coverage by the local 'traditional' Business Journal. The startup scene is the place to be. My issue is that it's all about raising funds, not building companies," he clarifies.
This problem is same everywhere. The general hype surrounding tech startups is getting ludicrous. The founders of successful companies, like Mark Zuckerberg, have become the new rock stars. Yet beyond this wider issue, Raleigh-Durham certainly does have a lot going for it.
One of the big draws of the region is that it has three decent research universities within 30 miles of each other - NC State, Duke, and UNC-Chapel Hill – along with nine other local universities and colleges.
This puts the centre of tech activity firmly in one part of the state. As Justin Benson CEO at Spreedly puts it: "By far the bulk is in the Triangle. Yet there are pockets of tech in Charlotte and Wilmington".
Whatever the reasons for all this, things are changing quickly. "In just the last 36 months, we have seen everything," says Minor "from large and growth-stage company expansions in the Greater Raleigh Region - Red Hat, Citrix, LexisNexis [amongst others] to the explosion of young companies starting and growing in a wide variety of startup spaces, [through to] incubators, and accelerators throughout the region – including HQ Raleigh and American Underground,"
This is making it "a top destination for free thinking entrepreneurs" from all over the place adds Martijn Atell, who is the Founder and CEO of VoteBash. He tells us that his company "relocated from Europe" for a number of reasons including HQ Raleigh, which offers a shared workspace for approximately 100 startups and "helped us with the integration and made it easy for us to onboard with the community".
On top of this "the City of Raleigh is implementing assistance and is kick-starting programs for businesses and startups. Durham has a growing startup hub campus just around the corner. And there is a high sense of collaboration among startups, corporations, universities and investors in the area."
At the moment though, like in most places that aren't Silicon Valley, there is still not as much funding as there could be, and while this may help some young companies to learn to grow themselves into successful old-school operations, this is likely to develop. As Joseph Scarano, CEO at Araize, which is based out of Cary and offers software for non-profits, puts it:
"As the area matures, more and more tech companies will find their way to the Raleigh/Durham area… bringing high paying jobs. Plus, there has been a surge in investments in the area from venture firms and angel investors."
Mital M. Patel, an attorney who specialises in technology feels the benefits in the Triangle lead to a clear progression trajectory. Short-term "we are going to continue to see more and more companies founded here". Medium–term "as more of our home-grown companies have success, we will eventually start to see more sources of capital in the form of successful entrepreneurs giving back". Longer-term "our region will become a top tier, primary market for business, fuelled by its efforts on technology entrepreneurship".
Of course, the recent Chapel Hill killings, which loomed quite high on the international news agenda, coupled with increased racial tensions across the United States, will make some people wary about the Southern states. But Clayton is keen to stress "race is not a negative factor in the business environment" and that "race relations are viewed as a strength for the state".
Whatever the case though, I've been writing and commissioning articles from across the global tech ecosystem for some years now and business people from the Raleigh-Durham area have seemed more willing to comment than anywhere else. Maybe they're just particularly passionate about their region?
Scarano certainly seems to conclude for everyone when he says: "As a long-time owner of a technology [software development business] business, I wouldn't want to move our company to any other location in the US."