Wireless Technologies
Review: The breadth of Britain with Garmin's latest satnav
Earlier this summer we took the dog to Cornwall. We hired a car, but decided not to pay the exorbitant fees the car hire company charges for a satnav, and instead 'go old school' and use a map. Well, Google Maps. After all, I'd been to Cornwall many times in my childhood and had a pretty good idea of where I was going; find a motorway going roughly south-west – the one with the roadside café in the hard shoulder - head past Stonehenge, then those electric windmills, and… Fortunately, before I ended up driving halfway to John O'Groats by mistake, Garmin got in touch and asked if I'd like to review its DriveAssist™ 50LMT-D.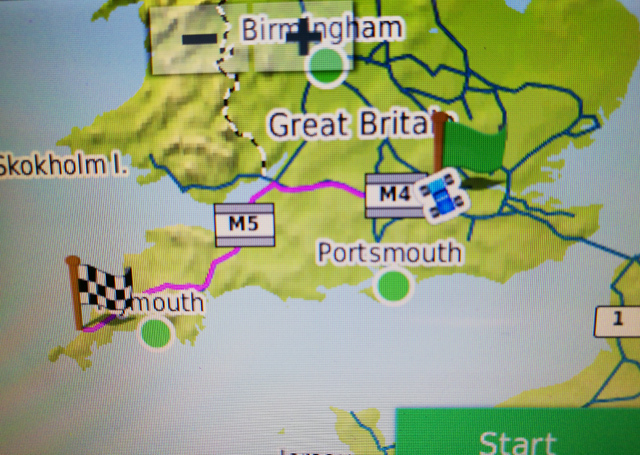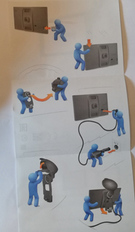 So, in the box when it arrived was the device itself, suction cup mount, USB cable, 4GB microSD card, vehicle power cable, and quick start manual. First impressions: it's a nice piece of kit – sturdy, the 5-inch screen is large enough to see clearly without being overly clunky. The quick start manual was indeed 'quick start', featuring illustrations of a blue stick figure showing you how to insert the microSD card, attach the mount, and plug the device into the car's cigarette lighter. Turning on the device I was advised it needed to update – this took around 45 minutes, which, had I been itching to get on the road would have been annoying, but really, is to be expected given that the DriveAssist offers free lifetime map updates and free lifetime digital traffic. (An aside; my friends and family have always named their satnavs. In keeping with tradition, I named this one Arthur.)
A rundown of the features of the Garmin DriveAssist 50LMT-D reveals it has the usual satnav components – maps, traffic updates, and smartphone integration. The latest rage in satnav features though, is the built-in dash cam – which the DriveAssist has. This means it can offer "the protection of 'an eyewitness that never blinks'," according to the website. In reality, the dash cam is continuously recording your drive. If a collision occurs, Incident Detection G-sensor automatically saves files on impact, while GPS records exactly where and when the impact occurred. The device also features the ability to take a snapshot, so you can photograph and damage to your (or anyone else's) vehicle. Fortunately, I didn't have any need of this feature, and neither did I have a circumstance to test the impact recording. However, Arthur was indeed recording, and the footage (while not going to win any Oscars) is clear and I can see could potentially be useful in case of an accident.
Garmin offers its Dash Cam Player software for free. Dash Cam Player gives you full control over the recorded footage - you can review, save photographic stills, and share the files. Should you ever be unfortunate enough to require such features, I imagine they'd be very useful.
A nice feature enabled by the afore-mentioned dash cam is the driver assistance. These range from "Forward Collision Warning" (I can see the point but I found them a little irritating), "Lane Departure Warning" (definitely a good feature if you drive long distances and get tired), and alerts to let you know the traffic is moving (thanks Arthur, but I can see that for myself). There is also something called "Garmin Real Vision", which according to the Garmin website "When approaching select destinations, your navigation display will switch to camera view, and a bright arrow will point to where you need to go." It would seem I didn't approach any of these 'select locations' as this feature never revealed itself. Additional alerts include driving the wrong way on a one-way street (no comment), and warning for when you're near a school zone.
One thing I did find very handy was the speed camera alerts – and a nice touch is that it lets you know if it's a fixed camera, mobile camera, or one of those annoying 'average speed' cameras. The traffic jam warnings were good too, and automatically adjusted your journey time and arrival time accordingly. Arthur would also let us know whether we were still on the fastest route, and if not, suggest an alternative. For those driving long distances (Cornwall from London for example!), fatigue warnings suggest break times and offer a variety of potential rest area options after hours of driving. Other safety features include alerts for sharp curves, speed changes, railway crossings, animal crossings and more.
In terms of smart features, the Garmin DriveAssist can be controlled with your voice, so no law-breaking required to adjust it while you're driving. If you sync it with a Bluetooth-enabled device you can also receive calls texts and calendar notifications, as well as real-time weather and traffic information – all of which are fully customisable. Further features include the ability to receive live traffic camera images of major roadways thanks to Smartphone Link, Foursquare link, a history of locations visited, including your 'last parking spot' – helpful for those forgetful car parkers.
Of course, all of these fancy features are great, but a satnav should primarily be able to do one thing – get you from A to B. Well, Arthur did do that. The Garmin DriveAssist has a decent trip planner, with the option of saving your 'home' location for quick navigation. As with most satnavs, you can also navigate by address, attraction, using the device history, or, with the DriveAssist, by using to Foursquare. However, while we did get to Cornwall in one piece (despite it taking nearly six hours – not Arthur's fault, but rather the roadworks on the A30), the DriveAssist did struggle with one journey which surprised me. We were staying in Perranporth in Cornwall, and wanted to go to a specific beach, Chapel Porth. I remember visiting many times as a child, and particularly wanted to get a 'Hedgehog' (alone worth the six-hour drive to Cornwall). It's a National Trust beach, so, in my opinion should have been easy to plot with a satnav. Apparently not - Chapel Porth beach does not feature in Garmin's maps. (Fortunately it does feature on Google Maps so all was not lost.)
So what's the verdict? It's a great satnav. The extra features thanks to the built-in dash cam make it stand out from the crowd, and although the many alerts can be irritating, they're all customisable so can be quietened easily. Are there too many features? Maybe, but that's the nature of innovation. On the downside, the battery life is dreadful – only 30 minutes or so – but this doesn't matter so much since the device is basically plugged into the car the whole time anyway. Would I buy it? Personally no, but only because I don't drive enough to warrant the price. Would I recommend it to someone who did a lot of driving? Yes.
| | |
| --- | --- |
| Pros | Cons |
| Built-in dash cam | Expensive |
| Hands-free control | Battery life only 30 mins |
| Driver alerts and warnings | Alerts can result in overcrowded screen |
| Lifetime European map updates and traffic alerts | |
Key features
5.0-inch satnav with built-in dash cam
Lifetime maps and digital traffic (this is what the "LMT-D" after the model means)
Free lifetime map updates and free lifetime digital traffic
Integrated camera allows for Forward Collision Warning, Lane Departure Warning
Smart features including Bluetooth® hands-free calling, voice-activated navigation and smartphone notifications
Driver alerts including upcoming sharp curves, school zones, speed changes