Cybercrime
Cybercrime more prevalent than traditional crime in UK
Forget the War on Drugs. We should be worrying about the War on Cybercrime.
According to new figures from the National Crime Agency, cybercrime in all its forms* now accounts for more than half of all crime in the UK. The NCA's first Cyber Crime Assessment report suggests that crime conducted over the internet now accounts for 53% of all UK crime in 2015.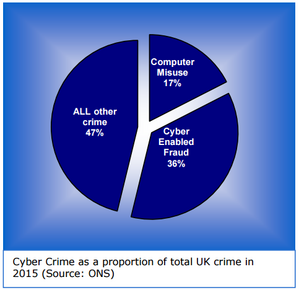 "The ONS estimated that there were 2.46 million cyber incidents and 2.11 million victims of cyber-crime in the UK in 2015," said the report. Distributed Denial of Service (DDoS) and Ransomware attacks were cited the most common forms of cyber-crime committed. The threat comes from both afar and within our own borders.
"Although the most serious threat comes, directly or indirectly, from international crime groups, the majority of cyber criminals have relatively low technical capability," says the report. "Their attacks are increasingly enabled by the growing online criminal marketplace, which provides easy access to sophisticated and bespoke tools and expertise, allowing these less skilled cyber criminals to exploit a wide range of vulnerabilities."
What the government wants
The report calls for businesses to help the NCA and "go beyond compliance with minimum cyber security standards" and ensure they are continuously addressing a rapidly evolving cyber threat. The report also calls for businesses to be more open about when attacks occur.
"Under-reporting continues to obscure the full impact of cyber-crime in the UK," the NCA wrote in an accompanying statement. "This shortfall in reporting hampers the ability of law enforcement to understand the operating methods of cyber criminals and most effectively respond to the threat."
Estimates put the number of unreported incidents into the millions, and suggests the only way to combat cyber-crime is for greater cooperation between law enforcement and businesses.
"The NCA is urging businesses to view cyber-crime not only as a technical issue but as a board-level responsibility, and to make use of the reporting paths available to them, sharing intelligence with law enforcement and each other."
The arrival of GDPR (and post-Brexit, some very GDPR-like rules) will no doubt help improve cyber-crime reporting. The threats of massive fines will ensure to that. But for now, your Government needs you(!) to be more open about when you're being victimised by cyber-criminals
*The NCA reports cybercrime as either cyber-dependent (crimes can only be committed using computers and networks etc., such as malware distribution) or cyber-enabled (crimes that could be done offline, such as fraud, but are made easier by the internet).