Social Networks
Venezuela: The rise of digitally-enabled barter
Necessity is the mother of invention, Plato declared, and Venezuela today proves the philosopher right. After a decade of socialist-tinged price and currency controls, and a year of plunging oil revenues, the petrol-state's economy is close to collapse.
Domestic agriculture and industry have shriveled and the country is unable to import enough goods, creating severe shortages of certain food items, medicine, soap and other staples.
The crisis has, however, inspired a series of digital answers: apps, social networks and Facebook groups which guide people to places where they can obtain sugar, or medicine, or detergent, or cooking oil, or any number of elusive goods. The same digital noticeboards also let people barter; diapers for detergents, for example, or flour for coffee, or milk for cooking oil.
It may be a medieval form of exchange but when money itself plunges in value - inflation is 67%, and the Bolivar currency is virtually worthless outside of Venezuela – many see digitally-enabled barter as a modern innovation.
Te lo Vendo, Mercado de los Corotos II, Vende tus cosas VE are just some of the groups where you may find deodorant, diapers, flour, or other regulated scarce products. It is a potential solution for ordinary Venezuelans like Cesar Barrios. His toddler's stock of diapers is about to run out and he hasn't been able to replenish it in several months.
"We last found diapers five months ago, when my wife and I would each leave work and head to a different pharmacy every day for two weeks until we found them. Back then it was hard, but now it is turning mission impossible," Barrios told IDG Connect.
This digital market might be his only immediate choice, even if he has to pay five times the regulated price for a nappy.

(TRANSLATES: Pampers, size G, 400 the bag!!!)
Unless he came across some long time-no-see laundry detergent…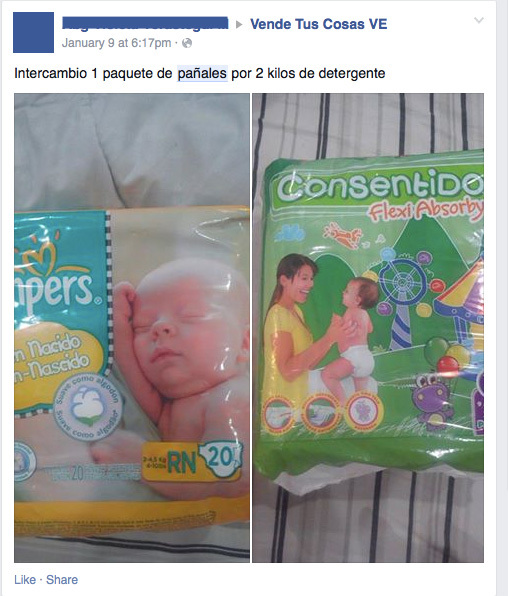 (TRANSLATES: I barter 1 bag of diapers for 2 Kg of laundry soup)
Barrios is far from alone. Each of these Facebook pages hosts more than 10,000 members – and creates a homegrown, improvised eBay tailored for an economy in crisis.
Venezuelans started to face shortages in 2006, with fresh milk and chicken disappearing from shelves. Years of price controls and stifled access to foreign currency has gradually crippled local production and intensified the scarcity of basic goods in the last two years.
In 2013 Venezuelans found a pioneering digital ally in a social network called Abastéceme ("Supply me") created by 23-year-old chemical engineer, José Montiel. The app, which has been downloaded 40,000 times, relies on crowdsourcing and Google Maps to register the availability of nine staples: oil, sugar, corn flour, wheat flour, butter, powder milk, margarine and soap. Montiel, founder of Web developer ENGtools, told IDG Connect he's planning on incorporating more goods and that the app will soon be available for the iOS platform.
Since Abastéceme was created, the number of scarce items has widened to include coffee, chicken, meat, canned tuna, deodorant, feminine pads, razors, wipes and diapers. While the quest for these items has people running from shop to shop, medicines, which have been equally affected, send them running from pharmacy to pharmacy.
Arturo Pérez, CEO of developer firm AMS, created Akizta (Misspelled "Here it is"), an app that helps individuals locate their medicines, by partnering with pharmacies willing to share their inventory online. The app for Android and iOS has been downloaded 26,670 times in one year. It has also recently launched an improved version of the app and a website to extend the service to those without a smart phone.
"We are in the process of adding non-syndicated pharmacies to the app. Joining Akizta is easy and free for the pharmacies, we only require them to have their inventory in a digital format," Pérez explained.
Unlike food staples that can be occasionally found in random places, and without immediate repercussion for people's health, some medicines are no longer available. That is the reason behind Medicinas Equivalentes ("Comparable medicines") a website specialized in providing names of alternative drugs based on one medicine's active ingredients.
The developers, who also combined an inventory of pharmacies to help locate medicines, say their app increases the patient's chances of finding relief. SoftFARMS, a firm specialized in pharmacies, launched the website in October 2014. It receives an average 10,000 visits per month and uses Facebook and Twitter to reach more people.
These websites have become so popular that doctors and health professionals increasingly recommend them to patients.
People needing medical treatment have also formed Facebook groups such as Sala de Crisis (Crisis room) or Buscadores de Medicamentos (Medicine seekers), where they barter medicines and donate any surplus of unused or close to expiration drugs.

(TRANSLATES: ¡Good afternoon! Today, I traded Euthirox 50 mg tabs for 25 mgs thanks to Jesus Delgado; thanks to all the group for the nice work and May God give you health)
President Nicolas Maduro's government has another explanation for the shortages. The price controls on subsidized medicines and food staples have made smuggling the most lucrative business for many, especially in the states bordering Colombia, where items can be sold for four times the price. According to government figures, more than 40% of goods purchased in Venezuela are smuggled out of the country.
The government too has sought a digital solution for the problem: a 21st century version of the 52-year-old Cuban rationing card. The mandatory system that prompts individuals to register their finger prints at the cashier of a supermarket will set limits on purchases, to try to stop shoppers stocking up on subsidized groceries and reselling them. The modern system has been implemented in many shops in the state of Zulia, which shares a borderline of 680 Km with Colombia and it is expected to arrive soon at most supermarkets across the country.