Mobile Applications
App Association predicts the next phase of the app economy
To get in on the buzz around the imminent Apple conference, The App Association has published a new report, WWDC Preview: The iOS App Economy, looking at the current and future trends around the App ecosystem Steve Jobs & Co. created [All images come courtesy of that report].
The report predicts that the mobile app economy will be worth $111 billion this year, up just under $30 billion on last year. By 2017, the report predicts an app economy of $150 billion. Polling 400 of the top-grossing apps in the Apple App Store, the report looks at where the apps are based and how they've reacted to the arrival of the Apple Watch.
One of the more surprising facts from the report was the geography of the App Store; 80% are US-based but Silicon Valley only represents a quarter of the apps in the iOS store. It's true that a quarter of 1.4 million apps coming from such a geographically small area shows the Valley's dominance, but it's still a surprise to see that most apps actually come from outside the Valley. The North East Coast and the wider West Coast represent around 25% of the app store each while Middle America makes up the rest.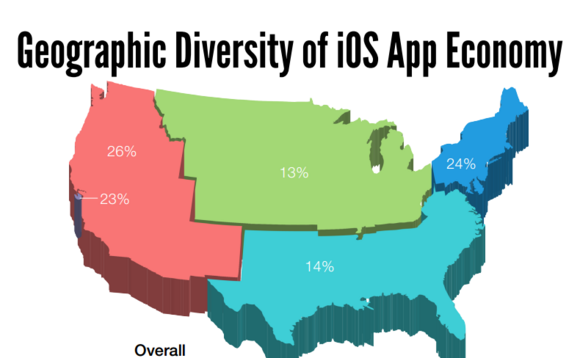 When broken down further – certain trends start to emerge. Surprisingly few (7%) of medical startups come from the Valley, but the area specialises in productivity and games. The North East boast a third of the medical, health and education apps, but lags behind on games and productivity. It's also little surprise that health apps are leading the jump onto the Apple Watch; the report claims that 40% of health apps feature Watch integration, followed by 34% of weather and 20% of finance apps.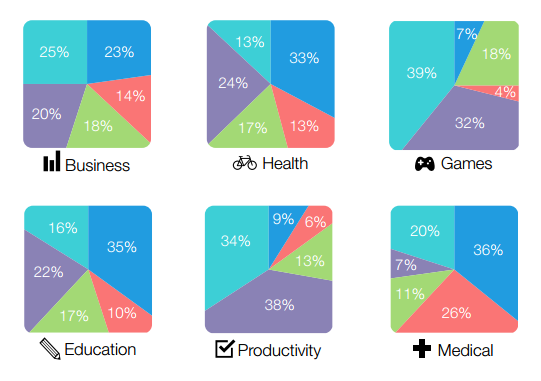 So what does this mean? The US still clearly has a stranglehold of the App Economy, but could this be the start of an East vs West App War? In the East, Health & Medical apps focused on Watch integration; in the West, business and productivity apps abound?
On a related note, download our latest report now to see why the traditional watch industry is showing no fear of Silicon Valley [or anyone else] and how the companies trying to muscle in on their turf think they should change.