Business Management
Spotlight: The Tech Startup Scene in Cape Town
On the Southern toe of the African continent, shaded by Table Mountain, Cape Town boasts stunning beaches, some of the best universities in the region and a growing startup scene.
People live in Cape Town "for the weather, the lifestyle, good food... and work," says Alon Lichtenstein, Founder of Hangar 49, which pools industry experts in the field of technology and innovation. "We generally have people in Cape Town who think [a lot]. They [also] have a very patriotic feeling about their city."
There is no denying people are extremely passionate about Cape Town. Adrian Schofield, Manager of Applied Research, Jo'burg Centre for Software Engineering at Wits University, South Africa agrees: "There is definitely a more positive attitude towards encouraging new businesses [and] new technologies in Cape Town and surrounding areas."
On top of this, the poster boys of South African tech "are all products of the Cape environment: Mark Shuttleworth, Vinny Lingham, Rob Stokes [along with South African mobile social network] Mxit."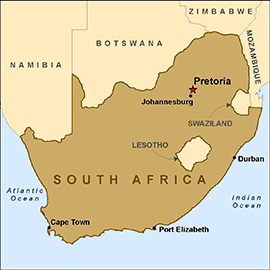 30 Years Behind: A Shorter Entrepreneurial History
Eric Edelstein is one such Cape Town success story. In partnership with Vinny Lingham, he built companies like Yola.com, Click2Customers and Africa's first affiliate marketing agency, TrafficSynergy. He has lived in London and San Francisco but decided to move back home for two reasons:
"My family love Cape Town," he explains "but I also believe the guys who have made it a little bit in the past need to move back now. I think it would be far easier for me to do this in Silicon Valley, but I think I'd be able to do a lot more good, here in Cape Town."
Edelstein is currently CEO of social payments startup ZunguZ.com, acts as an angel investor through EricEdelstein.com, and is putting a lot of energy into supporting new local tech entrepreneurs through EntrpreneurTraction.com. He is due to launch South Africa's second angel network, with a mandate to fund Cape Town based tech startups, this August.
"Cape Town is very similar to going to San Francisco in my mind," he continues. "It has got the natural beauty, it has got the mountain, ocean, unbelievable coffee shops, so a lot of people come here and just fall in love with the place. But they're not interested in Africa they're only interested in Cape Town."
"I got involved in tech in South Africa in 1998 and every year it has been bigger and bigger. [Yet] if you compare South Africa or Africa to more developed countries, they have been building an ecosystem for 50 years. I think that our ecosystem is growing and it is a natural progression."
"Entrepreneurs are moving to Cape Town to launch businesses here. Investors from all over the world who are looking to put money into South Africa and the rest of Africa and there are a lot of people who are just interested in the ecosystem [such as] journalists, analysts and event co-ordinators."
"There is a limited hub here," agrees Lichtenstein of Hangar 49, cautiously "and there is a push for the notion of accelerators, co-work spaces and incubators. The space is starting to develop more and more. It is probably about 20- 30 years behind San Francisco, but there is a fundamental cultural difference between folks from Cape Town and folks from Johannesburg."
Many people do not feel it is growing fast enough though. "There is limited access to funding in South Africa," says Daren Fuchs, Founder of Supernice, an agency that builds a range of interactive products and service. "That is why guys like us are not necessarily struggling to find funding, but rather bootstrapping, because that is actually the easier option."
"[There are] not enough local guys who are willing to risk Rands and put money into companies," he continues. "The past 12 months this has grown. There are a few more seed funds and business accelerators and quite a few VC funds, but they tend to go with more established businesses."
Edelstein sees a disconnect: "I think you have a lot of entrepreneurs and a lot of investors in the space but I don't think they match correctly. There aren't enough platforms to bring them together."
Ebb and Flow: The Global Movement of Entrepreneurs
"Until about three or four years ago it was more early adopters and now what is happening is you're getting [big] venture capital companies getting involved. [Organisations like] Rocket Internet are getting more aggressive," says Edelstein.
"Having said that," he adds "a lot of the ecosystem in South Africa has been powered by the internet casino industry. The internet casino industry has been around two decades. It's not new [but] the whole ecosystem is becoming more mainstream and more global. A lot of big players around the world are starting to enter the space more aggressively."
South Africa and Cape Town has an unusually strong ebb and flow of individuals. On the one hand people are coming in from outside because of the lovely lifestyle and the startup opportunities. Whilst many serious players from within the space are moving away because it is easier to become successful abroad.
The brain drain to the US and Europe is very real. As English entrepreneur Dan Bowyer, who previously moved out to Cape Town and works with 88MPH, an organisation which helps fund startups in Africa, neatly summarises: "Most of the famous people - your Mark Shuttleworths - have all left."
Yet the bigger picture is more complicated than that. There are global solutions and South African solutions; both of which emerge from the market. As Edelstein explains: "A lot of Europeans are moving here and building global companies." Many South African entrepreneurs are trying to solve local social problems, whilst a lot of South African are moving abroad for better commercial opportunities.
"You get pitched anything you would be pitched in the US and Europe," says Boyer about his work 88MP. The difference is the types of businesses that tend to work in Africa: "these tend to be about solving more practical problems."
Cape Town: A Rapidly Emerging Two-Part Ecosystem
"A lot of the developed countries round the world are looking to produce solutions for the developing world," says Edelstein. "I think in South Africa there are two types of entrepreneurs. [Those] who are looking to create applications or platforms that are applicable to the whole world. [And those] who are looking to provide solutions for South Africa or Africa."
"The people who were early into the internet industry were more concerned about building a business. Because they were doing it in South Africa they couldn't compete with Silicon Valley. [Over time] a lot of entrepreneurs in South Africa have said to themselves it is probably easier to build a business in South Africa which is focused on solving South African problems."
"Other Europeans living here are using South Africa as a stepping stone purely because they like the lifestyle of living in Cape Town. But their objective is definitely global business. So I think over the last two or three years they have become two distinct verticals in the market."
Entrepreneurialism: South Africa, Kenya & Nigeria
"Overall, I don't think South Africa performs particularly well in encouraging entrepreneurs or supporting startups," says Schofield of Wits University. "Not that any other African country stands out in this regard, largely because there are too many instances where progress is marred by conflict of one sort or another. Nigeria and Kenya are both suffering from this condition."
Lichtenstein partially agrees, but believes Kenya and Nigeria do better, offering the specific example of app development: "[For a long time] BlackBerry had a stronghold on the South African economy and apps. This meant that Android apps took a back seat. [But] over the next couple of years those phones are going to be swapped out for Android phones and I believe there is going to be quite a push for a lot of development in Android software."
"In South Africa the prices of phones is relatively high. And the government hasn't instituted a drive to get South Africans more tech savvy and engaged. There are lots of [tech] bubbles; [some are] building some really awesome technology, but they're almost doing it on their own accord. We're not really seeing the sorts of commitments that the Kenyan government has seen, or things that are coming out of oil rich nations, like Nigeria, to drive the technology."
"The government does mean well and it does want to get involved, but we haven't yet seen that critical mass," he concludes. "It is a bit of chicken and egg: do the developers need to build a bourgeoning market of Android users? Or do the Android users need to become large in order to qualify the deeper need to be building for them?"
South Africa: The Problems for Entrepreneurs
"They always talk about one of the problems for South Africans being a fear of failure," says Edelstein. "I actually don't agree with that. I think what South Africans need to do more is of the: 'do what it takes to go to the next step'. I look at the American companies they use the term 'hustle' they are prepared to keep going to make it happen and I think South Africans maybe aren't as assertive as Americans, we need to be able to make it happen more."
Edelstein feels this is partly cultural, but a big element of this is: "self-confidence. Americans are brought up with a culture of selling that we just don't have that in South Africa. A lot of the talented people in South Africa are just not as entrepreneurial as Americans."
Boyer of 88MPH agrees with this and feels entrepreneurialism is a "dirty word". Whilst Fuchs of Supernice believes the end result is that the ecosystem is haemorrhaging talent to the corporates:
"A startup company like ours cannot afford to get the resource or give the guys the perks that they get at bigger companies," he says. "So guys would rather work at Wonga at Takealot where they can get a good salary and get perks than join a startup company."
"I am not sure that South Africa is consciously risk averse," suggests Schofield. "I think we have a government 'style' and a bureaucracy that inhibits the development of new enterprises, even (or especially) in those departments supposedly responsible for economic development. It is very difficult [for example] to access government funding, largely because the criteria or conditions applied to applications mean that most of them wither away."
"South Africa has a long history of being a paternalistic society," he adds. "Whether it is the tribal structures, the colonial era, the apartheid regime or even the last 20 years of democracy, we are collectively more used to abiding by the rules and following the lead of 'those in charge' than we are of taking chances, setting up on our own or pursuing a dream."
Whatever the case, in South Africa, as in other parts of the world, things do seems to be changing. "People look at the ecosystem here [in Cape Town] and think it is very specific, I look at it and think it is becoming a more complex mix," says Edelstein.
"There is just a lot of activity starting here and I don't think there is a one approach," he concludes. "We're not anywhere near the level of activity of other hubs but I don't think we'll ever get there. Compared to five or ten years ago we've seen some massive advancements."
Kathryn Cave is Editor at IDG Connect
We're looking to produce a new report on startups in South Africa. Please drop Kathryn a note if you'd like to contribute.
IDG Connect produces a range of African country spotlights, along with reports on the global startup ecosystem: