Human Resources
Silicon Valley the TV series splits tech leaders
For quite some time now I've worked on the assumption that Valley inhabitants and others who know the US tech scene must find Silicon Valley the TV series a hoot. My informal research suggests otherwise. Over the last year I've asked maybe 100 people in senior executive positions at US tech firms what they think of the comedy drama. The response: a dribble of middle-of-the-road views, 'saw it once' answers, and a lot of 'haven't really caught it yet' responses. Others say it lacks reality but there is a smattering of positive views.
That's a pretty lukewarm response given that this is an Emmy-award winning show and one of only a handful of the entertainment industry's attempts to dramatise life among those panning for digital gold in California. Now with Series 3 under way the programme seems to be building momentum, however, and there's hope that this could yet be a slow burn that captures the hearts and eyes of Valley types.
In Silicon Valley the TV series (which I will from now call SVTV) the action focuses on Pied Piper, a Valley startup specialising in compression software. There are some bum notes: Pied Piper seems to have a comically low valuation compared to companies that get attention today. It also seems to have no offshore development capability and some of the stereotypes of VC sharks are just that – stereotypes.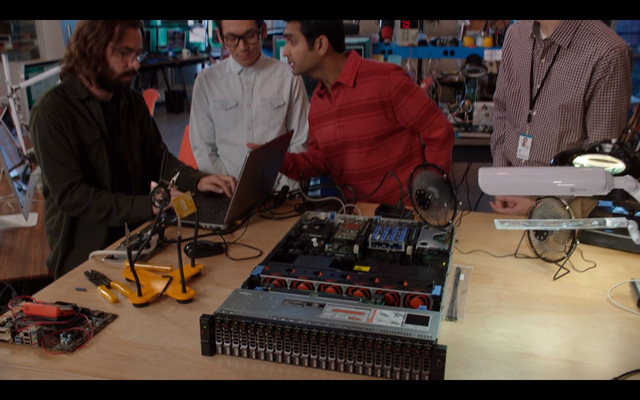 But there are excellent qualities too. Thomas Middleditch is terrific as Richard Hendricks, the mild-mannered CEO who is caught up in the mad maelstrom of startup life. Then there is the droll interplay between programmers Dinesh and Gilfoyle, the bluster and bombast of pot-head entrepreneur Erlich, the sharp depictions of trade shows, the frenzied obsessing over money, the marketingspeak, legal shenanigans and omnipresent politicking and schadenfreude. The series is sometimes cartoon-like and reliant on caricature but it seems to me to get sharper over time and to benefit from writer Mike Judge's personal experiences working in tech.
Magic box
One fan with close-up access to the programme is Marianne Budnik, the CMO of SimpliVity, a US maker of hyperconvergence software and appliances that plays a background role in the third series.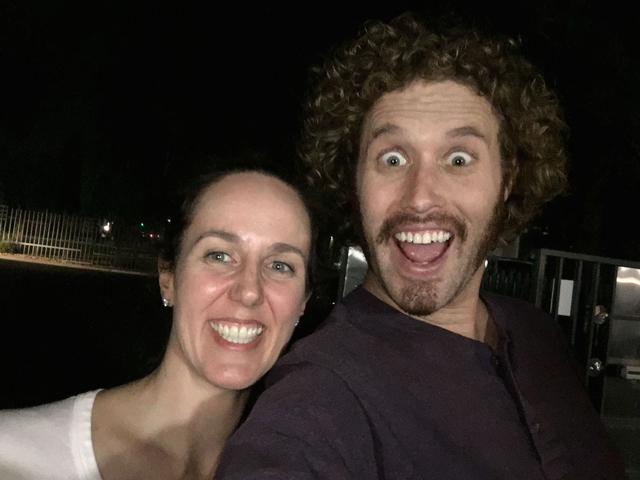 Marianne with TJ
Budnik got involved in the programme when one of the show's writers saw some parallels between Pied Piper's USP and the data management efficiency provided by SimpliVity. Budnik praises the way writers and researchers spent time visiting SimpliVity, taking pictures of desks, planning boards, people and objects to create what is certainly an effective simulacrum of tech company offices. When it was decided that Pied Piper would create an appliance version of its software, the hardware design was modelled closely on SimpliVity's box.
"They came to visit us and their attention to detail and authenticity is amazing," Budnik says. "They did everything from go around developers, workspaces, take pictures of whiteboards, photos of random desks… it would be right down to a list of every item."

For Budnik there was, I suggest, an element of risk. After all, the writers could have made SimpliVity a laughing stock. (And, thinking about it, the whole notion of hyperconvergence sounds very SVTV…)
"Certainly for a moment you think 'oh my goodness', but I have to tell you the writing staff and production team really are brilliant. I'm not a Hollywood person but I think you see the series really mature and you get a lot of character depth. Silicon Valley has managed to attract millions and millions of viewers, the vast majority of whom are not in the technology industry."
Just as Seinfeld had in jokes for New Yorkers, SVTV has plenty for tech people but also plenty for those who aren't, Budnik suggests. But what of my straw poll research that hints SVTV might not have taken off among the very people it skewers?
"I watch it every week and its part of the Sunday evening ritual," says Budnik, "but I know a lot of people watch it on demand and I know a lot of Silicon Valley executives who say, 'I just got through Season 1, don't ruin it for me.'"
CEOs seem particularly immune to SVTV's charms, including SimpliVity leader Doron Kempel.
"He's busy 24/7 building the company so I don't think he's a fan," Budnik says. "When you're at that CEO level I don't know too many who watch too much TV. Even if they watched much TV I don't think they'd let anyone know..."
Fans in high places
SVTV does have its supporters high up though.
"I think it's hilarious and incredibly well done," says Todd McKinnon, CEO of Okta, a richly funded pre-IPO Valley company specialising in identity management. "If you can't laugh at yourself, you're taking yourself way too seriously."
In an email, Rodney Rogers, CEO of cloud infrastructure firm Virtustream, who sold his company for over $1bn to EMC last year, writes: "It's hilarious. The stereotypes are generally all pretty spot-on. Seventy per cent accurate; 15 per cent over-the-top silly; 15 per cent not over-the-top silly enough!"
Dave McCrory, CTO at Washington-based open source database software firm Basho, is an avid viewer who sees lots of truth in the characterisation of Pied Piper's team.
"Richard is my favourite character because he reminds me of myself when I was younger," McCrory says. "He is a smart guy when it comes to technology, but is naive with how venture capital and running a business works. He also suffers from panic attacks which after getting to know a large number of people in the Valley is also very common; I had them several years ago. My other favourite character is Gilfoyle, because I know quite a few people like this. He is the funniest character in the series with his 'I don't care' approach to interacting with people."
Peter Bauer, CEO at email management company Mimecast, watches the show when he can and is another who recognises the Valley 'types'.
"I've probably watched about eight episodes and it does make me chuckle sometimes," he says. "I've tried to get my wife to watch it with me but she usually losses interest and unfortunately the content is a bit adult for my kids. At Mimecast we have our own Gilfolyle and we have had our own Dinesh."
Startups also recognise scenarios depicted in the show. Haris Adu, founder of the PinU app for messaging local friends, says:
"There are definite parallels to early-stage startups and it's a show that I can easily connect to because of its authenticity. It goes without saying that some of it is exaggerated for entertainment purposes but a lot of the situations that arise from the show are things I've experienced myself or fellow founders have told me about first hand."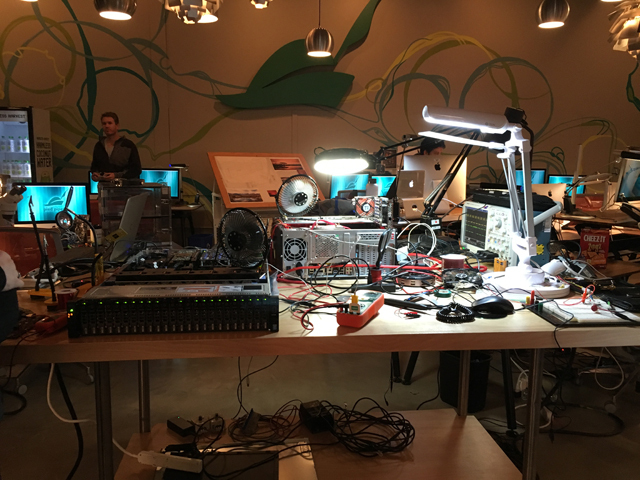 Pied Piper desk modelled on SimpliVity
Best moment?
The most popular appears to be the scene at the end of the first series where, on the eve of a critical TechCrunch event demo, Hendricks develops a breakthrough concept for the compression algorithm based on… well, you'll just have to watch it.
"Usually inspiration comes from odd or imaginative conversations, at least in my experience," says McCrory.
Another keen viewer is Hamzah Malik, managing director of UK digital marketing agency Regent Branding.
"It shows the less glamorous side of starting a business in an industry where success is assumed to be a given. The script is fantastic, the acting is brilliant and the type of humour makes no attempt to appeal to a mass market, which is incredibly refreshing."
More often though, and especially at the top end of Valley and other tech companies, the responses I've heard have been tepid. As with any startup in its early years though, an inflexion point could be just around the corner.
Related reading:
Surprisingly, the hype over the Steve Jobs movie is justified
Podcast: The Steve Jobs movie stars
Human League founder Martyn Ware on tech change
Periscope and the clamour of tech firms hiring journalists