Handheld Devices
Bamboo Spark - A digital notepad for people who love pen & paper
According to a new study, taking notes by hand is more beneficial than typing them on your laptop. And although their number may be declining, there are still a lot of people in the world who prefer the feel of pen on paper to the keyboard or plastic stylus on glass screens.
The Bamboo Spark looks to serve those people who need to work in the digital world, but still prefer the scruffy note-taking of pen and paper. The notebook, the latest product from Japanese design company Wacom, uses electromagnetic resonance sensors to track your writing, and then uploads each page via Bluetooth to the (free) Bamboo Spark app on your phone or tablet.
Straight out of the box, it looks like a quality piece of kit; the cover is solid with a slick finish. But at a cost of $150, you'd expect nothing less. The accompanying pen, although a bit on the heavy side due to the internal receiver, writes well and doesn't require any batteries [although you can use any paper, regular ballpoints won't be picked up by the smartpad so be prepared to pay for refills].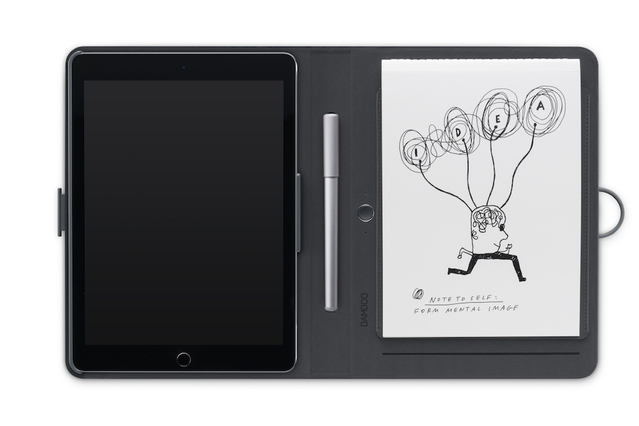 Although the image quality of your scribblings and drawings are very good, you have to press pretty hard to ensure the pad registers what you've written – get used to having dents from previous notes on all your pages. This isn't a device for the light writers or fine graphical types, but after a few writing sessions you get used to the level that suits your writing and the Spark's capabilities.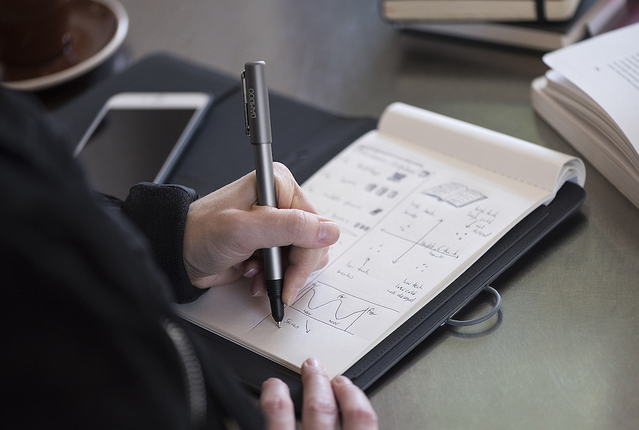 But it's the app that's probably the best bit. Simple to set up, once the app is downloaded you merely have to press the sync button to transfer a page from the Spark to the mobile. Uploads can take a few seconds, but the simplicity is appealing. Pages can be stored locally on the device and uploaded to the app later.
Along with the ability to draw on top of each page through the app, you can combine pages, as well as see a timeline of your writing/drawing and revert to an earlier state if things went wrong. But as a writer, the best feature by far is the ability to transcribe your writing into digital text.
The transcribing capabilities are pretty quick and the result are surprisingly good – assuming you have fairly legible handwriting to start with – the error rate is roughly on par with my own ability to type up notes. And once dictated by the app, the contents of each page is searchable, meaning you can go back and hunt for the phrase or quote amidst all the pages.
Wacom's Inkspace Cloud provides plenty of Cloud storage – 5GB free – and enables the text reader and file exporters, but lacks the editing features of the app. It also works as a normal file storage Cloud - which would be useful if they weren't already ten-a-penny online – but doesn't provide the text reader for your own imported images, so no decoding scratty notes made on non-smart notebooks unfortunately.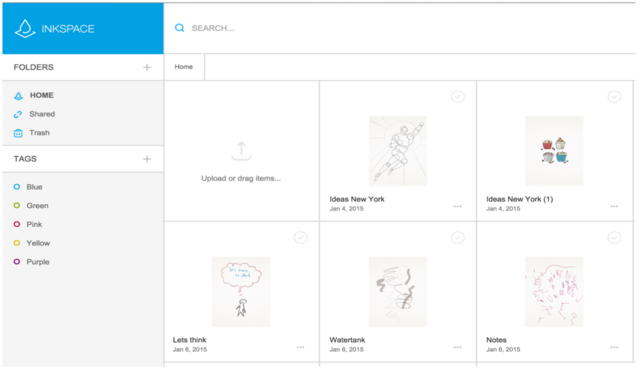 The Bamboo Spark is a good product for people who prefer pen and paper, but need to work in digital formats – and a pretty perfect version of what it needs to be. But the biggest question is probably: who are those people?
Designers are obviously an audience who would be interested, but the lack of real sensitivity means many would find it frustrating. Anyone required to record minutes of meetings would probably benefit. And as a scribbly note-taker myself, I can imagine it might be useful at conferences or interviews. But that's a small market – and probably one that is increasingly digital-first and less paper-orientated.