Human Resources
InfoShot: Tech internship pay
In the UK we're struggling with unpaid internships, poorly paid apprenticeships and zero-hour contracts. But things look much brighter for interns in the US.
Glassdoor recently released a list of the best paid internships. While not a complete list – its data shows the highest median pay reported by interns over the last year – it suggests there's plenty of ways interns can make a very generous penny or two in the right place.
Unsurprisingly, technology companies are some of the best destinations to get paid. Eight of the top 10, and 16 of the top 25 highest paying companies for internships are from the tech industry. Top of the list was Facebook, which offers up to $8,000 a month for its interns. Microsoft pays out up to $7,100 a month, while Salesforce, Amazon, Apple, Yelp, Yahoo!, and VMWare all over $6,000.
Obviously, internships are temporary, but these are impressive numbers for such junior positions. A year as a Facebook intern would net you just shy of $100,000, while even at Accenture – the lowest paying tech company on this list – the intern's yearly pay equates to under $60,000 in a year.
According to the Bureau of Labor Statistics, the median wage for US workers in the fourth quarter of 2016 was $44,148 per year. That equates to $3,679 a month.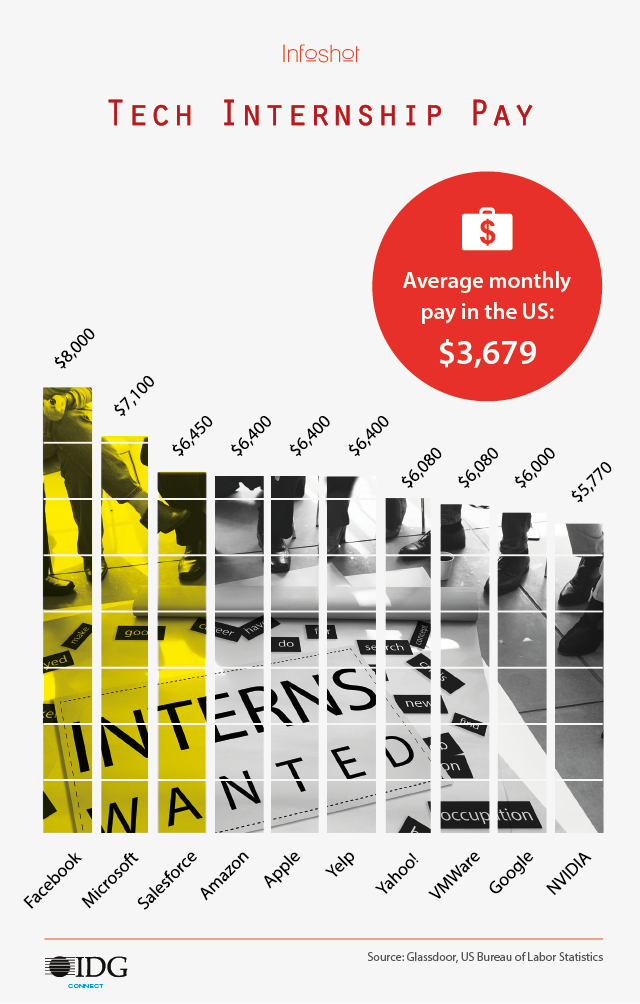 Also read:
InfoShot: Tech intern wages 2015