Finance
Birmingham: Digital City of the Future?
Slap bang in the centre of England, Birmingham has long been an easy target for jokes, scorn and derision. In fact when a musical appeared about life in the city in 2005, Harvey Andrews, who wrote the music explained, "It was hugely successful. People loved it. But we couldn't tour it."
"[One producer came down and] actually said to Malcolm [Stent, who wrote the rest] – it's great but it's Birmingham. We can't do anything with it. No one will pay to see that accent…"
Yet Birmingham is the second largest city in Britain. Over a million people live there. And long before it emerged as a centre of industry and banking, people from all over the country, and indeed the world, flooded there, making it an extremely diverse heartland, in the centre of the country.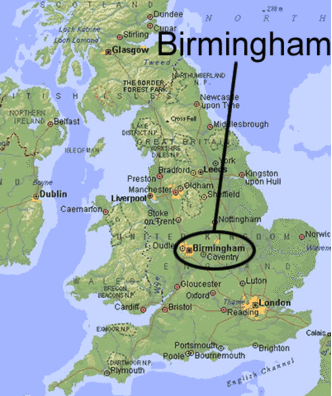 42% of residents are non-white and with its 187 nationalities "Birmingham reflects the demographics of the city of tomorrow," explains Tommy Nagra, Head of Business Development at BBC Birmingham. "40% are under 25," adds Adil Ray, star of the BBC One comedy Citizen Khan. "I am proud to be born and bred in Birmingham… I say, it is leaps and bounds ahead of the rest of the UK. It [just] hits the headlines for the wrong reasons."
"We need a counteractive narrative," he continues. And maybe that story is digital?
This Birmingham Day in Parliament was on Wednesday 25th June. Ironically enough, it was held in an oak ceilinged room with plush window drapes and red carpets, just off Westminster Hall, the lofty 900-year old space where Guy Fawkes and King Charles I were tried. In this historical London space, to an audience of MPs and people in industry, the benefits of digital Birmingham are addressed:
Cliff Dennett, CEO of Soshi Games, a Brummie company which raised £285,000 [$485,000] through crowd-funding earlier this year, believes the wider remit of games can help civic communities, like Birmingham. He highlights the Stockholm 'speed camera lottery' where people were fined for exceeding the speed limit, but all taxes levied went into a lottery fund, which diligent drivers have a chance to win. Dennett sees this as the "power of gaming in shifting social attitudes."
He also stresses that digital gaming is a great source of employment. It is skilled, creative and lucrative. As one poster placed in the room boasts, Birmingham has: "More creative sector graduates than any other city outside London". Whilst a stand from Birmingham City University advertises the school of Digital Media Technology. Dennett himself explains he used a raft of brand new graduates on his highly successful music festival game… and was extremely proud of the results.
Nagra of BBC Birmingham seconds all this. As part of the negative PR story he concedes: "We have neglected our role in Birmingham." Other regions across Britain have their own BBC specialism. "Birmingham lacks distinction," it has become like the hole in the middle of the doughnut. Nagra has been in his current position for under a year and tells us: "My role is to capture a new story [about Birmingham]."
The long term BBC Birmingham vision is based on digital. "The BBC trains more people in digital skills than anywhere else in the country," he says, and the company is big on innovation, from Ceefax [which many in Britain remember as the text service on their television] to the BBC iPlayer.
The BBC academy will be moving to Birmingham to help facilitate skills. The company will also be launching a digital innovation unit "the digital gorillas" at Digbeth, south east of the city centre. This will produce short form content he explains: "Tapping into the YouTube generation."
There are other developments in the city itself. The new library, a strange looking building from the outside, if you haven't seen it, is a big publicity push. Yet inside it is a stunning architectural work, with books beautifully lined round the circular circumference, an outside terrace and plenty of terminals with which to interact digitally. In a lot of ways, it achieves where libraries have failed in the past, as it makes information seem fun and accessible.
Birmingham is changing. Brummies may have been the butt of endless jokes for years, but in their self-deprecating way, they're extremely passionate about their city. Maybe now BBC investment and a future in digital gaming really could make all the difference to this long-overlooked part of Britain?
Kathryn Cave is Editor at IDG Connect