Human Resources
C-suite career advice: Tim Naramore, Masergy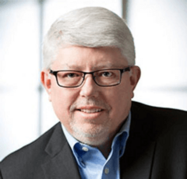 Name: Tim Naramore
Company: Masergy
Job Title: CIO
Location: Dallas, Texas, USA
What was the most valuable piece of career advice that you received?
When I transitioned from an individual contributor role to a manager role, my CIO gave me two simple rules: 1) Treat people the way you want to be treated and 2) if you don't know what to say, don't say anything.
What was the worst piece of business advice that you received?
One executive told me that having layoffs the first Friday of every month was the best way to motivate employees because everyone knew they only had a job for one month. I quit that company that week.
What advice would you give to someone starting their career in the tech industry?
Be open to change - our industry is all about change and embracing it. Always be open to new ideas, even if they challenge you professionally and personally.
What tips would you give to someone aiming for a c-level position?
Understand that as you advance, your focus shifts more and more from your group or department and more to the company and its stakeholders.
Are you particularly proud of any career advice that you've given or the career route/development of anyone you've mentored?
I've just always passed along that first piece of advice - always treat people the way you'd like to be treated. It's really not that complicated.