Human Resources
Typical 24: Luke D'Arcy, Momentum UK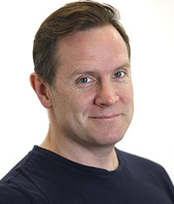 Name: Luke D'Arcy
Job title: President
Company: Momentum UK
Location: London, UK

Years' experience: 20
What time do you reach the office each day?
Depends on the day and travel involved. Anywhere from 8.30am to midday. I try not to be a slave to being "office" based.
Is your job varied?
Massively – it's what makes it so rewarding. Meeting clients, new talent, pitching and then working out whether we should have a bring your dog to work policy or not.
Is your job creative?
The job is brilliantly creative. I am continually inspired by the teams and clients I work with.
What do you spend the majority of your time doing?
An old boss told me that 'management by walking about' was key. It has served me pretty well.
Do you personalise your desk?
Yes. Right now, I see a picture of my kids, a framed Periodic Table of Swearing, a signed baseball from our American Airlines client and a rock paperweight that my daughter painted.
Would you describe yourself as creative?
Well I am definitely not the Excel spreadsheet guy! If I wasn't doing this I would want to be a child's illustrator.
Do you have any quirky daily rituals?
There is no chanting or incense I'm afraid just a couple of double espressos and an all too infrequent street gym with our agency personal trainer.
Do you tend to work on your own or with colleagues?
With colleagues. Always. I love the camaraderie and sense of team.
How many hours on average do you work a day?
Somewhere between the Dutch and Japanese average. It's quality not quantity.
Roughly how much time do you spend each day on email? Taking calls? In meetings?
Each of them are valuable in small doses. I try to keep emails at bay by face-to-face chats. I always take client calls. I try to limit internal meetings to 30mins each and no more than four a day.
Do you use social media much for work?
Yes. We have an active Facebook, Instagram and Twitter presence. Personally – LinkedIn is probably a vice for me.
What do you enjoy most about your work?
No day is the same – it is always a continual grenade of colour.
What type of music (if any) do you listen to at work?
I have no control of the company's Spotify account. Let's be honest, no one wants to listen to my U2 or Happy Mondays collection continuously.
What do you do for lunch?
We have a great staff cafe so either there or a sandwich at my desk. I try to limit business lunches as it hits the midriff.
Do you socialise with work colleagues?
We are a sociable bunch but let's be honest – everyone has a better time once the boss leaves!
Are there any tasks (through your career) you've been especially glad to get rid of?
At my first job in a field marketing agency I spent weeks doing data entry. I am glad to see the back of it.
What is your last task of your day?
A quick stroll around the agency to encourage people to go home and have a life.
How do you like to relax after work?
If I am staying in London or Manchester then maybe a film or gym. If I am at home up near York then it is kid's homework, cooking a meal and convincing myself that a glass or two of red a day has enormous health benefits.
Do you keep checking email through the evening?
Yes. God that's tragic isn't it?
Do you take work projects home with you?
I try not to physically – but mentally it can be tough to switch off.
What would you say to your 20-year old self?
Play as much rugby as you can before your knees give out.
If you could try out any job for a day, what would you choose?
I would happily shadow The Times cartoonist Peter Brooks for a day. He is a living genius.
What device did you use to answer these questions?
Laptop.
Do you use your own personal device for work?
Yes – they are one and the same – it's why after the kids use it I end up with a phone that flashes up with the game "It's Toilet Time" when I am in meetings.