Human Resources
Millennials talk careers: Gemma Spinks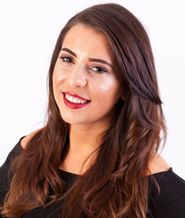 Name: Gemma Spinks
Age: 27
Education: BA Journalism
Current role: Director, Neo PR
Ideal role: Managing Director of an agency
Are the stereotypes about millennials true?
I work with and employ a variety of millennials and I can honestly say they brighten up our office. Millennials are fun, vibrant, hardworking individuals that bring a lot to our team and we wouldn't be the agency we are without them. I do think that millennials have different expectations and a higher confidence level when it comes to negotiating their wants and needs, but I think the rumours about them being selfish and entitled are not necessarily true. Of course, you will get millennials who expect a variety of perks and benefits that they know their peers are offered and some businesses even build their businesses around the fact that millennial employees are looking for a start-up environment with a fun, feisty culture. But this doesn't mean they don't work as hard as others. In fact, the millennials we employ are some of the most hardworking individuals I have ever met. And they are driven, so driven. If they want something, they will get it, and often they don't worry about treading on toes to get there - it's not personal.
What benefits most attract you to a new position?
I think a culture fit is so important. If a company can match my values as a person and an employee and accommodate me with the flexibility I need to achieve a good work/life balance, then I am very likely to stay with them for the long run. I am also a fan of an open culture and that's why I like working in a small business. The Directors at Neo PR are all very accessible and the team can pretty much ask any question we like without it being off limits.
In the long term which of the following is most important to you? (Please explain why?)
Salary is important to everyone, if they say it isn't then I don't believe them, but I think we can all agree it isn't the be all and end all. For me, a long-term goal is to have a great work/life balance. I want to be able to continue to build my career and grow my family at home and I think that is a growing desire of many millennials. Whether that is flexible working, the ability to work from home, a more accommodating workplace or a great maternity package. The fact that an employee can understand and encourage you to have a successful and fulfilling life outside of work is a huge bonus.
What do you think most companies are getting wrong when hiring/ retaining younger workers?
A lot of my friends have worked for very large well-known organisations and they just become a number. They don't enjoy any benefits, perks, or the flexibility to actually have a life outside of work as their employees think the big brand name on their CV is enough. It isn't, and these employees will leave you eventually and go on to work for other organisations that see their employees as assets and not headcount.
Young workers today may be dazzled by the bright lights to start with, but eventually they will realise they want more from life. A great job title and a hefty salary is fantastic, but it will only take you so far. Millennials want trust, they want flexibility and they definitely want the ability to grow and be trusted.
I think too many organisations are the ones feeling entitled and they think their employees should be thankful to work there. They shouldn't. Organisations should be thankful that the employee wants to work there as they bring a huge amount to the table, with their young, fresh outlook on life. Your employees are your biggest asset and if you don't treat them how you would have wanted to be treated then someone else will.
Looking back, is there anything you'd change about the route you took to your current career?
The only thing I regret is not doing more work experience before arriving in my first job. I did some work experience at GQ magazine and I volunteered abroad for one month in a press and social media role, but I think a real-life office environment can teach you so much. As a graduate you think you are on top of the world, but that can all come crashing down around you when you are plunged into the real world and have to hold down a "real job". I felt very overwhelmed during the first few months in my first PR role and although I was loving the challenge and learning new things every day, I think a little previous experience would have helped me a huge amount. PR is very much a hands-on job and you learn so much by doing, so if you have a little bit of this experience in advance you will already have the upper hand.