Finance
Nearly 50 years on, NCR reinvents the ATM
Whether you call it the ATM, cash machine or hole in the wall, over the near half-century of its existence the automated teller machine has become part of everyday life for billions of us around the world. It provides cash when we need it and a few other services such as balance checking but it has hardly become a byword for dynamic innovation. Today, the world's largest ATM maker, NCR, is a attempting to change that image.
NCR is itself 'old money': the company was founded in 1884 and those initials stand for National Cash Register. But with its Kalpana (Sanskrit for 'imagination' or 'creativity', apparently) software platform it is taking ATM operations into the cloud and, it says, making banking services more flexible and useful for both bank and customer.
Whereas here in the UK and many other places in the world, your ATM is likely to be a Windows (and still, quite often, Windows XP) PC with custom software and a safe attached, Kalpana runs ATMs remotely via a thin-client with an Intel 'Bay Trail' chipset and a tweaked version of the 'Kit Kat' Android 4.4 open-source operating system. NCR says that OS change will make ATMs easier to deploy, more resistant to security threats, more malleable to the creation of new and improved services and cheaper, with costs lowered by about 40% thanks to reduced licensing fees and lower administration, power and hardware needs. Kalpana as a platform for joining up banking services will also run happily with today's ATMs, NCR says.
The software was developed at NCR's global research and development base in Dundee, Scotland with some assistance from India. By happy coincidence, the Scottish-Indian link to ATMs goes way back to the machine's inventor, John Shepherd-Barron who was born in Shillong, India in the days of the British Raj, lived in England and Scotland and died in Inverness in the north of the latter.
I saw a demo of the system in NCR's offices in London (by another coincidence the city that had the first ATM in 1967) using the relatively sleek Cx110 ATM hardware. The machine has no physical PIN pad but supports biometric readers and has cameras attached so that transactions are recorded and disputes over whether cash came out can be provably resolved.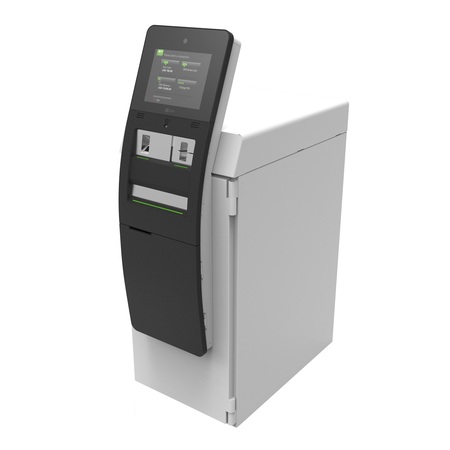 "We're reimagining the cash machine," says Andy Monahan, VP of software engineering and general manager, Kalpana. "Eighteen months ago we were asked to take a step back and answer the question of, if you discarded the legacy, what would the ATM look like. It'll be a long time yet before we reach cashless and there's still a generation for whom the ATM is their contact point. With Kalpana there's been a transformation from hardware to a software- enabled solution. Consumers are heavily influenced by what they see in other industries and they're expecting that same levels of interaction from their bank. For banks there are cost pressures, regulations, the need to update technologies and keep it fresh."
The Android choice is notable but Monahan says that "the feedback from CIOs and architects was they weren't happy with Windows as the basis of the OS" and in particular the requirement for service packs and hotfixes. "They said, 'we want to know if there's an alternative'."
The result of the project will be, he says, a slicker experience all round and an opportunity for banks to move fast and innovate. For example, more ATM screens might offer ads and services with the bank getting a cut of transactions or you might use your smartphone to identify and authenticate yourself.
Cardtronics, the world's biggest retail ATM operator, will pilot the new systems in the Dallas/Fort Worth area in the coming months.