Human Resources
Typical 24: Yuri Sagalov, AeroFS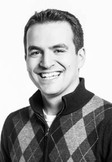 Name: Yuri Sagalov
Job title: Co-Founder & CEO
Company: AeroFS
Location: Palo Alto, CA
Years' experience: 5
1. What time do you reach the office each day?
Most days I wake up around 6:30am. I try to leave 30 minutes in the morning to just wake up, and as a personal rule do not check my phone, news, or email at that time. Around 7am I'll get up and workout. I arrive at the office between 8:30am and 9am.
2. Is your job varied?
I would say so, yes. In fact, no two days are alike. In any given week, I may be working on engineering, sales, marketing, hiring, interactions with customers, or any other number of other tasks.
3. Is your job creative?
Yes. I spend my time between solving engineering problems and sales/marketing problems, both of which require a fair bit of creativity.
4. What do you spend the majority of your time doing?
Honestly, a little bit of everything. I step in and out of various roles depending on what needs to be done. A lot of my time is spent on hiring and recruiting candidates for various positions. I meet with every candidate who makes it through our full interview process. I also spend a lot of time directly with our customers, which is some of my favourite time.
5. Do you personalise your desk?
I guess so, though it's mostly unintentional. My desk at work is actually really similar to my desk at home. Static computer setup (27" Apple Thunderbolt Display, Microsoft Natural Ergonomic Keyboard 4000, and a mouse all attached to my 13" MacBook Pro). Beyond that, I have whatever things I'm working on at the time – resumes, contracts, etc. all over my desk.
6. Would you describe yourself as creative?
Yes, I think it's part of the job description!
7. Do you have any quirky daily rituals?
When I wake up in the morning I actively avoid checking email for the first 30 minutes. I also don't disable email on my phone once I get into bed.
8. Do you tend to work on your own or with colleagues?
Most of my day is collaborative, and I usually don't get a chance to work on my own until late in the evening.
9. How many hours on average do you work a day?
I try not to count. J But in reality, it's kind of hard to keep track. As a founder and CEO, much of my day is spent thinking about work.
10. Roughly how much time do you spend each day on email? Taking calls? In meetings?
Maybe 1/3 email and 1/3 meetings. The rest is other types of work.
11. Do you use social media much for work?
Yes, both on Twitter and through our blog.
12. What do you enjoy most about your work?
Everything! Building something from scratch is a very exciting and rewarding thing, and every challenge is a new learning opportunity.
13. What type of music (if any) do you listen to at work?
I listen to music sometimes when I'm doing independent work. The type really depends on the work I'm doing. If I'm answering email or other similar tasks, it depends on the time of day or mood. In general, I'm a huge classic rock fan.
14. What do you do for lunch?
We have lunch every day together as a company, so as long as I'm in the office, I join the team for lunch. We cater lunch from various restaurants in the local area.
15. Do you socialise with work colleagues?
Yes! We have an open office environment, so I sit in the same area as everyone else. We actually re-arrange desks fairly often, so I get to chat and socialize with new colleagues regularly, too!
16. Are there any tasks (through your career) you've been especially glad to get rid of?
Scheduling!
17. What is your last task of your day?
It depends, really. Sometimes it's a few emails that need to go out, and sometimes I actually write a little bit of code (very rare, these days).
18. How do you like to relax after work?
Dinner with friends is my favourite activity. If that's not possible, I'll sometimes watch a little TV.
19. Do you keep checking email through the evening?
Yes, but I stop about an hour before bed.
20. Do you take work projects home with you?
Yup
21. What would you say to your 20-year old self?
Keep doing what you're doing… I don't think I've "succeeded" yet, and there's a lot of work ahead of me, but I'm actually really happy with the path I'm on today, and I wouldn't really want to do anything to change it.
22. If you could try out any job for a day, what would you choose?
Airline pilot or a flight attendant! I love air travel and airports, and love the idea of visiting various cities all in one day.
23. What device did you use to answer these questions?
13" Macbook Pro
24. Do you use your own personal device for work?
Yes, a OnePlus One until recently, and currently using an iPhone 6.