Mobile Communications
Crowdsourcing Innovation: Jingtao Hu, TouchOne


Name: Jingtao Hu
Job title: CEO
Organisation: TouchOne
Location: Melbourne, Australia
Product:TouchOne Keyboard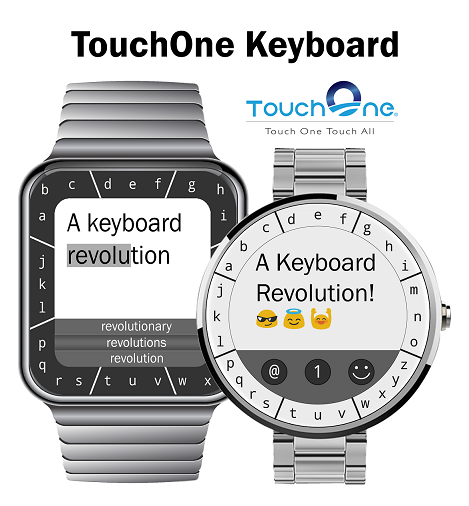 What it does & how it works:
The TouchOne Keyboard is the first dedicated smartwatch keyboard that has been developed for both square and circular smartwatch devices. It has a total of eight keys, each representing three or four letters, instead of 108 keys like the Traditional QWERTY. This means more screen space for a larger text display and ease of use for people with fingers too large to bother with the tiny QWERTY keys.
The TouchOne keyboard uses gestures for its four commands, further freeing space on the screen. For example, simply swipe left to delete, add a space with a tap, and shift by swiping up. Predictions appear at the bottom.
What makes it special?
What makes The TouchOne keyboard special is that it supports both square and circular devices down to 3cm/1.18 inch screen sizes. The keyboard has been extensively developed with human finger ergonomics research, so even users with big fingers should easily type on small screen.
What's your background, and what inspired you to come up with the idea?
I have over 5 years of research on human finger ergonomics and a Master's Degree in Information Management from Monash University, and hold multiple patents worldwide.
The current QWERTY keyboard (which is designed for rapid 10 finger movement) is simply not working as well as it could be on today's small screens. After further observing smartphones in their environment, I realised that people only use one finger to drive their gestures. Yet this is not without its own set of limitations; to put it somewhat indelicately, big fingers make typing on small keys hard. That is why to date smartwatches have only enabled voice control, however this can really only be an interim solution that raises many privacy and security concerns. We for one never feel great about sharing our credit card information in a crowded space, let alone saying it out loud. Sensitive info aside, let's be honest, who really feels comfortable verbally replying to a message in public? To me, it was obvious that the keyboard needed to be revolutionised for small screen input.
Why Kickstarter?
We decided to put our project on Kickstarter so we could gain exposure of our project to the public and raise funds to complete the development of the TouchOne keyboard and SMS APP we are developing. The exposure of the project has gone viral worldwide with several journalists writing about the TouchOne keyboard project.
Is Crowdfunding good for innovation? How so?
Crowdfunding is an excellent way to pitch new and innovative ideas, as we are able to explain how the TouchOne keyboard works and how to use it to users new to the smartwatch market.
Reactions on KS so far?
The reactions on Kickstarter have been very positive, and we have been featured by Trusted Reviews, Digital Trends, Cebit, CNET Japan, Wareable, and others.
There have been comments of backers wanting us to collaborate with the Blocks Wearable project, a recent Kickstarter project which has raised over $1 million. These are the following positive comments below:
"Such great invention! Love your work. Good luck!"
"Beautiful design. I have been waiting for this for a long time."
"Super excited for this! Just got my Moto 360 and love the convenience of being able to use voice to text, but an actual keyboard will make the device all that more useful and precise with spelling. Good luck!"
"I backed your project to help you achieve goals. Why don't you contact BLOCKS watch team to make great addition to their project and also benefit from it?
All the best and wish you success in your development! It's a great idea!"
"Love this project! As others have said, please develop for blocks"
What have you learned from your campaign?
We have learned that developing something new and revolutionary is going to be hard to explain to new users and that some users are not going to be open to new innovative ideas.
When is the product due to ship?
Beta Test will be sent via Play Store in December 2015, and the final release will be in January 2015 on Google Play Store. We will also put our product in the CES 2016 in Las Vegas as an exhibitor.
What's wrong with QWERTY keyboards or other traditional keyboard layouts such as Dvorak or QWERTZ, and does the rise of wearable tech – and therefore limited screen space - mean people are more open to alternative keyboard designs than ever before?
When the QWERTY board was invented 150 years ago it was done so the hammer keys on the vintage typewriters wouldn't clash into each other when typing – clashing happened because people were typing too fast. Nowadays, computers are much faster than human, but why we still see so many QWERTY solutions for our latest smart technologies? The problem with QWERTY keyboards is that you cannot cram the design on a smartwatch screen with the 108 keys, as it is impossible to type on a 1.3inch watch screen with keys that are barely visible.
How do you compete against something as ingrained in modern society as keyboard layouts? Many have tried but none have ever succeeded – is it really possible to reach critical mass without a big push from device-makers such as Apple or Google?
We have given out the TouchOne keyboard to public testers to try out the keyboard and the positive feedback has led to the conclusion that people want an alternative keyboard design for smartwatch devices. We posted our solution for testing in the popular developer's forum XDA and the feedback was so positive that we believe it is time for a change. We are sure that Apple or Google will need a proper keyboard, as Smartwatch will be an independent mobile device for people's daily life. LG and Samsung have both released smartwatches with SIM card (Samsung Gear S2 and LG Urbane 2nd). The current voice control is a part-time solution to a full-time problem. There are so many scenarios that you can't use voice control: inputting passwords, typing a website, inputting privacy information (such as credit card number and personal details) and so on.
Does the fact Apple and Google restrict text inputs on their wearables mean that TouchOne has to essentially become a full messaging platform in order to be successful?
At the moment, yes, because Apple and Google have restricted the text input ports at the operating system level. The only input port which is currently open is voice, but voice input is only a part time solution to a full time problem.
Possible business use/advantage?
The TouchOne keyboard has been protected with registered patents worldwide so there are no other companies can copy the design. We are the only keyboard solution that supports both square and circular devices, as other attempted keyboard solutions have tried to cram the QWERTY keyboard on a smartwatch screen.
What's next for the company and the product?
The TouchOne keyboard working for Android Wear is just the beginning. We are planning to implement cross platform support for Tizen and Apple iOS after the launch. The team is planning to implement the TouchOne keyboard on multi hardware devices including TV remotes, computer mice and car navigation systems in 2016.