Business Technology Optimization
C-suite talk fav tech: Mark Darbyshire, SAP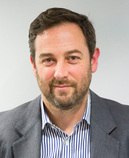 Name: Mark Darbyshire
Job title: Chief Technology Advisor, UK and Ireland
Company: SAP
Industry: Enterprise Software
Location: Feltham, UK
Years of experience: 17
What is your favourite personal gadget?
Like millions of others, my favourite personal gadget is my iPhone. It gives me instant access to everything I need on the go. I can check work emails, FaceTime colleagues and test out new apps and web designs. I also use it to watch films, take photos and keep in touch with friends and family.
Do you have a favourite piece of personal software?
Reason by Propellerheads – very clever UI.
What was the first piece of technology you got really excited about?
ZX Spectrum. I was a Z80 assembly code man.
What device improves your life most at work?
Apple iPhone. And then probably the espresso machine.
What software keeps you most productive at work?
The social collaboration tool SAP Jam keeps me most productive at work. It's made a huge difference in the way I connect with customers, partners, and colleagues. I can share information, applications, and processes and solve business-critical problems on the go through my business applications, mobile device, or in SAP Jam. Using SAP Jam in sales, HR, and other processes shorten sales cycles, increases customer and employee engagement, and reduces training costs.
Is there any technology that has become extinct that you would like to resurrect?
Not exactly extinct but I do miss record players and incandescent light bulbs. There is also nothing more iconic than the British payphone.
Do you think anything about your personal use of tech would surprise your colleagues?
My record player set-up. I got a bit obsessed about vinyl for a couple of decades.
Is there any technology you would personally recommend that you don't think enough people know about? (Hardware or software, work or personal)
I am really keen to get millennials passionate about technology and coding. Therefore, I would recommend the Raspberry Pi which is a small and very affordable computer that can be used to learn programming through fun and practical projects. Raspberry Pi recently unveiled its latest programmable computing board, the Raspberry Pi Zero, and it costs just £4 so this is technology that is available to anyone.
Schools both in the UK and in developing countries should be introducing this simple tech to students from a young age to develop their coding skills. Businesses should also make the same investment and commit to supporting the tech development of students.
Not a technology, but an organisation I wish more people knew about is Apps for Good, an open-source technology education movement for young people aged between 10-18 years. At SAP, we work closely with Apps for Good and are incredibly proud of how they are improving technology engagement and the user journey of two critical audiences; educators and students.