Human Resources
Typical 24: Sami Luukkonen, Accenture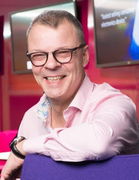 Name: Sami Luukkonen
Job title: Global Managing Director, Electronics and High Tech Group
Company: Accenture
Location: Finland
Years' experience: More than 25 years
1. What time do you reach the office each day?
I have a global role so I don't reach the office each day. I'm on a three-week cycle. I spend one week in Asia, one week on the West Coast and one week in Europe. In general, my working days start at 7 a.m. and end at 8 p.m. or 9 p.m.
2. Is your job varied?
Yes, absolutely. Electronics and High Tech is one of the most exciting industries because it is always changing and is at the epicenter of a lot of different markets. In my role I cover the ins and outs of consumer electronics, wearable devices, aerospace, personalized health and more. This variety keeps me energized.
3. Is your job creative?
There are two major tech trends that are making my job especially creative: the Industrial Internet of Things and the increasing number of hacking and security breaches. Accenture defines the Industrial Internet of Things as the convergence of intelligent industrial products, processes and services that communicate with each other, and with people, over global networks. In this context, I no longer think of a product as a physical thing but a network of things and data – and this requires creativity to think beyond the product.
Additionally, security threats to all technologies force me to think creatively. Security is a complex issue that forces one to evaluate the how, when and why of an attack and what can be done to defend or recover. The creativity required in security has never been more important. Security is more top of mind with my clients than it ever been in my professional career.
4. What do you spend the majority of your time doing?
Most of the time I'll be with clients. About 10% of the time I'll work on strategy and the rest deals with execution, positioning and messaging.
5. Do you personalise your desk?
My home office is personalized to have a late 1950s, early 1960s style. I use all the latest technology and pride myself on being innovative, but that doesn't mean I don't like a variety of interior designs from different eras. I may use the latest tablet PC, but I'd prefer to sit in a chair that looks like it came out of an old movie and decorate my walls with antique clocks.
6. Would you describe yourself as creative?
The real challenge in my role is that I have to think of something new every month, every quarter and every year – which inevitably requires thinking in different and unconventional ways. People also tell me that I'm wired differently, because I have a reputation for doing non-traditional customer deals by pushing companies to use atypical IT strategies.
7. Do you have any quirky daily rituals?
Not really. I try to work out at least 4 days a week, which I don't think is quirky but essential.
8. Do you tend to work on your own or with colleagues?
I rarely work alone. I do schedule time every week to work alone, typically on the airplane to reflect on work and brainstorm ideas. Every week it's important to have dedicated alone time for meditation and thought.
9. How many hours on average do you work a day?
10-14 hours a day.
10. Roughly how much time do you spend each day on email? Taking calls? In meetings?
--
11. Do you use social media much for work?
Yes, mostly to scope out the latest consumer trends and news. I use Facebook, LinkedIn and Twitter. On these channels I've compiled a great network of distinguished and knowledgeable colleagues that help me better understand what is going in the technology industry.
12. What do you enjoy most about your work?
People. I have great colleagues and clients. There are an abundance of insights in the different types of people I come across in my line of work. I also believe Accenture is influencing the direction of this industry and it's amazing to see a dialogue starting based on our digital consumers and our aerospace and defense research.
13. What type of music (if any) do you listen to at work?
Classical or jazz music helps me focus.
14. What do you do for lunch?
I keep lunch light and quick. I often take a working lunch.
15. Do you socialise with work colleagues?
Yes, absolutely. Most of my best friends are clients and colleagues. I've kept these relationships going for years.
16. Are there any tasks (through your career) you've been especially glad to get rid of?
--
17. What is your last task of your day?
I go through my email.
18. How do you like to relax after work?
I do a few triathlons a year, so it forces me to practice swimming, biking and running after work.
19. Do you keep checking email through the evening?
Yes, it's usually the last task of the day before going bed.
20. Do you take work projects home with you?
I'm comfortable with being able to work from home because that's the only way I can do my job.
21. What would you say to your 20-year old self?
Be direct and open. Make mistakes and learn from them. Pay attention to people with experience. Everybody is impressive and you shouldn't be arrogant. Be positive and excited, and less selfish. Try to find people's best capabilities and learn from them.
22. If you could try out any job for a day, what would you choose?
An astronaut.
23. What device did you use to answer these questions?
MacBook Air.
24. Do you use your own personal device for work?
Yes. I use my own phone and laptop.