Wireless Technologies
C-Suite Talk Fav Tech: Steve Nunn, The Open Group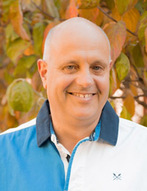 Name: Steve Nunn
Job title: President & CEO
Company: The Open Group
Industry: IT/Business Standards
Location: San Francisco, USA

Years' of experience: 25
What is your favourite personal gadget?
Probably the Bose Soundtouch, Series III devices around our house – the 30 model in the living room, the 20 in the kitchen, and the 10 upstairs. We can play our own music libraries, or stream radio (Pandora, Spotify, etc.) – all over our home network. It's so easy to use, and we can have the same music around the house, or different music in different rooms – useful with the younger generation around J
Do you have a favourite piece of personal software?
That's a tough one. I think, on balance, it would have to be Google Maps. With that app on my phone, not only can I find my way pretty much anywhere, but have a reasonable idea of how long it will take me. In the greater scheme of things, this is a really minor example but, armed with the Google Maps and Open Table apps – another of my personal favourites – I can book a meal for business or pleasure, know how to get there, and even be told when I should be thinking about leaving in order to get there.
What was the first piece of technology you got really excited about?
This might sound like a strange one, but I think it was aircraft. As a kid, I was always amazed at how planes take off and stay up. Now that I spend more of my life than I care to sitting on them, I still find the technology staggering. Believe me, I understand the science behind it – my Dad was an aviation engineer – but, for me, that doesn't detract from the wow factor.
What device improves your life most at work?
It has to be my iPhone. The flexibility it gives me to keep in touch, personally, professionally, and with breaking news while on the move is the main reason, closely followed by the utility of having a pretty high-quality camera at my immediate disposal, any time. I'm currently using an iPhone 6, but I've been using them since the 4. In fact, due to my travel patterns over that time/roaming charges, etc., I still have both a GSM iPhone and a US iPhone. I long for the day when I can truly just have one – I'm getting there though.
What software keeps you most productive at work?
I think it would have to be Skype. From the quick "RU free?" message to a colleague, through the back and forth IMs, to the multi-way conference calls, it makes such a difference to how and when I can reach people. It has come a very long way in terms of quality and reliability since its early days and, although not perfect – what is?! – it's a great communication tool for a geographically-spread organisation. Not to mention, for all the use that I make of it, it's free J
Is there any technology that has become extinct that you would like to resurrect?
Photographs – actual, printed, photos – as in albums full of them. This isn't necessarily something that I miss personally, but I know that older members of my family mention it to me all the time. I know, in theory, we can all easily print our digital photos. However, most of us not of the older generations don't feel the need to – after all, they are on our phones/laptops/in the cloud whenever we want them. Nonethless, when the only way to see a photo you'd taken was to have it printed out, there was something special about collecting those and going through them and, I think, we cared a little more about the quality of the shot we were taking.
Is there any technology you would personally recommend that you don't think enough people know about? (Hardware or software, work or personal)
I'm torn on this one. From a professional point of view, it would probably be the Scannable app – allowing me to easily scan documents, creating PDFs that I can share by mail, text, etc. I used Turboscan before, which was very good, but less easy to use than Scannable.
From a personal point of view, it would be WhatsApp. I know WhatsApp is very widely known and used, but I think there is a generational divide. My kids and their generation use it all the time, but not so much those of us in our 40s, 50s and beyond. I use it every day to communicate with my wife, and the young adults in our family, wherever we all happen to be in the world. We recently introduced it to our wider family, and it was a bit of a revelation to them – especially, when they found out that the call quality is typically better than a regular landline/mobile, and that it has that other wonderful attribute of being free!
Do you think anything about your personal use of tech would surprise your colleagues?
Not really, no. As a lawyer by training and initial profession, my tech-savvy colleagues at The Open Group think that any use of technology is more than they'd expect from a lawyer! If there was one thing they might under-estimate though, it would be the state-of-the-art way that music gets played in our house –they would probably expect me to still be on CDs J