Human Resources
Typical 24: John Cooke, Black Pepper Software
IDG Connect is looking to speak to IT, business and marketing professionals across the spectrum to discover more about their very different, typical working days…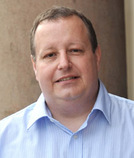 Name: John Cooke
Job title: Managing director
Company: Black Pepper Software
Location: Leamington Spa, United Kingdom
Years' experience: 20, with 5 years as an MD
1. What time do you reach the office each day?
I usually arrive to work at 8.45am.
2. Is your job varied?
Yes, I carry out a wide range of tasks during the working day. I still "get my hands dirty" delivering software and leading a team of developers while I regularly meet with clients and prospects, alongside attending industry events. For example, I recently attended an "Internet of Industrial Things" cluster workshop and an Agile software development meet-up.
3. Is your job creative?
Yes, finding the right solution to our customers' problems really gets the creative juices flowing. Every customer is different and as such, has a very different set of problems we need to solve. This means I am faced with exciting challenges all the time.
4. What do you spend the majority of your time doing?
Most of my time is spent working with our customers, but that in itself can be quite varied, ranging from leading a team of developers to mentoring the customer's own team to help them implement best practices.
5. Do you personalise your desk?
Not really. I personalise my laptop desktop with photos I've taken and on my desk is a tea caddy with loose leaf Darjeeling tea which I like to drink in the afternoon, but otherwise my desk is rather standard.
6. Would you describe yourself as creative?
Yes, although I believe that most people have a creative streak in them. The question is whether they can express that creativity in their day-to-day work as this is what defines whether someone can be described as creative.
7. Do you have any quirky daily rituals?
My days are quite varied so I wouldn't say I have any quirky daily rituals.
8. Do you tend to work on your own or with colleagues?
Typically I work with colleagues. I'm often working with someone at their desk or they're working at mine so I rarely find myself carrying out tasks alone.
9. How many hours on average do you work a day?
I average around nine hours a day. I believe in getting a good work-life balance as in my experience that is what makes us most productive. I encourage the team to work hard during the day but to leave on time to relax with friends and family. This doesn't mean that at times I don't work long hours, just that I try to ensure it doesn't become the norm.
10. Roughly how much time do you spend each day on email? Taking calls? In meetings?
I probably spend about thirty minutes a day on email. Calls are quite difficult to quantify though. Communication is obviously vital so I'm frequently having quick phone or video calls with colleagues and customers.
As for meetings, we have a practice of keeping meetings as short and focused as possible. For example, each team has a daily five to ten minute meeting to keep everyone up to date, while identifying and breaking down barriers they're facing. We stand up during these meetings to ensure we don't get too comfortable and end up wasting time.
11. Do you use social media much for work?
Not every day, but I probably use social media two or three times a week to get the word out about what we're doing and keep in touch with colleagues in other companies or locations.
12. What do you enjoy most about your work?
I love solving problems, it's what got me into software development in the first place and led me to found Black Pepper Software. Every day there is a new challenge to get my teeth stuck into and when I reach a solution I still get that warm feeling which comes with a job well done.
13. What type of music (if any) do you listen to at work?
I have quite eclectic tastes in music, but in general I don't listen to it at work. I'm typically working with colleagues so don't get the chance to do so.
14. What do you do for lunch?
I usually head out of the office for a walk and grab a sandwich with friends from work. I try to make sure I don't eat at my desk.
15. Do you socialise with work colleagues?
Yes, we have quite a few social events. I'll frequently go for a drink or a meal with friends from work. We had a company barbecue a few weeks ago, a group of us recently went camping and the whole company will soon be heading to Florence for the weekend.
16. Are there any tasks (through your career) you've been especially glad to get rid of?
In general I've enjoyed most of the things I've done during my career and in that respect I've been very lucky. There is of course the odd task I didn't enjoy, such as doing the PAYE and VAT returns which I'm glad I no longer have to worry about but I can't say there was anything I dreaded.
17. What is your last task of your day?
Usually I'm the last one out of the office, but before I leave I do a quick tour to see if anyone is working late. Quite often it will be someone who's engrossed in what they are doing but if it's someone who is stuck trying to solve a problem I'll see what I can do to help them.
18. How do you like to relax after work?
I am an avid reader and I'll often stretch out on the sofa with a good e-book (I'm a sucker for technology). My e-reader has revolutionised my reading habits, allowing me to have a number of books on the go at any one time depending on my mood. I also enjoy photography – we have an informal photography competition fortnightly in the office – so I'm often out looking for a good subject.
Otherwise, I may be dabbling in creative writing. Nothing serious but maybe one day I'll get around to writing that novel.
19. Do you keep checking email through the evening?
Not normally, if anything is urgent then I have my mobile with me so I can be contacted. Again, I find I'm more productive during the day when I can recharge my batteries during the evening.
20. Do you take work projects home with you?
Sometimes when I get engrossed in a project I will continue it at home in the evening, but this is more because I love my job rather than being behind schedule and trying to cram in more work.
In general, we try our best to estimate and plan so we can deliver for our customers during the standard working day. There are some occasions where I do need to work late to meet a commitment and I'll do whatever is required to do so.
21. What would you say to your 20-year old self?
Like everyone, I've made mistakes and missed opportunities over the years, but I've also grasped some great ones which have brought me to where I am today. I've come to the conclusion there is no point worrying about the mistakes you make, but instead make sure you learn from them. I would tell myself not to bother watching Lost though.
22. If you could try out any job for a day, what would you choose?
I'd love to spend the day as the curator of the British Museum. I'm naturally curious and love to learn. The opportunity to view all the exhibits that there isn't room to display would be marvellous.
23. What device did you use to answer these questions?
I used my laptop. Although I am a self-obsessed technology junkie, I still find it better and more productive for day-to-day content generation than my tablet or phone; although I wouldn't be without them either.
24. Do you use your own personal device for work?
I use my personal tablet for checking email, reading articles and blogs when I'm out of the office, but in general I use my company laptop for work.