Human Resources
C-suite career advice: Bruno Teuber, New Relic
We ask industry leading C-suite professionals for their expert career advice...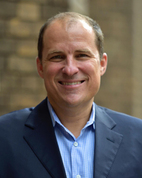 Name: Bruno Teuber
Company: New Relic
Job title: SVP of EMEA Enterprise Sales
Location: Zurich, Switzerland
Years' experience: 25 years
What was the most valuable piece of career advice that you received?
One of the best pieces of advice I received was back in 1995, from a person who convinced me to take a role in the IT sales industry. They said that when you make a decision on behalf of an organisation, whether it's who to hire or how to build the business, always think customer first. You've got to have one eye on the customer point of view at all times, and make decisions based on what's ultimately best for them.
What was the worst piece of business advice that you received?
Over the years I've found that too many people were trying to convince me of huge differences in business across different countries in Europe. I learnt over time that at the end of the day, business is business. I agree there are definitely cultural differences, but from my experience, as long as you understand the nuances and apply common sense it's really pretty similar.
What advice would you give to someone starting their career in the tech industry?
It depends on the person you're giving advice to, but what's important for everyone is that you make a connection with an organisation and what it's trying to achieve. Whether it's a person's vision, desire or thoughts, they need to be connected to the idea in some way, otherwise it's very difficult to get excited or be passionate about it in the long run.

What tips would you give to someone aiming for a C-level position?
Most importantly in any position, but more specifically the higher up the career ladder you go, you've got to figure out a way to perform in the role based on your own personality. Don't try and adjust your personality to match a function that the business requires. Everyone has their own characteristics and that should be embraced. Also, if you use egos and elbows to try and get to that position, you are going to fail. Businesses are much more transparent these days so you can't hide or fake it. If you do, it will come to the surface sooner or later.
Are you particularly proud of any career advice that you've given or the career route/development of anyone you've mentored?
I have a pretty good nose for people's capabilities and like to help steer them in the right direction. I've given good advice about what makes sense for them based on who they are. There are a lot of people in the sales world that I've seen have the desire to do something else. They want to climb the ladder and become a leader not a follower, and there have been situations where I've successfully convinced them that it's not in their best interest.
A good example of this is when I can see that the person in question has found their sweet spot and are very valuable to the organisation and its customers and would therefore be less successful if they made the change. On the flip side, there was a person who worked for me in services, in a service delivery management role, who started to take over sales cycles in meetings and at some point I convinced him to become a sales person. He's been the most successful sales person for that company worldwide seven years in row.