Data Center Design
Turning mountains and fjords into datacentre sites
In the western Sogn og Fjordane region of Norway, between the two port towns of Måløy and Nordfjordeid, lies a mountain. The site of a former mineral mine, however, is being transformed in one of Europe's biggest and greenest datacentres.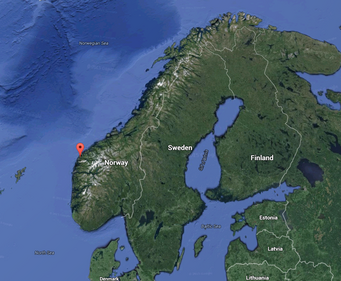 Due to open in August 2016, the Ledfal mine datacentre is a 1.3 million square foot space with 75 underground halls, powered by hydroelectric and wind energy and naturally cooled using the region's ice-cold fjords. The vision is to "to build and run the most cost effective, secure, flexible and green datacentre solution in Europe," says Mats Anderson, CMO of the Lefdal Mine Datacenter.
As well as offering a large and eco-friendly site, Ledfal aims to be smart with its server deployments. The plan is to offer servers in standardized containers which can be stacked three-high, and are delivered by articulated lorries. A systems of roads create almost a city-like environment that will allow the trucks to drive through the entire datacentre into the required hall. IBM and Rittal are both part of the project's development and will be the site's first customers.
Despite the impressive nature of the idea, Anderson makes building a datacentre inside a mountain sound relatively straightforward in practices. "The challenge compared to a regular build out is that one need to secure the mountain halls. However, we have long experience in this field," he says. "The mine is then our "land" the intake of infrastructure is mostly using existing paths, but to some extent new paths are being drilled through the mountain."
Anderson says his company aims to use both the mine's and Norway's natural benefits to create the best datacentre facility in Europe. "Norway has a strong USP in surplus production of green, low cost power in a cold climate." The site was used to mine for Olivine from the 70s right up until a few years ago. The green mineral – used in saunas, foundries, and for Peridot gemstones - has a high density and offers natural EMP security. "Green mineral out – green IT in," as Anderson puts it.
Mountaineering
Lefdal isn't the only "extreme" datacentre to have appeared in recent years: The Green Mountain datacentre - also in Norway and built into a mountain - is housed inside a former high security NATO ammunition facility; deep underneath Stockholm, Bahnhof hosts a datacentre in a former nuclear bunker, while Iron Mountain run one out of a former Limestone mine over in Pennsylvania, US.
On the surface, the Green Mountain and Lefdal projects sound remarkably alike. "They are somewhat similar, but the main difference is size and scalability," Anderson says when asked how the two sites differ. "Our mountain hall is larger and has better logistics allowing container solutions and larger modular security rooms."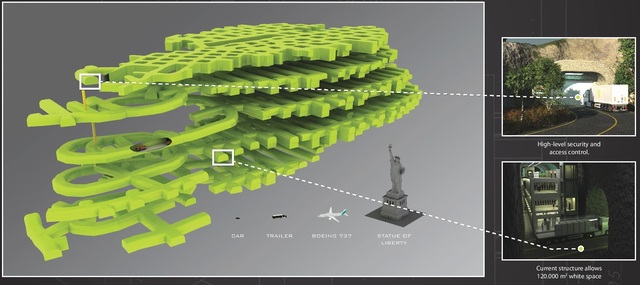 For now, the company has no plans to expand beyond its current mountain expedition. "We have the potentially largest whitespace area in the world at Lefdal Mine Datacenter," he says. "We have been contacted by several mines and Norwegian defence installations inside mountains that want us to open business in their premises as well. So, the possibility is there."
Going green
Europe's northern regions have been known for a while now as a hotbed for naturally-cooled datacentres. Companies including Facebook, Microsoft and Google have all made use of the region's arctic fjords, while Iceland's Thor is the world's first zero-emissions supercomputer. "We are still in the early stages of this trend," says Anderson, adding that cost and proximity to other European markets will be a big driver. But while the concept of eco-friendly datacentres has been proven, Anderson isn't happy with how many sites are still emitting emissions.
"The industry is mostly customer driven, and they are not doing enough at the moment. But, we're seeing a new customer pattern focusing on cost and green solutions," he says. "When old contracts run out, the facilities that stand for large emissions will struggle."
The project has the backing of Norway's energy Minister, Tord Lien. "Demand for datacentre capacity is increasing – not just in Norway, but across the world," he said at a press conference, adding that the ability of datacentres such as Lefdal to enable cloud computing sustainably will help "establish Norway as a datacentre powerhouse."