Human Resources
Typical 24: Yaniv Mor, Xplenty
IDG Connect is looking to speak to IT, business and marketing professionals across the spectrum to discover more about their very different, typical working days…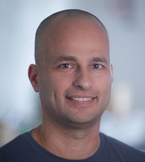 Name: Yaniv Mor
Job title: CEO
Company: Xplenty
Location: Tel Aviv, Israel
Years' experience: 15
1. What time do you reach the office each day?
I'm usually at the office between 08:30 and 09:30, depending on whether I have early meetings scheduled, or – from a home perspective, weather I need to take my kids somewhere before school or kindergarten. I go for a run 3 times a weeks early in the morning, and these are usually my best days.
2. Is your jobvaried?
My job as a start-up CEO is all about variation. I do everything, and I'm constantly being faced with new, unfamiliar challenges, either business challenges, sales challenges, marketing challenges, HR challenges, product challenges – and I can go on and on. Sometimes I feel that a day in a start-up equals a month in a more conventional organization.
3. Isyour job creative?
It's not creative in an artistic kind of way, but it's definitely creative in terms of how I need to approach problem solving and overcome obstacles I come across every day, several times a day. I believe every entrepreneur needs to be creative, as we're all creators of new things: new products, new technologies.
4. What do you spend the majority of your time doing?
You mean besides answering emails, taking calls, going over the marketing reports, inspecting sales activity, moving from one meeting to another, trying to get new customers, check out the product road map? Besides all of that, I try to think. I always try to take some time off to think how we're going to take Xplenty to the next level. What's the new killer feature that will help with customer adoption? How can we remain competitive in a crowded market? How I see Xplenty 3 years from now, and what I need to do now in order to get there. Taking this time off to re-evaluate is something I feel is very important.
5. Do you personalise your desk?
Not really. Mine is probably the most ordinary desk you've seen.
6. Would you describe yourself as creative?
It goes back to (3) – I have to be creative in order to do my job.
7. Do you have any quirky daily rituals?
Probably not the most unusual ritual – but I drink a lot of coffee.
8. Do you tend to work on your own or with colleagues?
Both. Some of the work I do on my own, some with my colleagues. I always consult with Saggi, my co-founder on everything that involves major company decisions, and I almost always consult with subject matter experts when it comes to areas I'm not that experienced with.
9. How many hours on average do you work a day?
That's a tough one. I can't really say I have a start and an end to my working day. I almost always try to be at home for dinner with my wife and three kids, but from the minute they're in bed, I'm back at my laptop.
10. Roughly how much time do you spend each day on email? Taking calls? In meetings?
Emails consume at least 2.5-3 hours a day of my time. Taking calls less, and meetings, oh those meetings – I try to minimise them but on a regular day – probably around 2 hours.
11. Do you use social media much for work?
I mostly use LinkedIn to get updates on what my network is talking about, and Twitter as well, but to a lesser extent.
12. What do you enjoy most about your work?
Xplenty is something I've helped build from zero to the excellent company that it is now. I literally enjoy every day and almost everything I do here. The most enjoyable moments, though, are when we get good feedback from a customer.
13. What type of music (if any) do you listen to at work?
David Bowie, Queen, Bob Marley, Paul Simon, Led Zeppelin, Pink Floyd… I think you got it by now.
14. What do you do for lunch?
We usually order in: Asian, Middle Eastern or Italian. Sometimes I bring home-cooked food with me.
15. Do you socialise with work colleagues?
We sometimes go out to a pub or a restaurant together.
16. Are there any tasks (through your career) you've been especially glad to get rid of?
Handling invoices and end of month accounting work. I just don't like it!
17. What is your last task of your day?
I look at tomorrow's schedule and make sure I'm ready.
18. How do you like to relax after work?
Watching a good TV show usually does the trick.
19. Do you keep checking email through the evening?
Guilty!
20. Do you take work projects home with you?
Yes, I almost always work from home at nights.
21. What would you say to your 20-year old self?
It's a cliché, but I truly believe in it: almost always saying YES to change will give you better outcomes than saying NO. Take risks.
22. If you could try out any job for a day, what would you choose?
I can't think of a good one, but if it were up to my 7 y/o boy, I would have been a train driver.
23. What device did you use to answer these questions?
Mac Book Pro
24. Do you use your own personal device for work?
No