Human Resources
Typical 24: Julian Cook, M-Files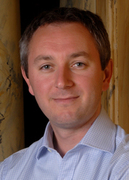 Name: Julian Cook
Job title: Director of UK Business
Company: M-Files
Location: Reading, UK
Years' experience: More than 20 years in the IT Services and Software Industry
1. What time do you reach the office each day?
I'm usually online by 8am regardless of whether I'm working from the office or at home.
2. Is your job varied?
Extremely. I joined M-Files to set up our UK operations so I look after a varied range of operations. I'm responsible for all aspects of the UK business from field marketing through to sales and customer service.
3. Is your job creative?
Absolutely. We're challenging (and beating) some of the big corporations in the information management space so we've got to be creative to cut through the noise and get our message and solutions into the market.
4. What do you spend the majority of your time doing?
The majority of my time is spent meeting and listening to customers about their business needs so we can help them manage their information assets more effectively and streamline business processes, but also understand how we can better engage with other prospective customers.
5. Do you personalise your desk?
I have a few family photos but generally like a clean desk.
6. Would you describe yourself as creative?
Not particularly, although I think I'm good at recognising creativity in others, which allows me to delegate and gets me off the hook!
7. Do you have any quirky daily rituals?
I usually spend a few minutes reading the rugby news on the BBC website over my first cup of coffee in the morning, wherever I am in the world… I'm Welsh, which explains everything!
8. Do you tend to work on your own or with colleagues?
Both, I try to spend as much time as possible collaborating with colleagues and the team but there's always stuff you've just got to get done yourself.
9. How many hours on average do you work a day?
There is no typical or average day, it can be anything from 8-12 hours depending on what's going on at work or home.
10. Roughly how much time do you spend each day on email? Taking calls? In meetings?
I would say it's evenly split but meetings are just as likely to be online as they are face-to-face, so depending what's on the agenda this can often dictate the pattern of the remaining day.
11. Do you use social media much for work?
I use LinkedIn extensively and spend time monitoring topics and companies I'm following on Twitter, Facebook etc., but I don't post very much. I'm more of a consumer than contributor.
12. What do you enjoy most about your work?
At M-Files we are taking great pride in shaking up a mature and established market – it's great fun helping people think differently about the way they should manage information. It's very rewarding when you see customers have that light bulb moment, as to how they can better manage their information using metadata.
13. What type of music (if any) do you listen to at work?
I don't but should start… I've often wondered why I'm sitting in silence.
14. What do you do for lunch?
If I'm in the office, I'll try to have lunch with the team and spend a few minutes not talking directly about work. It's good to know and appreciate what's important to your colleagues outside of work. If I'm working from the home office, I'll try to find 30 minutes to go for a run or bike ride to break up the day.
15. Do you socialise with work colleagues?
Yes, we go out and celebrate our successes when schedules permit.
16. Are there any tasks (through your career) you've been especially glad to get rid of?
Anything to do with finance or expense reporting.
17. What is your last task of your day?
I always spend a few minutes preparing for the next day's meetings or tasks. I like to start the day organised and prepared.
18. How do you like to relax after work?
Spending time with my kids, although it's not always "relaxing" as they're usually keen to do something sporty and run circles around me. I also love to cook but that often leads to late dinners.
19. Do you keep checking email through the evening?
I'd like to say no, but it's a bad habit, which it's my New Year's resolution to break.
20. Do you take work projects home with you?
Yes, but mainly because I spend at least one day a week working from the home office, which is often my most productive time.
21. What would you say to your 20-year old self?
It's a cliché, but "don't sweat the small stuff", figure out what's really important professionally and personally, and focus on that.
22. If you could try out any job for a day, what would you choose?
Head coach at a professional rugby team. The organisation and science behind top professional sports teams is fascinating... and did I mention I'm a rugby nut.
23. What device did you use to answer these questions?
HP laptop…but I was working on the document in our internal M-Files system of course.
24. Do you use your own personal device for work?
I'm usually happy with my company laptop and iPhone, but my personal iPad gets used occasionally.