Human Resources
Typical 24: Charles Sweeney, Bloxx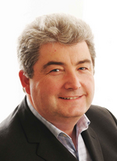 Name: Charles Sweeney
Job title: CEO
Company: Bloxx
Location: Edinburgh, UK
Years' experience: 30 years
1. What time do you reach the office each day?
I aim to leave the house at the same time each day, but depending on the traffic I arrive at the office between 8.30am – 9.30am.
2. Is your job varied?
Yes, very. I would say that Mondays have a particular pattern to them but the rest of the week is very varied. I try to keep to keep two days a week free so that I am able to do different things, be that client meetings or networking.
3. Is your job creative?
I see my role as CEO to create an environment where everyone in the team can be creative in their job role. I of course give direction and input, but I have built a talented team and look to them to be a creative force.
4. What do you spend the majority of your time doing?
I spend a large majority of my time looking at how the business is performing, how we can maximise opportunities to accelerate growth and also any issues that may be on the horizon that could impact our growth plans.
5. Do you personalise your desk?
I like to have a clear desk. My MacBook is another story.
6. Would you describe yourself as creative?
Hmmm. I'm not as creative as my marketing manager, but I must have elements of creativity otherwise I wouldn't be in this role! I guess it depends who you are comparing me to.
7. Do you have any quirky daily rituals?
Not really, but when I get up I like to think about what I want to do that day. It brings a focus to my working day and ensures that I don't get distracted by emails first thing. As our business is international it is easy to get distracted by something that has come in overnight.
8. Do you tend to work on your own or with colleagues?
I firmly believe that you need to build a good team around you and then get out of the road. That's not to say I don't collaborate with colleagues, but I do so in a supporting role.
9. How many hours on average do you work a day?
About 10 hours.
10. Roughly how much time do you spend each day on email? Taking calls? In meetings?
Calls, emails and meetings take up about half of my day and the rest is used to crack on with my own to do list.
11. Do you use social media much for work?
Yes, I use social media to check the news relevant to our industry and post it out via Twitter or on my LinkedIn page. LinkedIn is also really handy for finding out what your network is up to as well!
12. What do you enjoy most about your work?
Throughout my career I have always really enjoyed developing a business and the people within it.
13. What type of music (if any) do you listen to at work?
It doesn't tend to come until after 6pm, but my playlist is a pretty mixed bunch from old soul through to folk.
14. What do you do for lunch?
We have a café on site, so I tend to head there.
15. Do you socialise with work colleagues?
Not as much as we should. Our office location does not lend itself to after work socialising.
16. Are there any tasks (through your career) you've been especially glad to get rid of?
When I have my daily 'what do I want to do today' think, I also list all the things I don't want to do and ensure that I get them off my to do list asap, otherwise they just hang over you.
17. What is your last task of your day?
Clearing my inbox ready for the next influx of emails.
18. How do you like to relax after work?
I have three teenage kids, so evenings are consumed by another "to do list".
19. Do you keep checking email through the evening?
We're international, so inevitably there is an element of email checking, but I like to be off email an hour before I go to bed so that I can switch off.
20. Do you take work projects home with you?
Yes, but only by necessity when things are busy. My family will have another view.
21. What would you say to your 20-year old self?
When I was 20 I was studying computer science and even though I knew I wanted to run a business one day gave very little thought to how I might do that. I was only thinking weeks or months ahead. I would tell my 20 year old self to think about where you want to be when you're 40 and what skills/experiences you'll need to get you there.
22. If you could try out any job for a day, what would you choose?
I'd like to be a sports journalist.
23. What device did you use to answer these questions?
Macbook.
24. Do you use your own personal device for work?
Yes.