Human Resources
C-suite career advice: Mark Robinson, Group CEO
We ask industry leading C-suite professionals for their expert career advice...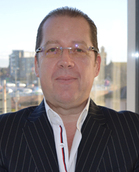 Name: Mark Robinson
Company: Imperious Technologies, Savvy Technologies, HiDef Inc, R3i
Job Title: Group CEO
Location: New Forest, UK
What was the most valuable piece of career advice that you received?
Work hard, be open, and sugar-coat nothing. Integrity and dedication cannot be disguised or overlooked.
What was the worst piece of business advice that you received?
"Don't do it". This was advice form a bank manager and accountant when I presented a business plan for an aerial camera platform. Three years later I sold the business to a German Group.
What advice would you give to someone starting their career in the tech industry?
Choose something you enjoy doing, otherwise you are likely to end up with a job, rather than a career.
What tips would you give to someone aiming for a c-level position?
Decide on what culture you want, then fully commit to it. If you get your culture right, recruitment, staff retention, career development, employee satisfaction, and performance become relatively simple to manage.
Are you particularly proud of any career advice that you've given or the career route/development of anyone you've mentored?
I'm particularly proud of our culture and 'staff challenge'. In my experience, a recruitment strategy in isolation, however effective, doesn't get over the hurdle of competing with other businesses for human talent, and has little to do with staff retention.
Our own recruitment strategy starts with engagement of school children. Our businesses offer schools large scale science demonstrations and experiments for children as young as 11. We actively encourage students to take up STEM subjects. At the age of 14, students can enroll in one of our 'into engineering' weeks – the workshops are run during school holidays. Participants are placed into teams, all working to solve a technical problem. Our own engineers, developers, and scientists, guide them through a process that enables students to solve the problem at hand.
Students who have attended an 'into engineering' course, can then apply for a bursary to help with A level studies. Those going on to University are often offered bursaries. Our businesses also offer 'year in industry' appointments for those looking to break up their course.
This activity means 70% of our technical people are known to us before coming to work with us on a permanent basis. We think this is one of the pillars behind our 2% staff turnover rate.
We aim to create inspiring environments that stimulate our people. We are helped in this regard by virtue of having a number of 'first to market' technology businesses, and a dedicated R&D centre. Generally, staff are empowered to bring ideas forward and participate in decision making. When we come up with a new idea, to explore we create a dynamic team from across our Group to exploit it. If the idea moves forward, individuals are rewarded with more senior positions, and perhaps share options. The constant development of ideas and businesses creates organic opportunities for team members to fulfil their career potential, and importantly enjoy their work.
Two years ago, we launched our staff 'Challenge', which allows individuals to create a business plan for their own idea. If a team of their peers believe it could be successful, we will finance it, whilst continuing to pay the person's salary. For example, Richard, joined us from University following involvement in our 'in to engineering' initiative and bursary program. Having worked in two of our businesses, Richard came up with a technology idea for use by surveyors. At 28 years of age he is now Managing Director of his own business. Our 'Challenge' is open to all staff, including our admin and finance teams.
Steve joined our Group from the Royal Navy five years ago as an engineer, moving on as engineering manager at HiDef and more recently as Group Technical Director. Steve is now a shareholder in three of our operating companies.