Human Resources
Typical 24: Paul Silver, Tegile Systems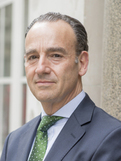 Name: Paul Silver
Job title: Vice President, EMEA
Company: Tegile Systems
Location: London, United Kingdom
Years' experience: 24
1. What time do you reach the office each day?
I am an early riser and usually out for my morning run by 6am most days. Once completed I catch up on overnight email, shower and then have breakfast with the family. Living in London means that on weekdays I am still able to arrive at work at a decent time.
2. Is your job varied?
Because Tegile is growing exponentially, every day is varied. From sales calls and planning discussions with marketing to interviews, the list goes on and on.
3. Is your job creative?
Very much so. I encourage all the team to be creative whether it's a dealing with a tough problem that needs to be overcome or making best use of resources.
4. What do you spend the majority of your time doing?
No two days are the same but sales is my main focus.
5. Do you personalise your desk?
I hot-desk like the rest of the team.
6. Would you describe yourself as creative?
Yes. I am always thinking of different ways to approach a challenge and I encourage the team to do the same.
7. Do you have any quirky daily rituals?
Yes, my daily run is probably a quirky ritual because regardless of where I am, come rain or shine, I always go for a run
8. Do you tend to work on your own or with colleagues?
Both. I attend a lot of prospect, partner, customer and marketing meetings together with colleagues but equally, I also have quiet times spent analysing and planning on my own.
9. How many hours on average do you work a day?
It's about 10+ hours, not including weekends.
10. Roughly how much time do you spend each day on email? Taking calls? In meetings?
It's hard to say because one day I might be on the road visiting three or four different companies and another day I will be office based where most of my time is spent making calls.
11. Do you use social media much for work?
Yes, we do and I am active on both Twitter and LinkedIn.
12. What do you enjoy most about your work?
The many and varied challenges we face, balanced with the massive sense of achievement when progress is made.
13. What type of music (if any) do you listen to at work?
I don't listen to music at work but do enjoy it in the evening whilst catching up with emails and administration. My taste is eclectic and goes from Royskopp, Air, Nitin Sawhney, David Sylvian, Rokia Traore to Eric Sate.
14. What do you do for lunch?
If I am in the City office, there is a brilliant little Thai takeaway nearby. Their Tamarind and Spicy Chicken salads are amazing! The office is hooked!
15. Do you socialise with work colleagues?
Not as much as I would like, but when we do, we have great fun.
16. Are there any tasks (through your career) you've been especially glad to get rid of?
Of course I have had to perform some unpleasant duties but even they can be viewed as positives because they have contributed to my experience.
17. What is your last task of your day?
I turn the lights off.
18. How do you like to relax after work?
Relaxation time on weekdays is limited so I really enjoy conversation at the dinner table with the family catching up on everyone's day.
19. Do you keep checking email through the evening?
Yes.
20. Do you take work projects home with you?
Yes.
21. What would you say to your 20-year old self?
There are so many things I would say with the benefit of hindsight but instead I'd tell my younger self to work hard, have the courage to make some bold decisions and make sure each mistake is unique. If you follow that, life will be great!
22. If you could try out any job for a day, what would you choose?
I'd like to be a professional racing driver.
23. What device did you use to answer these questions?
I used my MacBook Air.
24. Do you use your own personal device for work?
Yes, my iPhone