Human Resources
C-suite career advice: Sameer Dholakia, SendGrid Inc.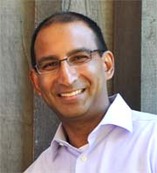 Name: Sameer Dholakia
Company: SendGrid Inc.
Job Title: CEO
Location: Splits his time between SendGrid's offices in Boulder, Denver, Orange, Calif. and Redwood City, and his home in San Francisco, CA.


What was the most valuable piece of career advice that you received?
The best advice I ever received when I was starting out is this: hire only the best talent that you possibly can. That way you surround yourself with the right people. The CEO of a company I started out with at Trilogy, had a tagline 'Only the Best', which has stuck with me my entire career. It's the one thing I've carried with me throughout my corporate journey. He also used to tell his sales and marketing staff: 'raise the average and hire those more talented than you'.
The current CEO of Citrix Systems, Mark C. Templeton, has said something that also resonated quite strongly with me: 'The most powerful thing you can be is yourself'. It's a timely reminder: to be a good leader you must keep in mind that we all have areas we want to strengthen and develop. Know your strengths and surround yourself with people who can help you achieve them.
What was the worst piece of business advice that you received?
The worst advice I recall with any clarity, is when exiting college I had a family friend advise me wrongly on two job offers I had: one was with an established company and the other was a startup called Trilogy (which is the one I ended up choosing). In hindsight, go with your first instinct, to back the company that would back you. But his advice was to go with the 'known brand'.
At the start of your career, it's too early to know where you are going to get a better skills grounding. Often your decisions are too logical, and I decided to go against that, and have always been on more of the risk-seeking side than the risk-averse side. That said, when you're young it's better to take the riskier endeavor simply because you'll need the energy as they will demand a lot from you! I had a futon in my office that was heavily used for the first few months I was there. There's no substitute for hunger and hard work, especially before you go down the road of having a family.
What advice would you give to someone starting their career in the tech industry?
The single best piece of advice I got is to go somewhere that's growing. Because growth creates opportunity. If you want to stretch your skills and grow at a really fast pace, you're much better placed to be in a company that's already growing and scaling. The first role you have will expand so quickly that as a necessity, they'll ask their employees to step into roles of greater leadership. Whether it's entering a new market or acquiring a company, growth always creates opportunities for natural leaders. Of course, having the opportunity to excel and finding those opportunities to grow is a lot easier in a growing company than in an established brand.
Being a father to an 8 year old girl, I'm also now keen on getting more women involved in STEM subjects right from the off. That is something that I'd like to see become the norm, not the exception.
What tips would you give to someone aiming for a C-Level position?
I would say one important aspect to succeed in a senior leadership role is to aspire to it for the right reasons. Do it because you want to lead and serve people, not because you wish to climb the ladder. I like the concept of 'servant leadership'. Leaders are only truly leaders in my book if they have the innate ability to create a following. You won't get there with a top-down only mentality.
Are you particularly proud of any career advice that you've given or the career route/development of anyone you've mentored?
The number of people I have met who have later gone on to do astonishingly insightful work and develop an impressive CV still astounds me. I don't credit that to any mentorship that I provided them, but think I made the conscious choice to surround myself with great talent.
There were a number of us early days at Trilogy, when I happened to be their VP of Business Development. Four out of five of these individuals are now CEOs of their own firms, and one is a very senior figure in investment banking. This is a testament to the fact that inspiring companies create inspiring leaders. If you are a supportive leader of great talent and you give people stretch opportunities to grow and prosper, good opportunities will present themselves.