C-suite talk fav tech: Christian Johan Smith, TrackR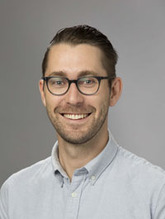 Name: Christian Johan Smith
Job title: Co-Founder and President
Company: TrackR
Industry: Technology
Location: Santa Barbara, California
Years' of experience: 8
What is your favourite personal gadget?
The Amazon Echo.
Do you have a favourite piece of personal software?
I really like Flux - I tend to work late and have seen cutting out blue pixels helps me sleep better (according to my sleep tracking data).
What was the first piece of technology you got really excited about?
A skateboard (regular or electric). It improves my point to point efficiency between meetings and makes me a happier human.
What device improves your life most at work?
My stand-up desk and our Karma Wi-Fi Hotspot.
What software keeps you most productive at work?
Slack, I use it a lot when I travel.
Is there any technology that has become extinct that you would like to resurrect?
There isn't anything I'd resurrect but a few things that I'd like to make extinct...
Is there any technology you would personally recommend that you don't think enough people know about? (Hardware or software, work or personal)
I get exposed to quite a few different hardware and software companies in the startup world. Senic created Nuimo, a beautiful home controller that is a great interface to setting the mood when I arrive home by quickly setting my lights and music. I have tremendous respect for the founders' vision and I am impressed by the system's reliability.
Do you think anything about your personal use of tech would surprise your colleagues?
I grew up skateboarding and I will commute to work on a Melon Board - an electric skateboard - and love the feeling of effortlessly flying as I zip around.