Wireless Technologies
C-suite talk fav tech: Robert Dragan, Learnium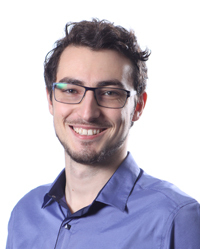 Name: Robert Dragan
Job title: CEO
Company: Learnium
Industry: Educational Technology
Location: Cardiff, Wales
Years' of experience: 10 years
What is your favourite personal gadget?
My favourite personal gadget is my camera. Smartphone cameras are getting better, but the extra quality you get out of DSLRs is considerably noticeable. It's actually surprising the number of pictures I take for work purposes as well!
Do you have a favourite piece of personal software?
I've recently become quite fond of Affinity Photo. It' a nice, powerful alternative to Photoshop.
What was the first piece of technology you got really excited about?
My first computer. It was an AMD computer which I got when I was 10 and my current smartphone is more powerful. However, it's what got me into programming and started my fascination with how the internet is connecting and changing the world.
What device improves your life most at work?
Hands down my mobile phone as it keeps me connected to colleagues and clients wherever I go.
What software keeps you most productive at work?
I use an app called Pomodoro app. It basically times and tracks what I spend my time working on during the day.
Is there any technology that has become extinct that you would like to resurrect?
To be honest, technology just keeps improving so if something goes extinct it's usually replaced with a better version. I would like to see a computer with a floppy disk drive again, just as a reminder of how fast technology is advancing.
Is there any technology you would personally recommend that you don't think enough people know about? (Hardware or software, work or personal)
Using Todoist and Pomodoro or any similar apps to track your work. It's really helped me to prioritise important tasks and learn when I need to stop working on one thing and focus on something else.
Do you think anything about your personal use of tech would surprise your colleagues?
I think there's a bit of a stereotype that all programmers and most people in technical roles nowadays must play computer games. My colleagues all know that technology plays a central role in my life. What they might not know is that I much prefer board games! I haven't played a computer game in ages.