Email Management
Mimecast CEO stays a bull after half a year as public company
Peter Bauer led Mimecast to one of the last of 2015's tech IPOs, not long before tech floats lost their buoyancy. Since then, shares in the secure email managed service have bounced around but at time of writing the company had a valuation of about $550m and revenue continues to climb. I caught up with Bauer by phone recently to question this South African who started Mimecast in the UK about life post-IPO on the US's tech-heavy Nasdaq marketplace.
I started by asking how Bauer's role had changed since going public.
"It's interesting: 80, 90 per cent of what I have to do is the same and we've run the business on a quarterly cadence for a long time," he says. "There are some benefits in having things exposed to the outside world and it's a great rallying point for product releases and deadlines.
"One of the key things is that the story progresses as opposed to changes, and a lot of it has to be evidence based, rather than 'Peter Bauer has this idea when he wakes up one morning'. We've put a lot more rigour into what we say and how we communicate it."
Not all CEOs are fond of the analysts who track tech stocks, sometimes accusing them of scooping up diverse companies in large buckets and treating them all the same. But Bauer appears fairly supportive, finding special praise for Jefferies analyst John DiFucci for his understanding of the software-as-a-service model, data management and the midmarket. And he's uncritical of the rest, even if "there are analysts that are more generalists that may not appreciate all the nuances of our story or understand the complete landscape in the way more specialist analysts would".
Bauer says that the Mimecast subscription model means recognising revenue is by nature deferred but that there is a short time to pay-back from a cost of acquisition and gross margin point of view. That encourages the company to invest in sales and marketing to keep growing that user base and to add cross-sell and upsell income.
Annual revenue retention rates – the opposite of 'churn' and a key metric – are 109 per cent and rising which means customers are generally buying more modules and spending more on their subscriptions. One recently added module, Impersonation Protect, is intended to protect against 'whaling', a variant of spear-phishing that targets senior executives.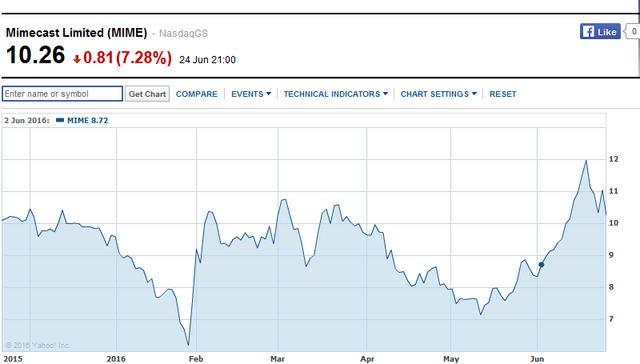 Email fail?
As with Mark Twain, reports of email's death have often been overstated but is the rise of other forms of digital communications a concern?
"Email usage continues to rise, we don't see any decline," says Bauer. "It's being supplemented with additional channels that are better suited to different types of communication, like Slack for persistent IM environments, but they by no means displace email. We use Slack ourselves internally and have a really good understanding of where those things fit and we have our fair share of millennials working for us.
"That creates opportunities for us because while there's a lot of opportunity around as communications [models] fragment; there start to be security threats in these other environments. Malicious URLs, weaponised attachments, data needs to be archived and protected… and [there has to be] some compliance monitoring in place. Those systems have downtime too."
Get off (or on) my cloud
Having built out a cloud architecture in the days before cloud platforms became off-the-shelf purchases, could 13-year-old Mimecast now start to move into rented datacentre accommodation? After all, companies like Box are increasingly using third-party datacentres.
'No' would appear to be the short answer.
"Our intention is to seek organic means to do things," Bauer says. "We've built a platform that's really efficient, a microservices architecture that allows us to innovate organically and make those services available as part of a simplified delivery mechanism that allows us to create bundles [of offerings]. We're reticent to break out from that and build another island.
"We started the company before there was an AWS, SoftLayer or Azure but we're now at the scale where it wouldn't make sense for us to use that [sort of platform]. [The Box decision] was more about flexibility for Box than economics. We get the benefit of Moore's Law in arbitrage, buying in bulk then selling capacity - we play that game too. We can get much more out of the tin all the time and there's a double bite of the cherry because of our proximity to the hardware."
As for the future, Bauer is convinced that a general trend towards using specialist providers, moving to specialist providers and the cloud, and security threats like ransomware all support his company's direction. One standout: 14 per cent of customers now use Microsoft Office 365 and Mimecast offers continuity protection by virtualising user groups to prevent against total outages.
Mimecast has come a long way since its day as the golden child of the UK software sector. Any growing pains may these days be suffered in public but the company is positioned to stretch an already strong position in messaging security with adjacent interests giving the power to add.
Also read:
No longer a secret, Mimecast CEO pulls off $0.5bn IPO
Mimecast CEO swerves 'frothy' markets, plays a long game
Mimecast's next trick: unlocking unstructured data
Emotion, graft and focus: Inside a tech IPO