Mobile Working
Crowdsourcing Innovation: Andrea Buri, creator of Spell Smartwatch
Crowdfunding sites are offering a new path for inventors with original ideas. We talk to inventors looking to gain the public's favour with something new to offer. Is this a business of the future?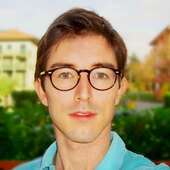 Name: Andrea Buri
Job title: Embedded hardware engineer
Organisation: STMicroelectronics (But this is an independent open-source project)
Location: Milan, Italy
Product: Spell smartwatch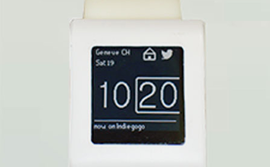 What it does & How it works:
Spell captures air writing, in particular the wrist motion produced by the action. After a short training dedicated to learn personal airwriting traits, the algorithm embedded in ARM Cortex M3 processor recognizes the handwritten message and transforms it in computer readable text.
What makes it special:
Spell lets you write very short messages in the blink of an eye and anywhere you are. Spell connects to Bluetooth 4.0 devices. It has a new interesting capability of detecting devices in your proximity so that you can initiate communication when you really need to. It's the combination of air writing and proximity detection that brings the function that gives the smartwatch its name: the user has the power to make "Spells", user-defined abbreviations (2-3 letters long) of commands that switch on lights, play-pause home movies, open car doors and let the user do any routine task that may be useful to streamline.
Why Indiegogo?
Indiegogo is launching a lot of successful tech projects, amongst them is Kreyos smartwatch, which has become a multi-million dollar project.
Is Crowdfunding good for innovation? How so?
Crowdfunding is a great platform because it creates reciprocal involvement, from both the project creator side, who gets not only funding but also a complete testbed for its project, and from the backer side, who can contribute not only with funds, but also with his point of view and get stimuli for his innovative idea in turn.
Reactions on IGG so far?
Spell is stimulating a lot of curiosity, social media connections ask how it works and how it connects to their smartphones. Feedback also suggests the use of a color OLED screen, others claim black screen looks quite stylish, too.
What have you learned from your campaign so far?
Campaign has just started but first impressions are that campaign benefits mostly from social sharing and from referrals by other campaigners. Also I'm learning the importance of having all the details and multimedia ready before launch because campaign is not forever and backers and followers wants to know more about it.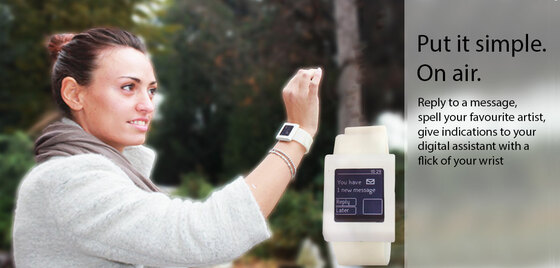 How difficult was it to develop the airwriting technology?
The main difficulties in airwriting lie in the gesture recognition algorithm and in the development of an energy efficient and robust design. What really enables airwriting though is the emergence of accurate MEMS motion sensors that have shrunk in cost and design footprint during the last few years and will become very widespread with the advent of wearable technology.
The airwriting sets the Spell apart from other smartwatches, but what other functionality does it have?
Main features are similar to those of other smartwatches, it receives notifications from Bluetooth 4.0 connected devices, it has its fitness tracker, battery lasts for >3 days on a typical usage (Bluetooth connected).
What Operating System does the watch have, and are you worried about having enough apps available for the device?
The smartwatch operates on FreeRTOS which is a widely used open-source OS for embedded devices that need to seep battery charge. Android applications porting would be quite cumbersome, especially those that rely on multimedia. The open development platform has a rich API that lets people easily build apps with support on both Android and iOS Bluetooth services.
Possible business use?
I think it could prove useful for reminder notifications and sending confirms, yes/no replies to colleagues. It still feels more practical to take meeting notes on a notebook, though!
Aims for the future?
Keep the Spell looking better and smarter, and hopefully base the Spell team in the US!