Human Resources
C-suite talk fav tech: Paul Morris, Ensono
CIOs, and increasingly CMOs and CEOs, may be responsible for the technology within their group but what about their personal preferences? We profile the global c-suite to learn more about their 'fav tech.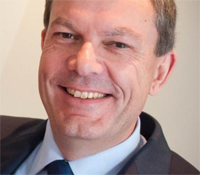 Name: Paul Morris
Job title: Managing Director, Europe
Company: Ensono
Industry: IT
Location: Staines, UK
Years' of experience: 25
What is your favourite personal gadget?
This is a close contest between my iPhone 7 Plus smartphone and Fitbit. The smartphone pretty much runs my life and is vital in organising my day-to-day. However, the Fitbit has been fantastic for me, both on a personal level and as part of Ensono's charity fitness drive where we compete in teams to do the most steps and the winning team's charity gets all funds raised that month donated to it. Let's call it a draw!
Do you have a favourite piece of personal software?
There are times when I need to get my head down and really concentrate, and music helps me do this, so it has to be Spotify. It allows me to plug in and listen to Led Zep, Eric Clapton and Bruce Springsteen (this gives you a clue as to which era I grew up in) whilst working in the office and on my way to and from work.
What was the first piece of technology you got really excited about?
The pace of technology advancements means there're too many to mention since there's always something to get excited about, but I would have to say, the internet. The worldwide web has been our 'industrial revolution' and so much of the world we live in today depends on it. And the best thing is, we've not even fully tapped into the potential of what's possible, so seeing innovations in IoT, AI and automation will be very exciting.
What device improves your life most at work?
My Fitbit. Ensono has a "Keep on Walking Fitbit Challenge", where employees are encouraged to join one of six teams representing charities and compete to "out-step" each other. The team that has walked the most at the end of the month decides which charity the money raised by employee fundraising goes to that month. I head 'Team Helping The Homeless'. This is great for the team, collaboration, motivation and fitness.
What software keeps you most productive at work?
As head of Ensono in Europe, I spend a lot of time travelling, but I need to keep in touch with the team here and in the US. For this reason, Skype is without a doubt a brilliant tool for productivity. I can talk to people anywhere, anytime and have 'face to face' meetings with people around the country and around the world, no matter where I am.
Is there any technology that has become extinct that you would like to resurrect?
In days gone by, I would have said vinyl records, but they have come back in a major way. So, I would have to say printed photographs. I enjoyed that post-holiday anticipation after you've taken your film to be developed and reminiscing about life's important events when going through photo albums.
Is there any technology you would personally recommend that you don't think enough people know about? (Hardware or software, work or personal)
Though widely known, I don't think enough people take full advantage of the Fitbit. It's a great way to stay in shape and monitor fitness. It's been a great addition to my collection of gadgets.
Do you think anything about your personal use of tech would surprise your colleagues?
They'd most likely be surprised by my love for Spotify. I like to think I'd have been a musician in another life, so my love of music might be surprise for some.