Wireless Technologies
C-suite talk fav tech: Satya Samal, NIIT Technologies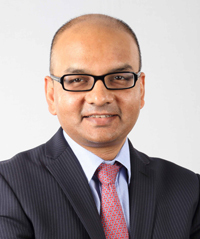 Name: Satya Samal
Job title: Executive Vice President and Head of Europe
Company: NIIT Technologies
Industry: Technology
Location: London, UK
What is your favourite personal gadget?
It has to be the iPad Pro. I love the fact that I have one device which I now use to take notes, create PowerPoints, write emails, watch movies, listen to music, take and edit photos, practice (very bad!) calligraphy and do all sorts of useful things.
Do you have a favourite piece of personal software?
I like One Note for iPad. Recently, I was introduced to Notes Plus by a colleague, which is a really cool app. Wiki Art is another fascinating app - it basically lets you look at some of the greatest pieces of art from different periods and also contains interesting anecdotes about those works of art.
What was the first piece of technology you got really excited about?
Vinyl turntables. I refused to believe that human sound could emerge from the vinyls and then spent an enormous amount of time reading up on this new thing!
What device improves your life most at work?
Well, it has to be the iPad Pro again.
What software keeps you most productive at work?
OneNote. It helps me to keep track of all the things I am supposed to do and is also more or less a scrapbook for all my interests – both work related and personal.
Is there any technology that has become extinct that you would like to resurrect?
Many of us who studied computer science in the 90s in India used micro controller boards to do programming and what these taught us was how to write programmes that were good on speed and low on memory. Sometimes when I look at the bulky programmes of today, I do get a bit nostalgic about those kits. But honestly, it is good that we have evolved way beyond those 8086 programming kits!
Is there any technology you would personally recommend that you don't think enough people know about? (Hardware or software, work or personal)
I love the iMovie app. I got into it when we were participating in a hackathon and we wanted to pull together a video in a super-short time. The brilliant thing was that someone like me, with pretty much zero video making skills, could still stich together something that was watchable (or almost!).
Do you think anything about your personal use of tech would surprise your colleagues?
Some of them could probably guess - I still dabble with programming and recently as my eldest child has got interested in this area, I am sort of trying to spruce up my knowledge a bit.